Today's telly picks include How to Be Good with Money, a couple of new comedies, the return of First Dates Ireland . . . and loads more
Pick of the Day
How to Be Good with Money, 8.30pm, RTÉ One
Financial planner Eoin McGee presents this hopefully informative new personal finance series, which sets out to make the nation more financially literate.
Some of those featured will be struggling, others less so, but all will have a clear financial goal or aspiration. In the first episode he meets 30-something couple Kerri and Brian who live in east Cork.
Parents to six-year-old Sean and eight-month-old Kitty, the two secondary school teachers enjoy life but feel they are in a constant loop of servicing big loans and never getting ahead.
New or Returning Shows
The X-Files, 11.30pm, RTÉ 2
The 11th season of the classic sci-fi series starring Gillian Anderson and David Duchovny lands very much with a whimper rather than a bang. Remember when this was the biggest show on the planet?
As we reunite with Mulder and Scully, the latter wakes up in the hospital after having a seizure, now realizing the apparent invasion was a vision and hasn't actually happened yet, and tries to warn Mulder about the plague.
Better Things, 10.00pm, BBC Two
Here's a critically-acclaimed US comedy starring Pamela Adlon (King of the Hill, Californication, Louie) as Sam Fox (Pamela Adlon), a single, working actor with no filter, who is raising her three daughters, Max (Mikey Madison), Frankie (Hannah Alligood) and Duke (Olivia Edward) in Los Angeles.
She's mam, dad, referee and the cops. Sam also watches out for her mother, Phil (Celia Imrie), an English expatriate who lives across the street. Sam's hands are clearly full.
This show carries a Louis CK health warning, as the now toxic US comedian was heavily involved in Better Things. He was subsequently fired when sexual misconduct allegations were made against him.
The Archiveologists, 10.25pm, BBC Two
Diane Morgan (aka the fantastic Philomena Cunk) and Joe Wilkinson re-voice archive footage to give a platform to their twisted comedy spin on British social history and institutions in this series of short films.
First up, the naughty pair parody a 1950s film about what happens in the bedroom.
Hunted, 9.00pm, Channel 4
The award-winning series finds ten ordinary people to begin their TV life on the run with an audacious speedboat chase through Liverpool docks.
For the next 25 days they will have to evade the clutches of an elite team of former military and intelligence operatives to have a chance of winning a share of £100,000.
Flirty Dancing, 10.00pm, Channel 4
In a world where many people find love by swiping left and right, this new show offers a more romantic and traditional approach to dating, by returning to a time when people met on the dance floor.
Choreographer and self-confessed romantic Ashley Banjo plays Cupid as he uses the art of dance to bring singletons together. If the dancers find there is any chemistry between them, they can decide to meet again.
Death in Paradise, 9.00pm, BBC One
In the opening episode of the Caribbean murder/mystery show's eighth season, DI Jack Mooney (Ardal O'Hanlon) and the team are left baffled when passenger Paul Raynor (Andrew Tiernan) is stabbed on the express bus to Honoré.
Suspicion falls on the fellow passengers, but with no drop-off points and no-one leaving their seats, how on earth did anyone commit the murder without someone else seeing?
The Secret Life of 4 Year Olds, 8.00pm, Channel 4
The award-winning series returns with an all-new cast of children. In this episode technology takes over the nursery, as the four-year-olds get to grips with the classroom of the future.
A League of Their Own – European Road Trip, 9.00pm, Sky One & NOW TV
Andrew Flintoff and Jamie Redknapp hit the road for a series of James Corden-set sporting challenges.
First up, they strike it out across the English Channel in a sailing race before kicking out a rouge-faced can-can in front of a sell-out crowd in Paris.
The Orville, 9.00pm, FOX
Loved by fans and mauled by critics, Seth McFarlane's homage to Star Trek and the like continues to boldly go where TV has gone before.
As season two begins, the USS Orville travels to Moclus for Bortus' annual Ja'loja ceremony. First Officer Kelly Grayson begins dating the ship's teacher Cassius, straining her relationship with Captain Mercer.
Don't Miss
First Dates Ireland, 9.30pm, RTÉ 2
As the First Dates restaurant welcomes its hopefuls for the new season, maitre'd Mateo, barman Ethan and waiters Peter and Alice are joined by new staff member, Libby.
Something else new: for the first time, a mother and daughter, Amy and Delia, will be coming into the restaurant together to date potential partners.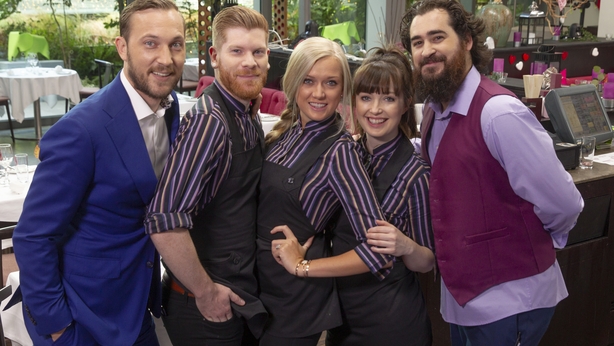 Click here for full TV listings