The third run of Dancing with the Stars kicked off on Sunday night, and the show was in fine fettle as it welcomed new presenter Jennifer Zamparelli.
The ballroom show got rolling with a very funny sketch featuring last year's contestants Bernard O'Shea and Marty Morrissey.
Step aside lads... it's time for a whole new series! #DWTSIrl #LETSDANCE pic.twitter.com/3Ykyakmkyf

— RTE One (@RTEOne) January 6, 2019
The first order of the day was the showstopper group dance - consisting of all 11 celebrities, their pro-dancers and presenters, to Murder on the Dance Floor by Sophie Ellis Bextor.
Jennifer had a typically frank description about how she's feeling as she spoke to the audience for the first time: "I feel like puking but apart from that I feel great!"
As Jennifer and Nicky Byrne introduced the returning judging line-up, Julian Benson, Loraine Barry and Brian Redmond, she quipped: "They seem so lovely but I'm not the one doing the dancing."
The presenters then introduced the class of 2019.
Introducing the class of 2019! Welcome to Series 3 of #DWTSIrl pic.twitter.com/XlIFNrQUaf

— RTE One (@RTEOne) January 6, 2019
As is customary, week one sees the boys showing off their new moves, while it will be the girls turn next week. Nobody will be eliminated until week three.
Time to Tango!
Darren Kennedy and his partner, returning champ Karen Byrne, had the unenviable task of being the first pair to hit the dancefloor with a tango to Sharp Dressed Man by ZZ Top.
Karen was worried about a "tango tragedy" but it was more triumph than tragedy.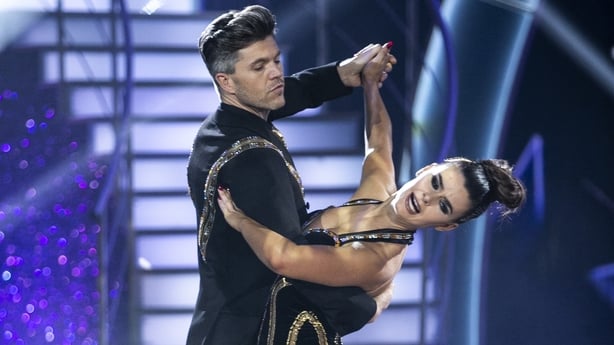 The judges were largely positive in their feedback.
Loraine offered her congratulations and said it was a "very good tango" while commending his "very good frame". The negatives she pointed out were his posture, and turning.
Julian was as effusive as ever, saying: "Darren Kennedy who would have known from stylista to dance-anista! It was a fierce, fiery tango. You are fabulous."
Brian wasn't quite as positive, saying: "There's two really big positives, that top line, and you brought that competitive edge. The timing was a bit one paced, and the odd foot position turned in. But not a bad start."
The pair were awarded 16 points for their efforts.
He's a smooth operator...
GAA star Denis Bastick and his partner Valeria Milova followed with an American Smooth to Michael Bublé's It's a Beautiful Day and it was just lovely.
The judges were hugely impressed with his debut performance.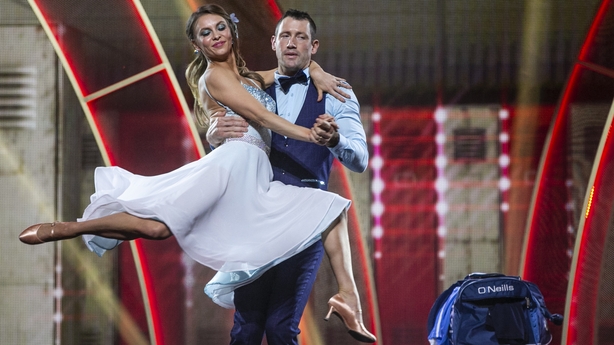 Julian had some very warm words and good advice: "From the GAA pitch to the ballroom floor! You have lovely agility on the floor, lovely footwork.
"That helicopter lift is very difficult to do, week one, that is very good. You have huge potential to be the Italian stallion in this race, believe in yourself and you'll go a long way."
Brian said: "Finally we have a GAA star that I as a Dub can get behind! I'm a little bit concerned about the top line, there's a lot of work to be done, but a good start."
Loraine praised Denis, saying: "Football players have a sprightly energy, light on your feet. You're going to be in this competition for a long time."
They got a total of 15 for their dance.
"I'm going to show Ireland the true meaning of sexy"
Meath comedian Fred Cooke, who had been pipped as the dark horse in the competition, and his pro-partner Giulia Dotta danced a Cha Cha Cha to Sexy and I Know It by LMFAO.
Fred said he's always wanted to take part in Dancing with the Stars but didn't get on the show until now. "Like the Leaving Cert – third time lucky", he joked.

He promised a "wonderful production that would make Michael Flatley cry" and man did he deliver.

Fred brought incredible energy and hacked up the dancefloor in perhaps the best tracksuit we've ever seen.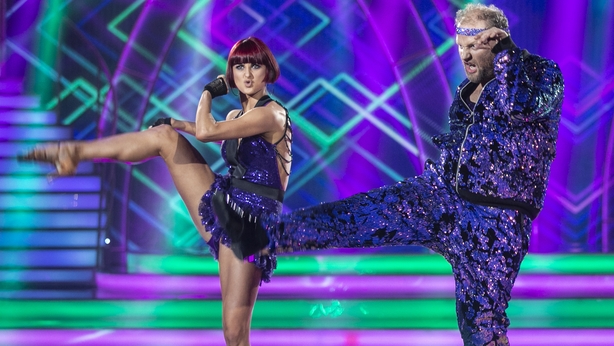 The judges were critical but encouraging in their comments.
Brian was the harshest, saying: "You reminded me of some crazy French farmer at harvest time. You have great natural rhythm."
Jennifer interjected after his rough comments, saying: "The audience absolutely loved it. Let's just forget about Brian for two seconds."
Loraine said: "You have the moves. You showed us everything, except the real cha cha cha, but you certainly entertained. You definitely have it and it's going to carry you a long way in the competition!
Julian enthused: "Cha cha boom baby! You were cooking up a storm on the dancefloor. Let's get real, but you have great natural rhythm, you can dance. You threw the kitchen sink at it. You are an entertainer, you are a showman, you entertained the audience and the people at home."
They got a total of 12 points.
The girls show how it's done
Taking a break from the competitive element of the show, the girls banded together to perform a slick group dance. They may not be competing until next week, but it was great to see them bust a few moves.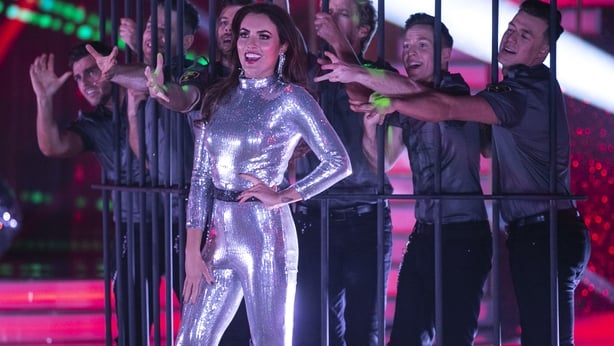 Johnny Be Goode? Johnny Be Great!
Fair City and Love/Hate star Johnny Ward and Emily Barker performed a jive to Johnny be Goode by Leif Garrett.
The actor played down his abilities beforehand, saying "Johnny Be Goode? If it was Johnny Be Grand that would suit me much better."
He had no need to worry, opening the high-octane performance with a jump over his dance partner Emily Barker.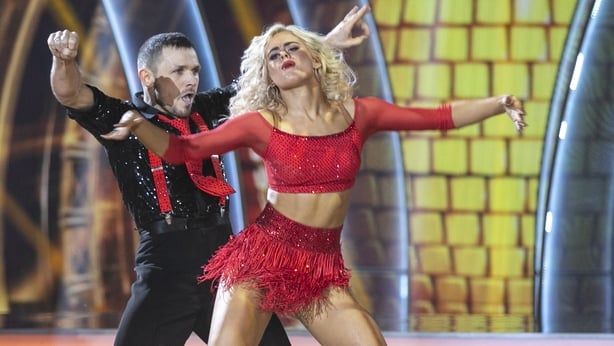 Supremely quick on his feet, Johnny looked like a performer from later in the competition.
Loraine summed it up when she said: "Wow, I mean this is impressive. You have a staggering amount of energy in a very rehearsed choreographed jive." Her only concern was that he "lost a bit of agility" and was "a little bit tight".
"For week one, this is amazing. That was a hell of a show", she concluded.
Julian heaped praise on him: "Johnny Be Great, that jive was full on. Full of content, so many tricks and flicks, everything on point. You brought the performer out, you sold it to us, sold it to the audience. Minor criticisms – watch your retractions, and up on your toes a little bit more. I can't wait to see the rest."
Brian thought it was "a little bit heavy at times" and recommended that he "study the characters of the dance", but the judges were generous with their markings.
Johnny and Emily got a whopping 22 points for their electric performance.
Peter Stringer found his inner Ricky Martin

Rugby legend Peter Stringer and Ksenia Zsikhotska danced a salsa to Come with Me by Ricky Martin and put in a very enjoyable performance.
Peter said that the last time he was on the dancefloor was his wedding day, but his moves didn't look rusty at all.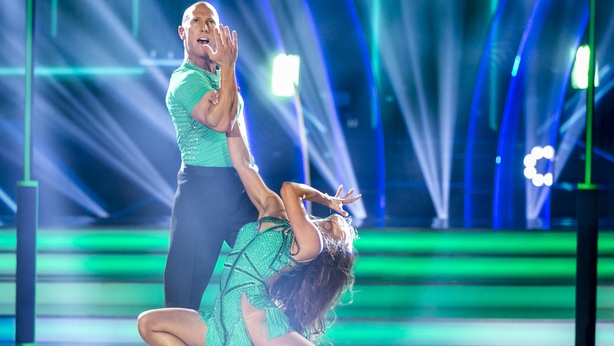 Julian was very excited, saying: "You pulled my strings tonight! Mucho caliente. You were like the incredible hulk on the floor. Bit of advice – get those hips moving! I think you're a dark horse, so bring it."
Brian commented: "I was delighted to see you in the green of Ireland. With rugby players I would have expected the lifts to be good, and they were. I do agree with Julian, it was maybe a little bit stiff."
Loraine added: "I agree with Julian, we just need to get that body moving, getting that music inside of you. But you've got a great journey to travel with this."
They got a total of 16 points.
Johnny Ward tops the leaderboard after week one
This is the leaderboard after the first week.
The leaderboard as it currently stands, don't forget to vote for your favourite! #DWTSIrl pic.twitter.com/llTCKBUDgY

— RTE One (@RTEOne) January 6, 2019
Next week it will be the girls time to shine. They'll have tough acts to follow after tonight's performances, but we're sure they're up to the task!
Can't Stop Dancing airs this Friday at 8.30pm on RTÉ One, with Dancing with the Stars continuing on Sunday at 6.30pm on RTÉ One.
Catch up with the show on the RTÉ Player.