Comedian and actor Kevin Hart has been urged by talk show host Ellen DeGeneres to rethink his decision not to host next month's Academy Awards following the controversy over a series of homophobic tweets he posted 10 years ago.
In an interview to air on US television on Friday, DeGeneres tells a contrite Hart: "You have grown. You have apologised. You're apologising again right now. You've done it. Don't let those people win. Host the Oscars."
The presenter told the star that she had contacted the Academy Awards to see if there was a way that Hart could return as host and that she felt "they were secretly hoping you would come back".
I believe in forgiveness. I believe in second chances. And I believe in @KevinHart4real. pic.twitter.com/oJxfGXhU4P

— Ellen DeGeneres (@TheEllenShow) January 4, 2019
Hart is reported to have said he is "evaluating this conversation".
Earlier in the interview he told DeGeneres: "I don't have a homophobic bone in my body. I know that I've addressed it. I know that I've apologised."
"I've taken 10 years to put my apology to work," he continued. "I've yet to go back to that version of the immature comedian that once was. I've moved on. I'm a grown man. I'm cultured."
Hart said he now looks "at life through a different lens and because of that I live it a different way". 
"I don't want to step on the stage and make that night about me and my past when you've got people who've worked hard to step on that stage for the first time and receive an award," he explained.
"I said I would much rather step down and apologise again while stepping down. Once again, I'm sorry if these words hurt, I'm sorry, but either my apology is accepted or it isn't. Either I can move forward or I can't.
"But you can't grow as a person without mistakes. You can't experience perfection unless you've experienced imperfection. So I don't know the perfect individual society is now looking for... It's not me.
"I'll be the first person to say it, I'm an open book. There is no perfect bone in my body... 
"I'd much rather say I'm sorry again and walk away."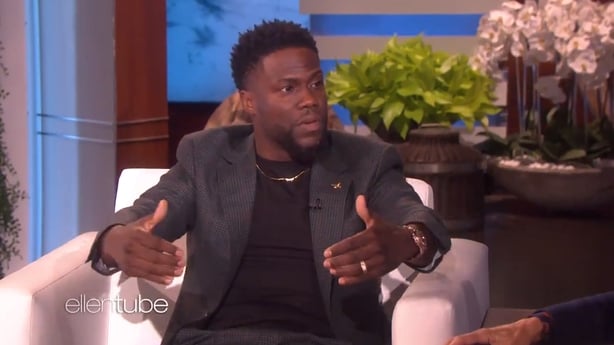 The Oscars take place on Sunday, February 24 in Los Angeles.
When he announced in December that he would not host the ceremony, Hart wrote on Twitter: "I have made the choice to step down from hosting this year's Oscar's...this is because I do not want to be a distraction on a night that should be celebrated by so many amazing talented artists. I sincerely apologize to the LGBTQ community for my insensitive words from my past.
"I'm sorry that I hurt people.. I am evolving and want to continue to do so. My goal is to bring people together not tear us apart. Much love & appreciation to the Academy. I hope we can meet again."
I have made the choice to step down from hosting this year's Oscar's....this is because I do not want to be a distraction on a night that should be celebrated by so many amazing talented artists. I sincerely apologize to the LGBTQ community for my insensitive words from my past.

— Kevin Hart (@KevinHart4real) December 7, 2018