Actress Priyanka Chopra and American singer Nick Jonas have opened up on their wedding, saying it was "highly emotional" and "truly magical".
Last weekend, the Bollywood superstar and singer and actor tied the knot with two lavish ceremonies, to reflect their different backgrounds, in a royal Indian palace in front of friends and family.
The newlyweds now appear on the front cover of US publication People, where they spoke about their emotionally charged wedding weekend.
Priyanka Chopra and Nick Jonas Open Up About Their 'Emotional' Wedding: 'It Was All the Tears' https://t.co/UPKtNS1GDM pic.twitter.com/i36fJKEDcc

— People (@people) December 4, 2018
36-year-old Chopra told the magazine: "Every girl dreams of being a princess on her wedding day. But I never had a plan about what I wanted it to be."
Nick Jonas suggested that they opt for two ceremonies in India to celebrate their different backgrounds.
"It melted my heart," Chopra shared. "Being able to have two big weddings, in India, with our closest family and friends was unbelievably special."
"I love that our wedding was a religious mash-up," she added. "We took beautiful traditions that we both grew up with and personalized them in a way that made sense for us.
"It's been incredible to find the commonalities between our beliefs and figuring out how to blend them in a respectful and meaningful way."
This was truly magical. @PriyankaChopra @Peoplehttps://t.co/UPSDxtrthF pic.twitter.com/03VHgVOckm

— Nick Jonas (@nickjonas) December 4, 2018
The actress said she could not hold back the tears.
"It was all tears. All tears", she said. "I could not hold it in. I think I was nervous and scared.
"But as soon as the curtains opened, and I saw his face it was just like everything settled and I knew I was making the best decision of my life."
And forever starts now...♥️ @nickjonas

Our Wedding: https://t.co/tZH0Yk4Hwc pic.twitter.com/WLOiVojhT7

— PRIYANKA (@priyankachopra) December 4, 2018
Meanwhile, 26-year-old singer and actor Nick Jonas said: "The emotions were running high during the ceremonies, I think especially during the Western wedding for me.
"You know, you think your whole life about that moment. Honestly, I could not have imagined it would be as perfect as it was. It was highly emotional."
One of the most special things that our relationship has given us is a merging of families who love and respect each other's faiths and cultures. And so planning our wedding with an amalgamation of both was so so amazing. pic.twitter.com/KcTD5D4MAw

— Nick Jonas (@nickjonas) December 1, 2018
On Friday, Chopra and Jonas held a traditional Mehendi ceremony, a pre-wedding ritual where they both received henna tattoos. They later took part in a Sangeet, where both families wore traditional clothing and performed elaborate dances.
A day later they were married in a Western ceremony on the lawn of the Umaid Bhawan Palace in Jodhpur before exchanging vows again during a Hindu wedding on Sunday.
Guests included Nick Jonas's brother Joe Jonas and his fiancée, British actress and Game of Thrones star Sophie Turner.
We need your consent to load this Instagram contentWe use Instagram to manage extra content that can set cookies on your device and collect data about your activity. Please review their details and accept them to load the content.Manage Preferences
The couple - who both wore designs by Ralph Lauren for the wedding - ended the three-day event with a Bidaai, where the bride's family blesses her life with her new husband.
Jonas and Chopra started dating earlier this year and confirmed their engagement in August.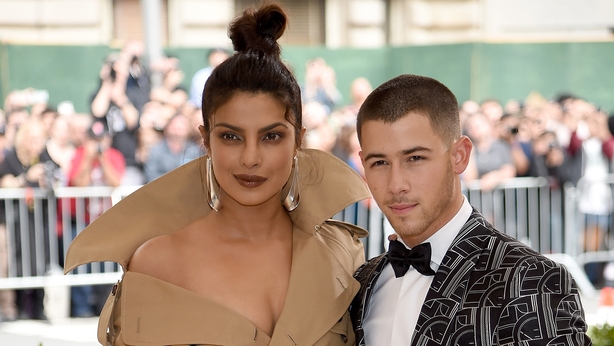 Chopra, who won the Miss World pageant in 2000, is one of Bollywood's most famous stars and one of the few to have achieved success in the West.
She starred in the ABC thriller series Quantico and has released songs with US chart-toppers including Pitbull and The Chainsmokers.
Jonas first found success as a child, as the frontman of The Jonas Brothers with his two siblings.