The death has been announced of Stephen Hillenburg, the creator of the Nickelodeon animated series SpongeBob SquarePants, who has passed away after a battle with Motor Neurone Disease. He was 57.
In March 2017, the marine biologist-turned-animator announced that he had been diagnosed with Motor Neurone Disease. The disease affects the nerve cells in the brain and spinal cord.
?? We are sad to share the news of the passing of Stephen Hillenburg, the creator of SpongeBob SquarePants. Today, we are observing a moment of silence to honor his life and work. ??

— Nickelodeon (@Nickelodeon) November 27, 2018
In a statement on Tuesday, Nickelodeon said it was "incredibly saddened" by his passing.
"He was a beloved friend and long-time creative partner to everyone at Nickelodeon, and our hearts go out to his entire family," the statement continued.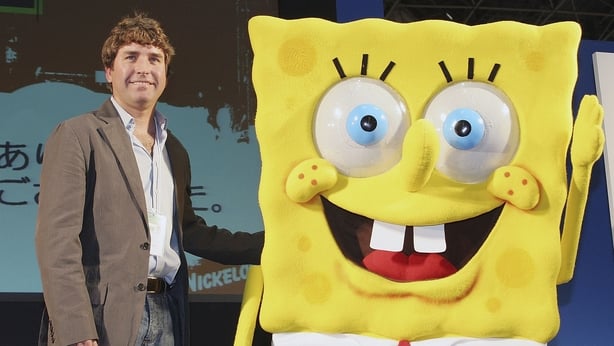 "Steve imbued SpongeBob SquarePants with a unique sense of humour and innocence that has brought joy to generations of kids and families everywhere.
"His utterly original characters and the world of Bikini Bottom will long stand as a reminder of the value of optimism, friendship and the limitless power of imagination."
Since its premiere on children's channel Nickelodeon in July 1999, SpongeBob SquarePants has become a multi-billion-dollar global phenomenon through the series, big screen adventures and associated merchandise.
A third film is due to be released in August 2020.
There have been many tributes on social media - among the fans authors, animators and actors:
I'm so sad about Stephen Hillenburg's passing. SpongeBob shaped my childhood & sense of humor. From Pretty Patties, the Hash slinging slasher, "He was #1!", when Squidward ate a Krabby Patty, "Is mayonnaise an instrument?", "Ripped my Pants" & more. TY for these memories. RIP. ??

— The Elf on the Shelf-by Young ?????? (@shelby_young) November 27, 2018
Condolences to Mr. Hillenburg's family. The many fans of SpongeBob and all the residents of Bikini Bottom (including at my house) are so glad he took that interest in marine biology. https://t.co/WSGTNpjIWh

— Joy Reid (@JoyAnnReid) November 27, 2018
The hilarious characters in Bikini Bottom brought joy to millions. Stephen Hillenberg deserved a longer life. RIP

— R.L. Stine (@RL_Stine) November 27, 2018
Stephen Hillenburg, creator of 'Spongebob Squarepants,' has passed away. Here's to the man who gave us a vibrant and heartwarmingly silly world and showed us the true power of imagination. pic.twitter.com/8U9rKs1Gkg

— Fuse (@fusetv) November 27, 2018
I first discovered SPONGEBOB through my sons, who were loudly singing along with the dopey & memorable theme song downstairs. I came down to see what the ruckus was about and ended up watching my first episode. Many laughs.
Many thanks, Steve Hillenburg. May you Rest In Peace. pic.twitter.com/3VNsxYJVXq

— Brad Bird (@BradBirdA113) November 27, 2018
Farewell, Stephen Hillenburg.

Thank you for the iconic characters, meme inspiration, and (above all) sharing your IMAGINATION with the world. ??

— Universal Orlando Resort (@UniversalORL) November 27, 2018
Goodbye Stephen Hillenburg, thank you for the shared laughs with my kids through the years. We're all Goofy Goobers thanks to you.

— Tony Hawk (@tonyhawk) November 27, 2018
We are extremely saddened by the passing of Stephen Hillenburg, the multi BAFTA-winning creator of SpongeBob SquarePants. pic.twitter.com/61rFnGTMT9

— BAFTA (@BAFTA) November 27, 2018
I can't put into words how grateful I am to you for changing my life with your creative brilliance & huge heart. It has been such an honor to bring Pearl Krabs to life?????? Our SpongeBob family is devastated but we know you're in Bikini Bottom in the sky #RIPSteveHillenburg https://t.co/ERGGrV4wDf

— Lori Alan (@LoriAlan1) November 27, 2018
Wow what a unique and fantastic character Steve created! It was my pleasure and honor to be in SpongeBob The Movie and to share some great laughs with this gentleman, Shocking Loss! To this day I am stopped and flattered by people and kids who have seen me in the film.#SpongeBob pic.twitter.com/gNF1CkJk69

— David Hasselhoff (@DavidHasselhoff) November 27, 2018