Florence Adebambo, who plays Flora in RTÉ drama Taken Down, admits that some scenes in the series have astonished her with their visceral effect.
The 15-year-old actress, who is from Leixlip and is in 5th year in school, said "a lot of scenes left my jaw hanging".
Flora has become caught up in the sinister operations of a gang running a prostitution racket, as Dublin Gardaí investigate the death of another migrant, Esme who had been working as a prostitute.
Adebambo says scenes enacted in the Direct Provision drama have astonished her. "A lot of scenes left my jaw hanging," she says, "and hopefully it will have the same effect on the viewers - in a good way."
Written and produced by Stuart Carolan (Love Hate) and directed by David Caffrey (Love Hate, Peaky Blinders), the six-part Taken Down investigates the violent death of young Esme who was found abandoned near a Direct Provision Centre, where refugees wait and hope for asylum.
In Sunday night's episode, Flora escaped from the care home. We encountered those who are running the brothel including an Irish slumlord, a Nigerian trafficker, his mistress and his enforcer Toby.
Abeni, who is also working at the brothel, looks out for Flora. Abeni is too frightened to report her suspicions about the murder to the police. A detective from another unit, advises surveillance on her, as the series continues.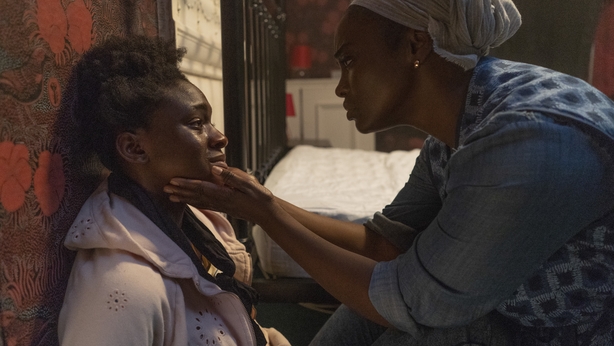 Florence was born and raised in Dublin to Nigerian parents and her family have been in Ireland for almost twenty years.
She has attended the Young Screen Actors Academy at Bow Street, Dublin and was cast from a nationwide search for her television debut. Florence also recently appeared in the video for the Hozier track song, Nina Cried Power.
The young actress recalls reading the script at the cast 'read-throughs' when she was studying for Junior Cert.
"I knew I was going to have to prepare myself mentally and emotionally as they (the scenes) were pretty tough and gruesome." Flora's 19-year-old sister, Mayowa, was on set as her chaperone while her fellow cast members were also supportive. "I just thought of how I would feel being placed in the actual real life position of Flora.
She valued the experience of working with the actors Aïssa Maïga (Abeni), who she looks up to "as a role model."
Dublin's dockland area was the location for much of the shoot. "I don't have many scenes with Aïssa, but we spent quite a lot of time on the actual set together." Flora describes Aïssa as "an absolutely phenomenal actress."
Family and friends have been keenly following Taken Down so far, naturally.
"A lot of my school friends didn't even know that I've been acting for six years," says the actress. "But my family were told beforehand of my character's state and what I'd be doing."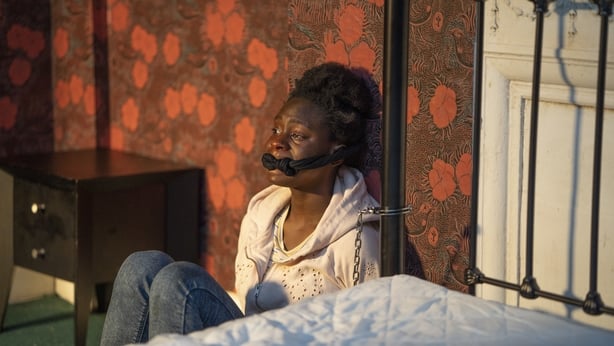 Taken Down airs on Sundays at 9.30pm on RTÉ One. You can catch up on last night's episode on the RTÉ Player.
For more TV news and highlights, click here
Taken Down airs on Sundays at 9.30pm on RTÉ One. You can catch up on last night's episode on the RTÉ Player.
For more TV news and highlights, click here