Little Mix have released their fifth studio album, titled LM5, which they have described as "the album we've always wanted to make".
The quartet - Jade Thirlwall, Perrie Edwards, Leigh-Anne Pinnock and Jesy Nelson - announced the release on Twitter, writing: "This is it! #LM5 is out now and available around the world. It's the album we've always wanted to make!
"We can't wait for you to hear the full album Hope you love it as much as we do!!"
This is it! #LM5 is out now and available around the world. It's the album we've always wanted to make!
We can't wait for you to hear the full album ♥?
Hope you love it as much as we do!!https://t.co/mbXSoK0aG2
The girls x pic.twitter.com/5T1ACjEzXO

— Little Mix (@LittleMix) November 16, 2018
The fan reaction has been overwhelmingly positive on Twitter.
the girls have poured their heart and souls in this album,,, this is little mix!! i'm so proud of them, the album they've always wanted to release and it's here and it's fucking beautiful #LM5? ?@LittleMix

— el (@harryofarc) November 16, 2018
Best album ever, best girl group EVEEEEEEER!!!!! love uu lm! #LittleMix #LM5 @LittleMix

— Madelaine (@kushbombshell) November 16, 2018
#LM5 IS YOUR BEST ALBUM! @LittleMix and I'm not even half way through it ??????

— Pia ?'s LM ?? (@PialovesLM) November 16, 2018
BEST ALBUM I EVER HEARD, the vocals and the letters, everything is perfect!!! #LM5 is your best album girls @LittleMix

— ?? ? (@stripfjesy) November 16, 2018
an album that has so many different sounds and important messages. i'm so happy and proud of you @LittleMix . thank you so much for this, it's absolutely amazing. i really hope it gets the recognition it deserves. ? #LM5 pic.twitter.com/frC5EMxv0v

— gerlys loves perrie (@perriesbub) November 15, 2018
I'm shocked... this album is a masterpiece... their vocals...the lyrics... the power it shows and gives... really goosebumps and I'm not kidding if I'm saying that this is probably their best album ever and the best album of this 2018. So yes #LM5 saved 2018 #LM5OUTNOW @LittleMix pic.twitter.com/Fp3upcPBpj

— Gio loves Louis ???? (@loufuckshs) November 15, 2018
What I love the most about #LM5 is that every song is different but every song is a m a s t e r p i e c e. The vocals and harmonies are breathtaking, the production is great, the meaning behind EVERY song in this album is amazing.

— paula loves perrie (@perriestheory) November 15, 2018
Earlier this week, the group teed up their new single Strip, which has a body positivity message.
They posted a black-and-white photograph to Instagram in which they are sitting naked on the floor with insults such as "ugly", "insignificant", "talentless", and "bossy" written on their bodies.
They captioned the image with lyrics from the track: "Take off all my makeup cos I love what's under it.
"Rub off all your words don't give a **** I'm over it.
"Jiggle all this weight, yeah you know I love all of this.
"Finally love me naked, sexiest when I'm confident."
We need your consent to load this Instagram contentWe use Instagram to manage extra content that can set cookies on your device and collect data about your activity. Please review their details and accept them to load the content.Manage Preferences
LM5 follows their 2016 release, Glory Days. The record is the first to be released since Little Mix's departure from Simon Cowell's record label, Syco. They had been signed to Syco since being discovered on The X Factor in 2011.
Cowell said he would not be working with Little Mix's management but insisted he had not fallen out with the members of the group.
He told The Sun: "Everyone's like, 'There must have been something massive and that's why it collapsed'.
"Well, I can show you all the correspondence between me and the girls over the years, there's never been an instance when we've fallen out.
"As I said in my email to them, I stand by the fact they are the hardest working bunch of girls I've ever worked with. They deserve everything they've got."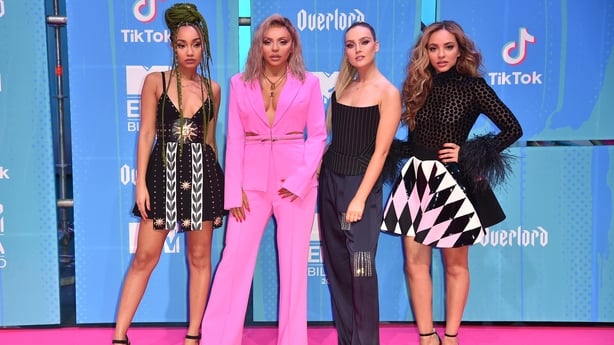 As the group geared up for their album drop, they opened up about the "double standards" for men and women in the music industry, saying that women who try to take control of their careers are treated differently to their male counterparts.
Perrie Edwards told The Sun: "It's double standards when you're young women. When we started out it was almost like, 'This is your lane, stay in your lane. You're the faces and the name'. We're not. We're the brand.
"We're businesswomen. It's our baby. So everything we do creatively comes from us. It is frustrating that if a group of guys were to say, 'We're not going to do that song, we're going to release this song', it's like, 'Maybe we should listen'.
"Whereas when we do it, it's like, 'Oh they're at it again, they're whining'.
"But we're not. We're perfectionists. We take everything we do so seriously. It's important to us."
We need your consent to load this Instagram contentWe use Instagram to manage extra content that can set cookies on your device and collect data about your activity. Please review their details and accept them to load the content.Manage Preferences