Robert De Niro made a return to Saturday Night Live as special counsel Robert Mueller in a sketch in which he bid farewell to Attorney General Jeff Sessions.
The Hollywood star reprised his role as Mueller after President Donald Trump requested Sessions' resignation earlier this week.
Trump repeatedly criticised Sessions for recusing himself from the investigation into Russia's role in the 2016 election led by Mueller.
In Saturday night's cold open, Kate McKinnon donned her combover wig and prosthetic ears once more for her whimsical take on Sessions.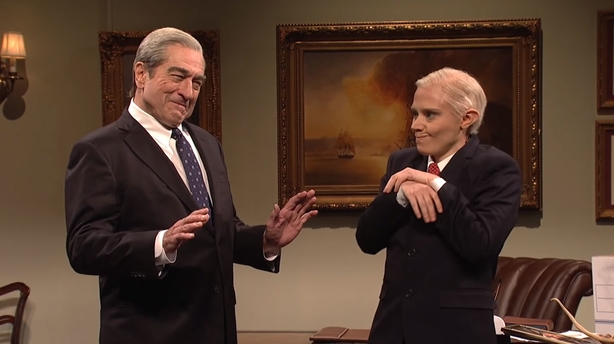 De Niro makes a surprise appearance towards the end of the sketch, walking into Sessions' office as he's clearing out his desk.
"Oh boy Robert Mueller. You can't arrest me, I quit, sir," McKinnon's Sessions tells him.
"Relax Jeff, I just came to say thanks with all your help with the investigation," he replies.
"Thanks? What did I do?", McKinnon as Sessions responds.
"More than you'll ever know", De Niro's Mueller says while raising his eyebrows.
When McKinnon's Sessions asked if he will be in Mueller's report, De Niro replied: "A little bit."
Asked if the president will be in it, he replied: "A lot a bit."
De Niro's Mueller later adds: "I have something for you Jeff. You know in Harry Potter, when an elf gets a piece of clothing, it sets him free? This is for you."
He then hands Sessions a piece of toilet paper from the bottom of Trump's shoe.
"I'll treasure this", McKinnon's Sessions exclaims.
"You're a weird little dude Jeff", De Niro's Mueller says.
Finally, they hug and sing an Adele song together.
Watch the Saturday Night Live cold open below:
We need your consent to load this YouTube contentWe use YouTube to manage extra content that can set cookies on your device and collect data about your activity. Please review their details and accept them to load the content.Manage Preferences
For more television news, click here.