Taken Down continues this Sunday on RTÉ One. Two of the show's stars, Lynn Rafferty and Orla Fitzgerald, talk to John Byrne about the show.
It's week two of Taken Down and already the mystery is growing. If you missed last week's opener, this new drama from the creators of Love/Hate is also set in Dublin – but with a completely different situation to the gangster-tastic tales of Nidge and company.
The story focuses on Esme, a young Nigerian woman who is found dead at a bus stop opening an investigation into her death. This leads Inspector Jen Rooney (played by Lynn Rafferty) and her team of detectives to a nearby centre where asylum-seekers are housed and processed.
The residents there are reluctant to talk to anyone. Many are terrified of deportation; many are just frightened of the Gardaí. Some of the refugees find themselves under suspicion, while others have traumas from their past unearthed by the police attention.
In this week's episode the investigation continues and suspicion falls on Wayne (played by Brian Gleeson), the manager of the Direct Provision Centre and the contradictory evidence he is providing.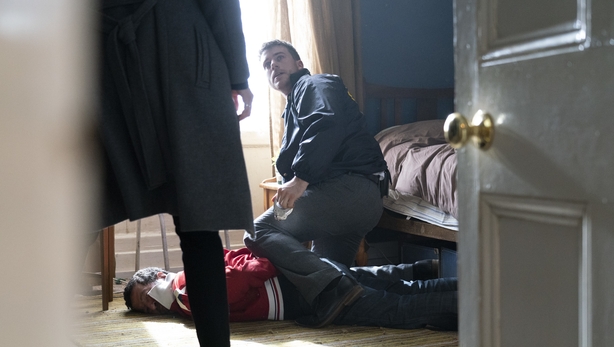 When he meets up with brothel owner Gar (Jimmy Smallhorne) it appears that Wayne may be up to his neck in something illicit.
The GardaÍ are obviously pivotal in this story. Lynn Rafferty and Orla Fitzgerald play two of the central officers, Inspector Jen Rooney and Garda Niamh. The former is tough and smart, but also sensitive. Niamh has no filter and is prone to speaking her mind, and she's also Jen's best pal.
John Byrne: How familiar were you guys with the world of Direct Provision?
Orla Fitzgerald I actually wasn't that familiar. I was aware of it but after doing the bit of research that I did do, I think it's really important that a light is shone on it. And I think a lot of Irish people don't know what goes on in these centres – or if they're even there.
Anyone I've been speaking to, they're like 'Direct Provision?' They've heard of it, but they're really not that familiar. So I think this show does explore that, and I think it's a good thing.
Lynn, you've gone from being a gangster's girl in Love/Hate to becoming a member of the GardaÍ this time around. Presumably it's fun to take a role on the 'other' side?
Lynn Rafferty It's a dramatic turn to cross the line, but I really enjoyed it. There's a psychology behind both sides and it's good to play that. Walking through a police station and knowing that you're the boss is a pretty good feeling.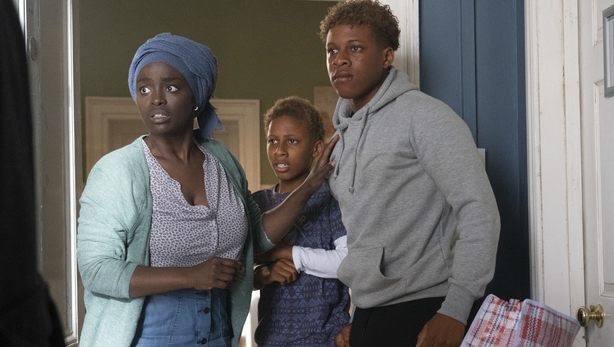 Did either of you have to undergo any special training, given that you're playing pretty physical roles?
Lynn Rafferty I train in Muay Thai kickboxing anyway. That'd be very physical. I didn't know what it was going to entail because I didn't have all the scripts, but I was ready to do that, if it was needed. I always like to keep fit for that reason. If I do need to jump over a wall or slide the bonnet of a car, I can do it.
Orla Fitzgerald I had to learn to drive. Nobody asked me in the audition! Right, granted it was a driving scene that I auditioned for. Obviously you don't get the scripts, because you're just auditioning, and then when I got the part I was like: 'Oh, there's a lot of driving in this.' But nobody had asked me.
I was thinking they must have low loaders, it'll be fine. Because nobody had asked. And then the production people got on and said, 'Can you send through your driver's licence.' This was two weeks before, and I was like 'I can't drive'. I know it's bad that I can't drive at my age, but I just loved the fact that I can't drive. Living in a city, you just don't drive.
There was panic and I was panicked, and so I had to learn to drive. It's really complicated trying to get a provisional licence. I'd to go to Dundalk to do the bloody theory test . . . and then I'd to learn to drive in a week.
And how about wearing the Garda uniform - did that help you with the task of getting inside their head to play your character?
Lynn Rafferty It's not like army training or anything but there was something about the clothes that gives me a certain movement and posture. It makes me feel a certain way. The costume is kind of sleek, Danish. It's amazing. Those clothes made me move in a certain way, which is pretty cool when a costume can do that for you. So definitely I did move a bit differently in it. I definitely look more professional.
Taken Down continues at 9.30pm on Sunday on RTÉ One.