There's a new celeb-filled show called I'll Get This, Lego Masters and Masterchef: the Professionals are back, and it's goodbye to The Deuce and The Truth About the Harry Quebert Affair . . .
Pick of the day
I'll Get This, 10.00pm, BBC Two
This looks promising, but it could easily go either way.
An eclectic mix of celebrities go for dinner together and when they arrive at the restaurant they must place their bank card in the centre of the table. As the food is served and the drinks flow, they play a series of revealing games.
If they win a game, they can retrieve their card. The person whose card remains at the end of the evening must pick up the bill for the whole group. It's going to be an expensive night for someone!
First up are Rylan-Clark Neal, Ed Gamble, Carol Vorderman, Ellie Taylor, and Anton Du Beke.
New or Returning Shows
Lego Masters, 8.00pm, Channel 4
Now here's a right alternative to watching Champions League football.
Melvin Odoom hosts and is joined by scientist and engineer-at-heart Fran Scott to co-judge alongside Matthew Ashton, the Lego Group's Vice President of Design.
In the first episode, the eight teams must construct a 1.3m-long bridge, with no prior planning, over which Melvin will be driving a weighted remote-controlled dumper truck.
School, 9.00pm, BBC Two
This apparently revealing documentary series follows the closely connected experiences of UK-based pupils, teachers, parents and school leaders across an academic year, in all their complexity.
Set in three secondary schools, it shows the effects of cuts, and how life is for various people involved on all sides of the educational equation.
Ending Tonight
The Deuce, 10.00pm, Sky Atlantic & NOW TV
David Simon and George Pelecanos' critically acclaimed drama about the burgeoning porn film industry in 1970s' New York completes its second season comes. And there's an awful lot going on.
Rudy and Tommy bring Vincent to interrogate Marty Hodas to find out who shot at them, but he doesn't know anything. Candy works with her boyfriend on editing on Red Hot.
Meanwhile, Paul falls back into a relationship with Todd, while Rudy partners with Matty 'the Horse' Ianniello on signing Lori to a movie deal.
The Truth About the Harry Quebert Affair, 10.00pm, Sky Witness & NOW TV
This peculiar miniseries starring Patrick Dempsey has been a strange mix of decent drama and something straight out of a Hallmark movie.
Anyway, the mystery concludes as the truth about what happened in the quaint and idyllic Maine town of Sommerdale in 1975 is revealed.
Who really was behind the tragic murder of Nola Kellergan, and what was Harry Quebert's role in her demise?
Suits, 12.05am, RTÉ 2
In the season 7 finale - how the hell has this soufflé of a show lasted so long? - Mike and Rachel decide to give their personal life priority over the firm.
This, of course, means Meghan Markle - who played Rachel - is about to depart the show as she got herself hitched with British royal family fella Harry Windsor.
Don't Miss
Masterchef: the Professionals, 8.00pm, BBC Two
The Bafta-winning hit is back for yet another run. Celebrated MasterChef presenter Gregg Wallace, chef Monica Galetti and two-Michelin-starred Marcus Wareing are together searching for some cooking talent.
Over seven weeks, 48 professionals will face the rigours of the MasterChef kitchen before one chef is crowned as the culinary superstar of 2018.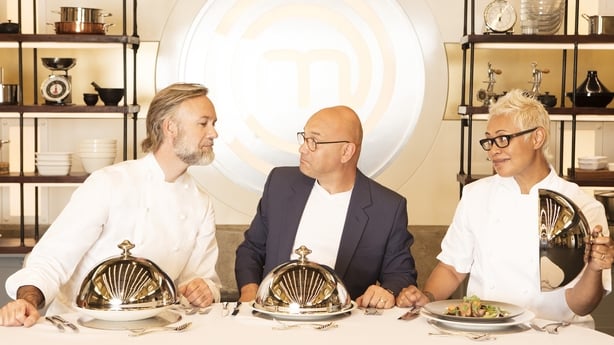 Click here for full TV listings