Joe Duffy told The Ray D'Arcy Show on Saturday night that he is "nervous as hell" about making his panto debut as the Magic Mirror in Snow White and the Adventures of Sammy Sausages & Buffy at Dublin's Tivoli Theatre in December.
While the Liveline presenter appears as a hologram in the story and records his parts for the show, he is still worried about the reaction he'll get from the crowd when the panto opens on December 4.
"I love panto," Duffy told D'Arcy on RTÉ One. "Maureen Potter, Jack Cruise - going back it's a tradition in our household for years. When Alan Hughes and Karl [Broderick] started their panto - the Sammy Sausages Panto, Buffy and all of that - about 21 years ago my kids were three and I think we've gone to every single one of them, every year. They started in St Anthony's Hall, then they moved to Liberty Hall, then they moved to the Tivoli."
Duffy went on to explain how his unlikely role as the Magic Mirror came about.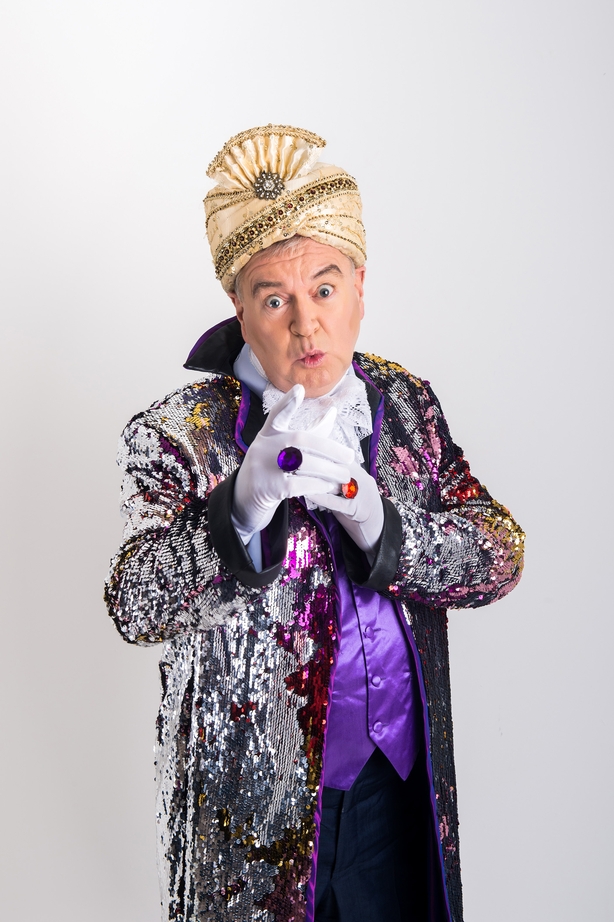 "I met Karl last Christmas and I said to him, 'Karl, if you're doing the panto this year, you have to do music from The Greatest Showman - my favourite movie of all time!' And he said, 'I haven't heard of it'. And I said, 'It's just fantastic'. So there's a number of songs from Greatest Showman in it.
"Then he rang me about three months ago and said, 'Would you do the panto?' I said, 'No, no'. He said, 'No, it doesn't mean you come up [perform] every day... There's a mirror - a talking mirror - so we do you as a hologram'. I record a load of stuff, a load of different conversations, which they use.
"So I'm determined to bring the place down. And I will bring the place down because they're demolishing the Tivoli in January when the panto is over!"
"It's going to be odd for you," said D'Arcy. "Because you're going to be in the audience and you're going to be up onstage at the same time. Will you go incognito to see it?"
"I will," replied Duffy. "I don't even... I'll be nervous as hell, anyway! Because I'd say there'll be rotten tomatoes and everything!"
Watch the interview in full on the RTÉ Player.
Liveline airs on RTÉ Radio 1 weekdays at 1:45pm. The new series of Liveline: Call Back begins on RTÉ One on Thursday November 1 at 7:00pm.
Snow White and the Adventures of Sammy Sausages & Buffy runs at Dublin's Tivoli Theatre from December 4 to January 13.