Much-loved chat show host and author Graham Norton appeared on The Late Late Show's special live broadcast from London on Friday night, where he spoke about his changing relationship with Ireland.
The TV presenter was asked by host Ryan Tubridy about his recent declaration: "In a world that seems to be going to Hell in a handcart, Ireland is this wonderful beacon."
Norton responded: "You live here [the UK] and you see what's going on in Ireland and it's extraordinary. It's so not the Ireland we left. It's fantastic. I think, one: it's the size. Ireland's a great size because you can affect change quite quickly. You can read the mood of the nation.
"Whereas here [the UK], God knows what's going on. So it's hard to bring all of it together."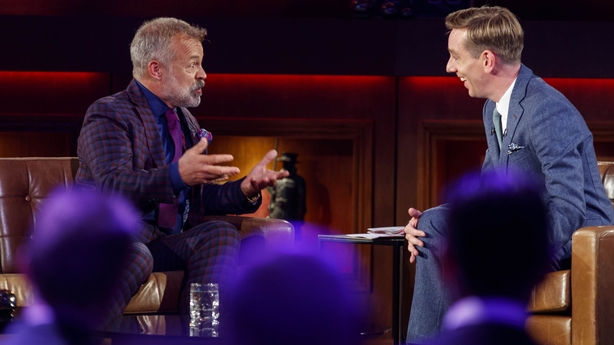 The chat show host emigrated from Ireland to the UK in the 1980s. He told Tubridy that Ireland has changed hugely since he left.
"Now, I think what's great about Ireland is that it's a country. It's young people who are engaged in politics and they decided to fashion a republic that's fit for purpose, that they can live the lives that they want to live in that country," Norton explained.
"And it's such an optimistic, bright place. When you talk to young people when I go home, they're so proud of it. They're so delighted with themselves and what they've done. And it is gobsmacking."
"I was saying to someone backstage, I get to reap the rewards of it, but I left. The people who you're really in awe of are the guys who stayed and campaigned and pushed and moved that boulder up the hill. Hats off to all those people."
When Tubridy asked him in what sense Ireland is a "beacon of hope", Norton replied: "As in the rest of the world is going to hell in a handcart! You've got to think it's all bad. You do wonder if the backlash will start in Ireland soon!
"But for right now, when everything's bad, you wake up and turn on the news, my default position is 'I could always go back to Ireland and grow tomato plants on a windowsill and not watch the television'."
"My default position is always I can always go back to Ireland and grow tomato plants on a windowsill" - Graham Norton @grahnort on how Ireland is a beacon of hope in a world gone mad #latelate pic.twitter.com/AfI78W3JyJ

— RTE One (@RTEOne) October 12, 2018
The presenter admitted that his relationship with his home country has evolved over the years.
"I think as you get older, hopefully you mellow a bit," Norton suggested with a laugh. "I think when you're young, you're so judgemental.
"Now hopefully you've got a bit more empathy and a bit more tolerance, and weirdly, I think Ireland's got a lot more empathy and a lot more tolerance."
"I've got older and Ireland's changed, so yeah, our relationship is different."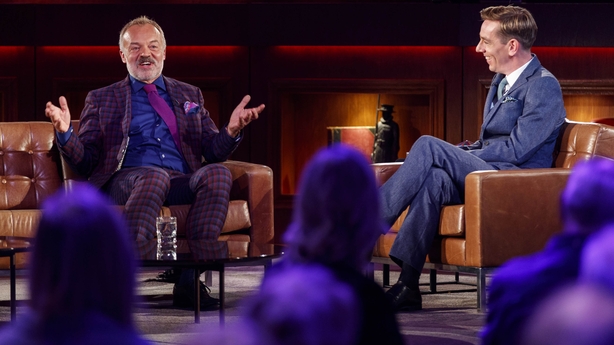 Norton showcased some of his trademark wit when Tubridy began to ask him a question about his mum.
"She's watching, Ryan," Norton warned, before quipping: "She'll be turning over soon for me, though."
#GrahamNorton says his mum is watching the #latelate show in London but "She'll be turning over for me though" pic.twitter.com/NpiDAmwHQf

— Entertainment on RTÉ (@RTE_Ents) October 12, 2018
The Graham Norton Show host also joked that his mum is his worst critic when it comes to his BBC One show, sometimes asking him after it has aired: "Hmm. How did you think it went?"