Ryan Tubridy has promised that tonight's Late Late Show in London has an impressive guest list and set design and revealed "it's going to look like a home away from home".
The show will be broadcast live from Central Hall Westminster in London this Friday, with over 1,000 people expected to be in the audience on the night.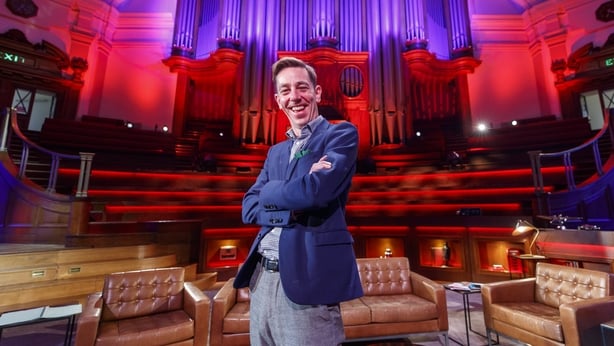 Speaking to RTÉ's London Correspondent Fiona Mitchell on Friday, the presenter admitted he was experiencing some pre-show jitters.
"I'm sitting here pretending to be calm. But look at the size of the hall, and look at how austere and gorgeous it is", he said.
"It's a different job. It's a different day at the office, but that has just heightened the excitement levels, and the nerve levels, but we are ready, we're ready for action, and we cannot wait to get down to business."
Some of the well-known guests on the night include Graham Norton, Laura Whitmore and Imelda May, Mick McCarthy, Barry McGuigan, a supergroup which will include Paddy Moloney from the Chieftains, John Sheehan from the Dubliners, and Andrea and Caroline Corr.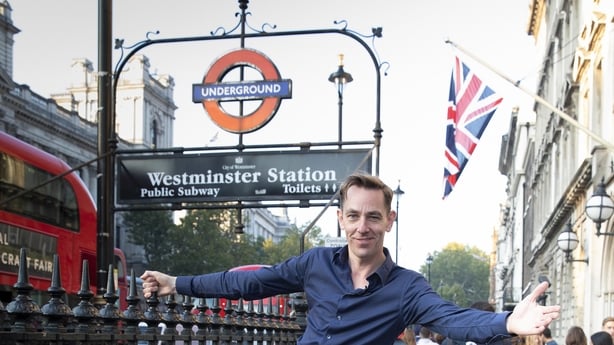 Speaking about the eagerly-awaited London show, Tubridy said: "It's my first time doing the Late Late Show outside RTÉ.
"We've only ever done it here for ten years. We did Tubridy Tonight once in Letterkenny and once in Cork, and it was amazing because it's like being an actor in a theatre.
"This is a venue that has an audience of 1200 people, which is a thousand more than my average Friday. So, that's pretty big, it's still quite intimidating in terms of numbers and all of that," he added.
The 45-year-old presenter said he is impressed with the set design and guest list for the upcoming show, saying: "I've looked at designs of the set and how it looks. We're bringing our Late Late Show set over with us, so it's going to look like a home away from home.
"It's got balconies and a guest list that we are pretty impressed by and that I'm happy with."
"I think we had 15,000 applications for the 1,000 tickets and they've all been filled. We are ready for action!".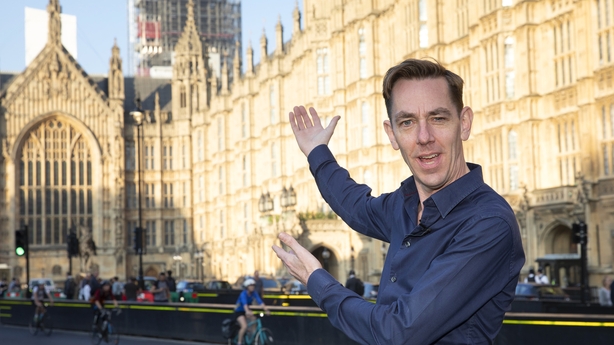 Tubridy said he is nervous about the London show but admits there would be "something wrong" if he wasn't a bit apprehensive about the night, and said he knows he will be fine once the show starts.
"People don't believe me when I say I get nervous, but I do, every Friday. I think part of it is that if you're not nervous there is something wrong. You have to have that to get into the show.
"Once the show starts the nerves calm down. Because of the bigness of this and because it has moved cities and there are great expectations for this, I will be nervous. But that's part of the human condition. I think it would be really strange if I wasn't," he added.
The broadcaster revealed how he deals with his nerves and admitted that belting out some tunes in his dressing room before the show always helps.
"I listen to a lot of music when I'm getting ready. I listen to a lot of Frank Sinatra and The Beatles, this sounds peculiar, but Sinatra is such a showman and I think it's good to channel someone, or watch someone on stage that makes you feel comfortable.
"I love singing along. I sing my heart out in my dressing room".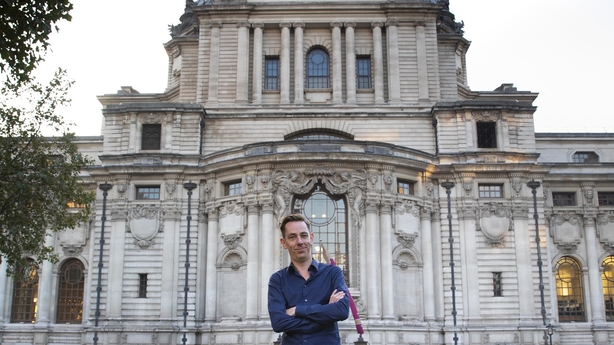 Tubs has said he is going "full Irish from head to toe" for the London special and will be sporting clothes from well-known Irish designers on the night.
"I picked the suit for this show a few weeks ago. I want to go full Irish from head to toe. If I'm going over, I want this to be the Irish on tour."
"I've got a nice Magee suit and a Paul Costelloe tie picked out. I've that bit done and that's the armour," he said.
The #LateLate Show is off to London 🇬🇧 this Friday night. Ryan will be sitting down with biggest Irish names in entertainment, sport, business, music and much more! 🦉🎥 pic.twitter.com/mbddv1H566

— RTE One (@RTEOne) October 10, 2018
Tubridy previously told RTÉ Entertainment that it will be "a show like you've never seen before."
Speaking about the decision to bring an episode of the long-running talk show to the UK, Tubridy said: "We think ultimately that Brexit is problematic and we think Brexit is economically a bad place to be, however there are enormously important ties that bind our country with the UK down through the years.
"So many of our family and friends live over there, they're there and part of that story. And culturally, Irish people have given a lot to the UK, as well as us getting it back.
"The point we're trying to make is that, right, Brexit is a problem, right, economically we're distanced, but we've never been closer culturally, and we're going over to do that, to shake hands across the Irish Sea and celebrating the Irish in Britain."
You can catch the Late Late Late Show live from London on October 12, RTÉ One at 9.35pm.