A purported interview with Hollywood star Drew Barrymore has gone viral after a passenger spotted the article in EgyptAir's in-flight magazine.
Writer and political analyst Adam Baron was on a flight to Cairo when he happened upon the interview, which is peppered with dubious sounding quotes attributed to the actress.
He tweeted a series of photos of the interview, which he accurately described as "surreal", and it quickly went viral.
This interview with Drew Barrymore in the Egypt Air in flight magazine is, umm, surreal. pic.twitter.com/fN3lNHXbL0

— Adam Baron (@adammbaron) October 2, 2018
Aida Tekla's by-line appears at the start of the interview, which opens in an extremely unusual manner.
"Despite being unstable in her relationships most of her life, despite the several unsuccessful marriages and despite the busy life of stardom that dominated her life for several years; the beautiful American Hollywood actress Drew Barrymore has recently decided to temporary [sic] take an unlimited vacation to play her most crucial role as a mother", the article begins.
It goes on to suggest rather condescendingly that Barrymore's romantic history is "only natural" because she "lacked a male role model in her life" following her parents' divorce when she was 9.
"Ever since that time, she has been subconsciously seeking attention and care from a male figure; but unfortunately things do not always go as planned and she has not yet succeeded in any relationship for various reasons," the piece adds.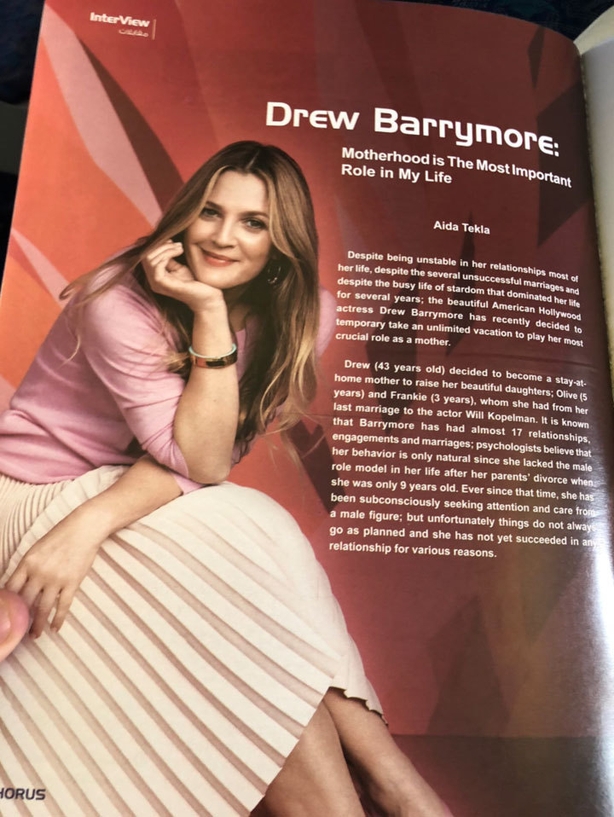 The article goes on to attribute more questionable quotes to Barrymore, including the following about her mothering style to her two daughters: "I do not intentionally follow certain parenting methods with my daughters and I do not consult with psychologists...
"I focus on nurturing their minds as well as their small bodies".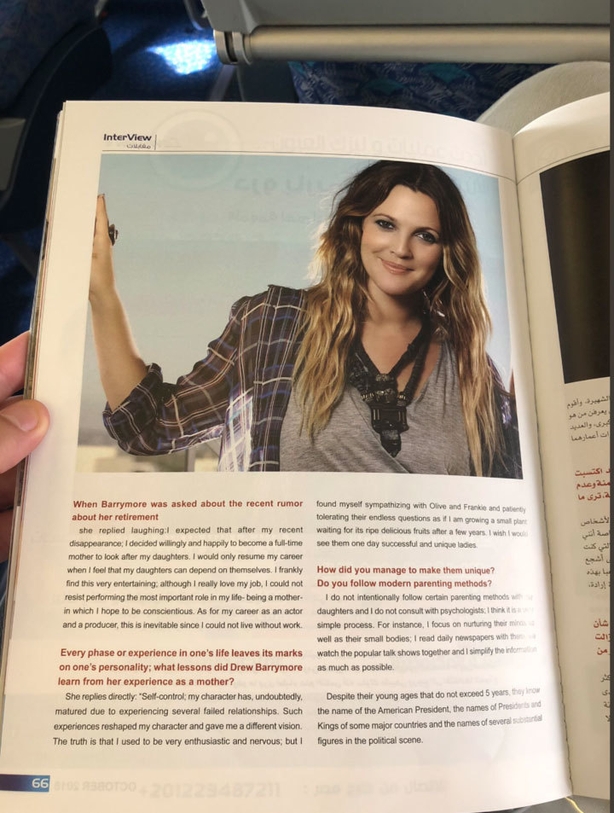 However, it was the section about Barrymore's post-pregnancy weight-loss that left readers flabbergasted.
The interviewer asks what is her secret to returning to her "previous graceful body" following the birth of her daughter.
She is quoted as saying: "I feel overwhelmed when someone tells me that I have regained my image and managed to lose that extra weight.
"However, I find this a great opportunity to encourage every woman who is overweight to work on regaining her beauty and body, especially that it is not as hard as one may think; it is all about determination and following the appropriate diet under the supervision of a physician."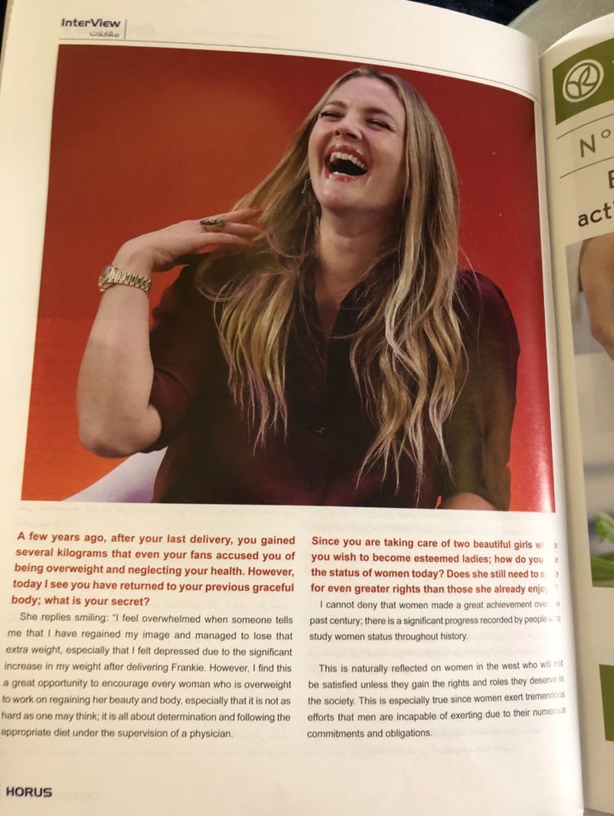 The official EgyptAir Twitter denied a suggestion that the interview was fake, tweeting that it was a "professional magazine interview conducted by Dr. Aida Tekla, former president of the HFPA (Hollywood Foreign Press Association)."
Dear sir, this a professional magazine interview conducted by Dr. Aida Tekla  Former president of the HFPA (Hollywood Foreign Press Association) and one of the voting members of the Golden Globes.

— EGYPTAIR (@EGYPTAIR) October 3, 2018
Aida Takla, the former president of the Hollywood Foreign Press Association (HFPA), confirmed that she did write the article and tweeted that the article was then edited.
She added that the interview with Drew "Barrimoor" (sic)  was "genuine and far from fake".
This doesn't negate the fact that the interview with Drew Barrimoor which took place in New York is genuine &far from fake.
As far as Drew we interviewed her several times I saw her grow up before my eyes she is charming and talented.@EGYPTAIR

— Aida (@Aidatakla1) October 3, 2018
A spokesperson for Barrymore told The Huffington Post that the actress "did not participate" in the interview and that her team is "working with the airline PR team."