Tom Hardy and Riz Ahmed have revealed they felt pressure to do justice to Venom from the character's diehard fans.
Hardy stars in the dual role of journalist Eddie Brock and alien symbiote Venom in the new superhero movie, while The Night Of star Ahmed plays Carlton Drake, a billionaire inventor and leader of the Life Foundation which is experimenting on the symbiotes.
Speaking to RTÉ Entertainment in London, Ahmed spoke about the stakes being high for the film, which marks the first time the much-loved comic book character has made it onto the big screen.
Watch our interview with Tom Hardy and Riz Ahmed:
We need your consent to load this rte-player contentWe use rte-player to manage extra content that can set cookies on your device and collect data about your activity. Please review their details and accept them to load the content.Manage Preferences
"The stakes are always high because you want to make sure you do a good job for the fans who are die-hard for this kind of film, and for Venom in particular", he said, adding that "it's been amazing to see the level of enthusiasm" with "people stopping you on the streets" to talk about the movie.
Hardy interjected, "People love Venom don't they", and Ahmed added: "I think it's amazing he now has his own time to shine as a comic book character getting his own film because I think people have been really hungry for it.
"We were aware of that following out there, we had to do justice to this character and to those fans for sure."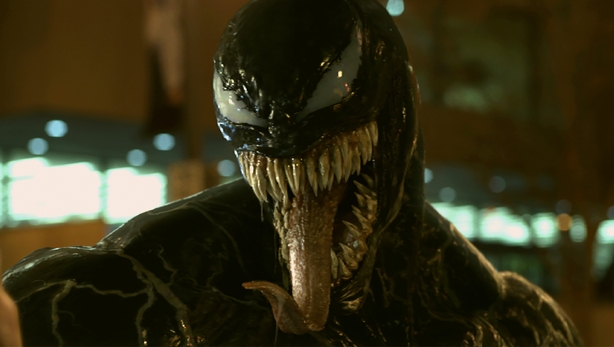 This is not the first time The Revenant and Mad Max star Tom Hardy has played a dual role in a film following his performance as the Kray twins in 2015's Legend.
The 41-year-old British star said taking on Eddie Brock and Venom was "an extension of that work", with "the added benefit of huge amount of financial assets thrown at creating a larger than life animated creature".
The actor, who told us he based aspects of Eddie Brock's character on Irish MMA fighter Conor McGregor, added that he doesn't feel like Venom is "superhero movie in many aspects".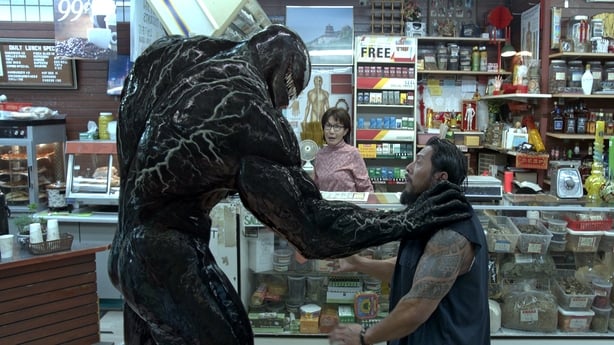 "I mean obviously it is", he admitted, going on to explain: "But for me on the inside of it and going in working on it, it's really the pleasure of playing with a creature. I wouldn't even say a monster, but it is an entity, a thing.
"It has a huge personality and is extremely vivacious and fun and dangerous, and living rent free in a human being and trying to negotiate the terms of this new reality, which is insanity in many aspects but becomes a dynamic that's real.
"There's good and evil fights but it's much greyer than that, there are elements of the superhero and the comic book world but the actual character isn't Superman who straps on his underpants and flies off in the air with laser eyes, it's much more carnal and primal than that."
Ahmed continued: "I think a lot of the time characters get described as goodies and baddies and I think as Tom's saying, in this film it's a bit more about the grey areas. There are good things and bad things about Eddie Brock, there are good things and bad things about Venom.
"The same with my character Carlton Drake, his intentions are to save humanity and make sure we've got a home after planet earth is useless, when it's destroyed because of environmental collapse, so he's trying to save us man, he's someone we should be rooting for! It just so happens that the way he's going about it is a little bit dodgy."
Venom is out in cinemas in Ireland on October 3..
We need your consent to load this YouTube contentWe use YouTube to manage extra content that can set cookies on your device and collect data about your activity. Please review their details and accept them to load the content.Manage Preferences