Actress Saoirse Ronan and rapper Macklemore have delivered a spoken word introduction to Ceol 2018, the annual compilation album which has as Gaeilge versions of contemporary songs.
The line-up for Ceol 2018 le hEoghan McDermott has just been announced and it is seriously impressive, featuring acts such as Kodaline, The Coronas, Picture This and Sibéal with The Cranberries performing their hit tracks in Irish. The album has been compiled by Conradh na Gaeilge and Raidió Rí-Rá in conjunction with RTÉ 2FM.
Danny O'Reilly, frontman of The Coronas said, "We love taking part in CEOL and we get a huge reaction when we sing one of our songs as Gaeilge anywhere in the world - people really connect with them.
"I hope that our song Nílimid Bréagach (We Couldn't Fake It) on CEOL 2018 and all the other amazing tracks on the album will inspire people to use more Irish especially this year during Bliain na Gaeilge."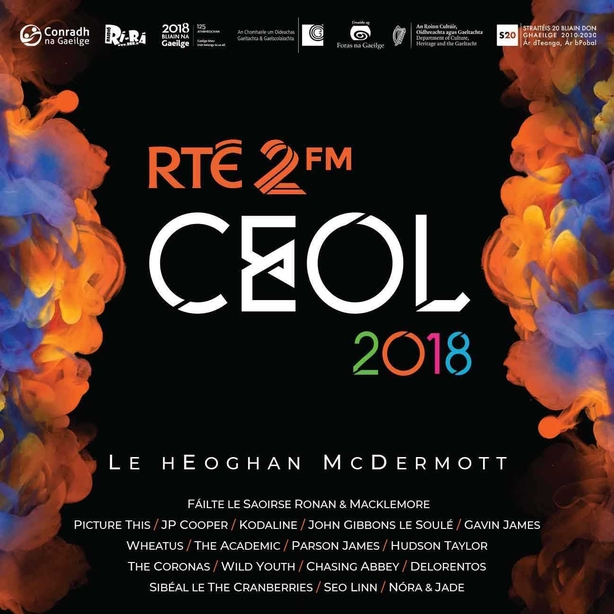 Mark Prendergast from Kodaline commented: "Myself and Steve [Garrigan, singer] started the band in the Gaeltacht, so we've always had a deep love and affinity for the language. We were delighted to be involved in CEOL this year; the scale of the album and the calibre of other artists involved make it one of the most exciting things to happen to the language in a long time."
RTÉ 2FM presenter and Ceol curator Eoghan McDermott added: "I'm so excited to announce the Ceol 2018 line-up. It's one hell of a list and includes Kodaline, John Gibbons ft Soulé, Picture This, JP Cooper, Gavin James, The Coronas, Parson James, Wild Youth and loads more fantastic artists.
"We are especially honoured that after the untimely passing of Dolores O'Riordan, The Cranberries have very kindly gifted us the use of the original backing track for Linger, which has been recorded beautifully by Sibéal."
Three-hundred-and-fifty-thousand copies of Ceol 2018 le hEoghan McDermott will land in schools on September 26 and download codes will be shared with thousands of Third Level students.
The full tracklisting for Ceol 2018 is:
1.       Fáilte go CEOL – Saoirse Ronan agus Macklemore
2.       Picture This - Is Sinne Óg (When We Were Young)
3.       JP Cooper - Amhrán an Fhómhair (September Song)
4.       Kodaline - Ag Fadú d'Aidhme (Follow Your Fire)
5.       John Gibbons ft Soulé - Spéaclaí Gréine sa Bháisteach (Sunglasses in the Rain)
6.       Gavin James - I gCónaí (Always) 
7.       Wheatus - Stócach Brocach (Teenage Dirtbag)
8.       The Academic - Do Chroí Anocht (Bear Claws)
9.       Parson James - Muid a Ghoid an Seó (Stole the Show)
10.    Hudson Taylor - Mothaigh Arís É (Feel It Again)
11.    The Coronas - Nílimid Bréagach (We Couldn't Fake It)
12.    Wild Youth - Mé Sáite Ann (Can't Move On)
13.    Chasing Abbey - Labhair Liom (Talk To Me) 
14.    Delorentos -  Insan Nóiméad (In the Moment)
15.    Sibéal with The Cranberries - Fuarú (Linger)
16.    Seo Linn - Bain an Glas 
17.    Nóra agus Jade - Fuil na nÓg (Winners of BEO 2017)