In Sorin's country house, passions conflagrate and egos are tested, as a spiteful, vain actress treats her son with unusual contempt in this new adaptation of the play which was astonishingly classed as a comedy by its author Anton Chekhov.
Irina (Annette Bening) is the selfish, spoiled actress who is staying at the estate of her brother Sorin (Brian Dennehy) in the heart of the Russian countryside. Kostia or Konstantin (Billy Howle) is her son, a young man with a burning desire to be a writer as successful as his mother's lover, Trigorin (Corey Stoll). Trigorin is the author of revered fiction, and he is also visiting.
The amateur play which Kostia mounts in a marquee at the start of the film is deliberately gauche and naïve in its sentiment, essentially a dramatic vehicle for Nina (Saoirse Ronan), a young girl from a neighbouring estate. Like young Kostia, Nina has ambitions in the artistic realm, she wants to be a famous actress like Irina.
However, Kostia's dreamily adolescent work for the stage is openly mocked by his mother, so much so that he summarily ends the performance in a rage. Thus the seed is sown for serious mother-son tension ahead.  
There is plenty of tension and sighing and secret weeping to go around anyway, feelings are mostly expressed, heart-on-sleeve, rather than pent-up. Characters hanker after others, be they married or single, hanker when it is utterly pointless, the best kind of hankering obviously.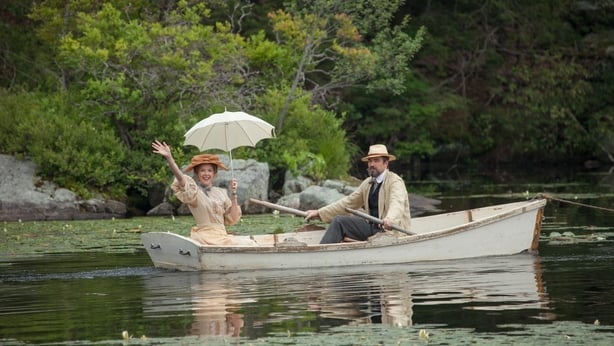 Elisabeth Moss  - brilliant as ever, what do you expect - plays Masha, addicted to snuff and alcohol. She is mournfully in love with young Kostia, which is an ill-advised idea, as Nina is his love object. In turn, the schoolteacher Medviedenko (Michael Zegan) is obsessed with Masha whom he follows around like a puppy dog.
Similarly, Paulina (Mare Winningham) carries a torch for Doctor Dorn (Jon Tenney) but she is married to Shamrayev (Glenn Fleshler), the estate's bailiff. The Seagull may sound like a farce, but it most certainly isn't, you sense suffering and disappointment throughout. The doctor has regrets about life, even old Sorin feels the whole escapade didn't work out quite as he wanted.
The play is about the futility of life in large part, it's about how life may seem pretty vacant, even when you have attained a spurious success. The writer Trigorin best reveals the latter home truth in a frank admission to Nina, whom he falls in love with, despite his attachment to Irina.
Futilty is not a good thing to feel, but it is typically felt much of the  time – if not, all of the time – by Chekhov's characters. To explain about the actual seagull of the piece, incidentally, would be to spoil, but the bird is bound up with key events.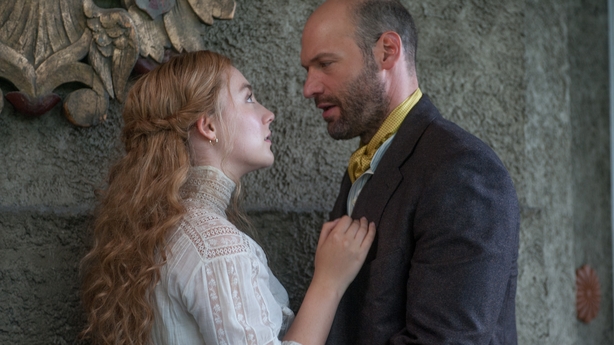 Sidney Lumet did a film version of the play starring James Mason, Vanessa Redgrave and Simone Signoret. That was in 1968 and there are no doubt a few filmed adaptations in Russian and presumably a few other languages since the play was first staged in St Petersburg in 1896.
You cannot avoid that impression of `join the queue,'  another reading for cinema that might be good, bad or indifferent, who is to know, unless you are a Chekhov expert. Somehow, the good doctor seems too good for film in the end, or best imbibed on the stage, at the very least.
Meanwhile, Saoirse Ronan inhabits the Nina role competently, with, yes, an American accent to match the others, (nothing can be done about that, supposedly.) She was last seen in On Chesil Beach as the hapless wife and the aforementioned Billy Howle played her equally ill-starred husband, small world.
Being a diligent boy, your reviewer read the script of this play before watching the screen adaptation and noted its slow-burning power to evoke useless passions that often fall dead by the wayside. Watching it shortly afterwards, one felt the brilliant text coming to life, but not in a particularly remarkable fashion.
This treatment for film is perfectly serviceable, but you may find your eye lingering rather too fondly on the lush, bosky beauty of rural New York state – the film was shot in the environs of Monroe and Port Chester. 
You might be just as well reading the play and imagining you hear Russian while you read in English, rather than absent-mindedly recalling the last time you saw Brian Dennehy on a weepy TV movie some weepy Sunday afternoon, or comparing Ms Ronan's performance with her Eilís Lacey. In sum, not so bad, but somehow fails to scale the heights.
We need your consent to load this YouTube contentWe use YouTube to manage extra content that can set cookies on your device and collect data about your activity. Please review their details and accept them to load the content.Manage Preferences