Cracking new drama Killing Eve has arrived, there's a documentary about Leonard Bernstein, and Adrian Chiles looks at his boozing in Drinkers Like Me . . .
Pick of the day
Killing Eve, 9.30pm, RTÉ One
This BBC America drama looks very promising, especially as writer Phoebe (Fleabag) Waller-Bridge has been nominated for an Emmy.
Kicking off with a double episode, Jodie Comer (Doctor Foster) plays the psychopathic Villanelle a young, beautiful, and prolific assassin who leaves a trail of high profile murders across several countries.
MI5 officer Eve Polastri (former Grey's Anatomy star Sandra Oh) connects a new assassination to a series of such killings which she has been researching on her own time.
Though her theory that the assassin is a woman is dismissed by her superiors, Eve's unauthorised interview with the only witness confirms it.
Eve is sacked after the witness is murdered while under her care, along with a nurse and two guards. Impressed by Eve, Carolyn Martens, head of the Russia Section of MI6, recruits her for an off-the-books assignment to track the killer.
New or Returning Shows
Riz Ahmed: Road to Englistan, 10.00pm, BBC Two
Nikki Bedi interviews one of Britain's most successful - and outspoken - actors, Riz Ahmed, who opens up about his childhood as the son of immigrants from Pakistan, and talks about growing up in a 'cultural no-man's land'.
He is currently writing Englistan, a multi-generational drama for BBC Two, and has starred in numerous critically lauded films and TV series including HBO's The Night Of (for which he won an Emmy) and Rogue One, part of the Star Wars franchise.
Here's his video for Englistan:
Pope Francis in Ireland Highlights, 8.30pm, RTÉ One
If you've been hiding away in a cave over the weekend, here's a round-up of Pope Francis's visit to Ireland, including two major outdoor events at Croke Park and the Phoenix Park in Dublin.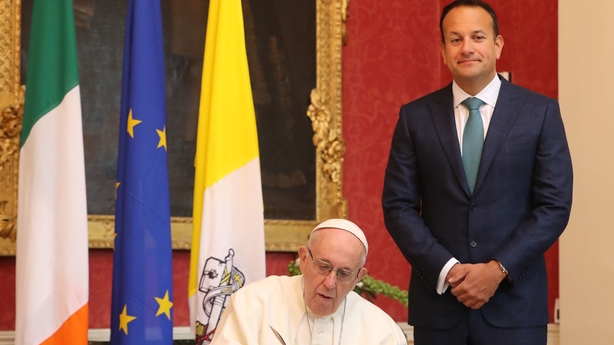 Passions: Bernstein by Dame Kiri Te Kanawa, 9.00pm, Sky Arts & NOW TV
To mark the 100th anniversary of Leonard Bernstein's birth, Kiri Te Kanawa presents what's promised to be an eye-opening documentary exploring the genius of one of the towering figures of 20thcentury American music.
Leonard Bernstein was a composer, conductor, educator and innovator, and this film explores the many facets of his work from the unique point of view of Kiri, who worked with him on the 1984 recording of West Side Story.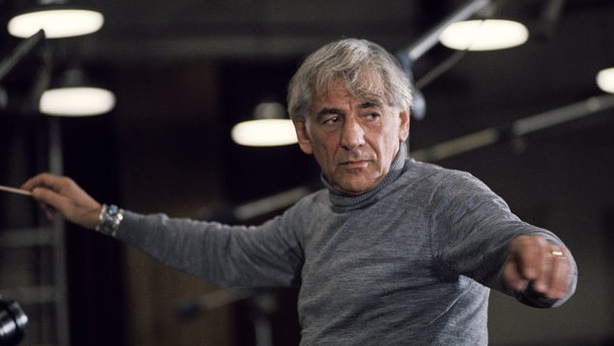 Ending Tonight
Sharp Objects, 9.00pm, Sky Atlantic
Here's the final chapter of the dark, booze-soaked thriller starring Amy Adams as troubled crime reporter Camille Preaker, whose dysfunctional family are increasingly central to this story of murdered young girls.
What will the outcome of Camille's investigation in Wind Rock be? Will the child murders be solved, or will Camille's unwelcome return to her hometown conclude with her own self-destruction?
Who is America? 10.30pm, Channel 4
While admiring the hard neck of Sacha Baron Cohen to take the mickey here, this show got quite boring rather quickly as the joke wore thin with repetition. Besides, politicians and public figures being dumb is nothing new now.
In tonight's finale, for example, Billy Wayne Ruddick Jr interviews former presidential candidate Jill Stein and discusses climate change and global warming. He then interviews former Governor of Vermont Howard Dean and discusses his theory that Hillary Clinton is secretly a man.
Cilla, 9.00pm, TV3
It's the third and concluding part of the biopic about Cilla Black, starring a hugely impressive Sheridan Smith as the late Liverpool singer-turned-TV star.
Following a failed attempt to break into the America market, more problems with Bobby and Brian Epstein's troubles threaten to derail Cilla's career for good.
Don't Miss
Drinkers Like Me - Adrian Chiles, 9.00pm, BBC Two
This is quite timely, given the report last week about the dangers of drinking any - never mind over-indulging in - alcohol.
Adrian Chiles takes a long, hard look at his relationship with alcohol. Like an awful lot of people he's a steady, seemingly moderate, regular drinker. While he drinks most days, he rarely gets drunk, never lets alcohol get him into trouble and doesn't get hangovers.
But it turns out he drinks much more than he thought, and his physical and mental health is suffering.
Here he's talking about it on Good Morning Britain: