Irish five-piece Vinci put in a hard slog to make it to Los Angeles for a music showcase in July, but the gamble paid off as they immediately landed a coveted slot at the 2019 Oscar Wilde Awards.
The annual Hollywood shindig, which is held the night before the Oscars and celebrates the contributions of the Irish to film, television and music, is a major, high-profile gig for the unsigned band who are self-managed and self-promoted.
The Dublin-based rockers, consisting of lead singer and guitarist Kurtis Wade Murphy, bassist Noely Musgrave, cellist and keyboardist David Doyle, guitarist Andy Lestrange and drummer Leo Cassandro, spoke to RTÉ Entertainment about making their big break in the US.
Going mainstream 😂🙌

Thanks to @RTE_Ents for having us in and getting behind us 🎥🇮🇪 pic.twitter.com/dx1s5dFYMU

— VINCI (@vinciband) August 16, 2018
"It was mental," Kurtis said. "Because we worked for seven months just to get the band to go out to LA. It's so difficult to get an unsigned band like us all out to LA together."
With help from Culture Ireland, who contributed towards the cost of Vinci flying to Los Angeles, they made it to a music showcase that served as an audition for the Oscar Wilde Awards.
What they didn't expect was to hear news on their success so quickly, thanks to Trina Vargo, the President of the US-Ireland Alliance, who founded the Oscar Wilde Awards.
"We had one song left in our set and we heard a voice from the back of the room going, 'How do you feel about coming back in February for the Oscar Wilde Awards?'" Kurtis recalled.
"Immediately after the show, we were told we'll be back on February 21 [2019]. The next day we woke up, 12 hours later, with sore heads, and it's out on Billboard and The Hollywood Reporter and we're getting email after email after email.
"Everything went nuts!"
The frontman revealed that after all their hard work making it to Los Angeles, there was very nearly a disaster on the day.
"It was weird because I'd lost my voice that day," he said. "I woke up that morning and my voice was gone. We got to half an hour before the show and I had no voice. There was nothing coming out of my mouth.
"That's when panic started to sink in. About 20 minutes before the show my falsetto started coming back a little bit and I went onstage and something magic happened because it just worked and we got through the whole gig."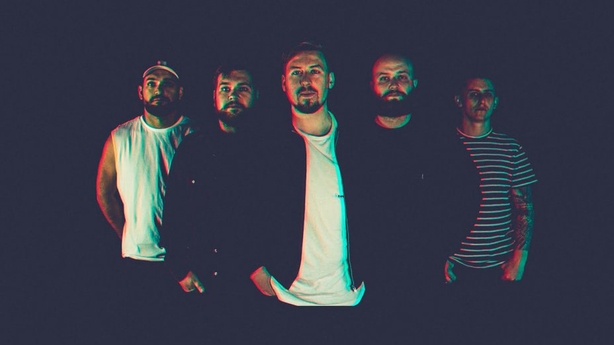 With the gig going off without a hitch, the band gained newfound recognition in the industry. David said their phones were hopping and that they've now "a few bits and bobs" in the pipeline.
"The US scene is completely different," Kurtis explained. "People that can change your career overnight and they're now listening to us. The feedback we've had has been unreal so far."
But they're keeping shtum about any potential projects: "There's a few things in the works but it's too early to talk about it at the moment."
The band members have all been involved in music for "a really long time" but have only been together since July 2016. They have been hard at work since then, with David believing that everything they do, they "put in 110%".
"It just felt special when we came together," Kurtis said. "We do everything ourselves: we book our own shows; we promote our own shows; we sell our own shows; we release our own singles; we write everything; we're involved in the production of everything."
Their band name Vinci, which comes from the Latin "to overcome", feels "even more poignant now", he said.
"We did the Iveagh Gardens with Aslan in July and that was a big deal for us," Kurtis continued. "We grew up listening to Aslan, they're heroes for any Irish band. To be playing with them was incredible and that was the biggest crowd we'd ever played to; it was about five thousand people.
"And on the same day my dad passed away.
"So to have the best moment of your life in terms of music, and then the worst moment in your life in terms of life in general, and for these to go through that with me as well... And then the following week to just decide we're going to LA and for it to turn out like this, it feels really special because of it."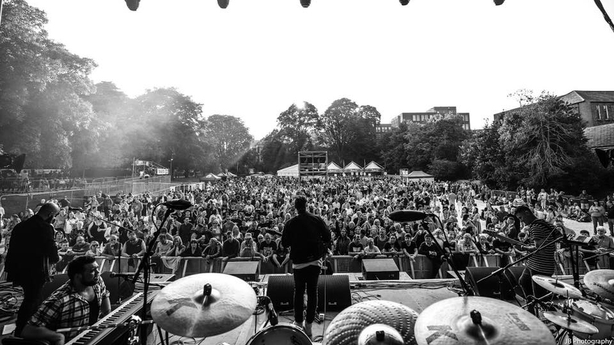 They were all friends before forming the band, which bassist Noel says is key to their success. "I think the fact that we are all such close friends - that's how it works."
Kurtis says he wouldn't put Vinci forward for opportunities they weren't ready for, but "it's time now".
"We try not to lose the run of ourselves. We all want the biggest, we all want to headline the Pyramid stage in Glastonbury. We all want to do global tours and be one of the biggest bands in the world, but we always think in terms of 'What are we going to do next?'"
"We always set goals and then go and get them. That's the way we like to do things: to accomplish goal after goal and get closer to where we want to be."
We need your consent to load this YouTube contentWe use YouTube to manage extra content that can set cookies on your device and collect data about your activity. Please review their details and accept them to load the content.Manage Preferences