The new Rose of Tralee, Waterford Rose Kirsten Mate Maher, has called on Ireland to embrace its diversity, telling RTÉ Radio 1's Morning Ireland that "there is no typical Irish woman".
The 21-year-old told presenter Bryan Dobson on Wednesday morning that being crowned the Rose of Tralee had yet to sink in, before going on to discuss the significance of her win.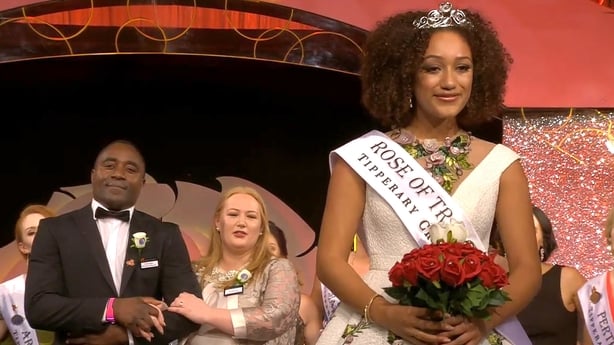 Kirsten is the first African-Irish winner of the Rose of Tralee. She is the third mixed-race woman to be crowed Rose of Tralee, after 1998 Rose Luzveminda O'Sullivan and 2010 Rose Clare Kambamettu.
She said Ireland as a country had "changed so much".
Congratuations to this year's #RoseofTralee, Waterford Rose Kirsten Mate Maher! pic.twitter.com/dWXmcmY0Dg

— RTE One (@RTEOne) August 21, 2018
"We're all mixed and we're all from different parts of the world," Kirsten continued. "I know it's a little bit more obvious with myself - I've curly hair and darker skin. 
"But at the end of the day we need to see past that and realise there is no 'typical Irish woman'. We're all different and we all come in all shapes and sizes and skin colours and hair and freckles/no freckles. We're such a diverse community, and we need to embrace that."
As to her year ahead as Rose of Tralee, Kirsten said she did not want to make any "rash decisions" on her first day.
"I'm going to sit down and have a good think - see what's best for me to do and what's right for me." 
We need your consent to load this rte-player contentWe use rte-player to manage extra content that can set cookies on your device and collect data about your activity. Please review their details and accept them to load the content.Manage Preferences
Rose of Tralee: Highlights from Night Two
Kirsten broke down in tears onstage when she was crowned the winner at the Dome in Tralee on Tuesday night. She was joined by her father, Kwalo, who hails from Zambia, and her mother, Jacinta, who is from Waterford.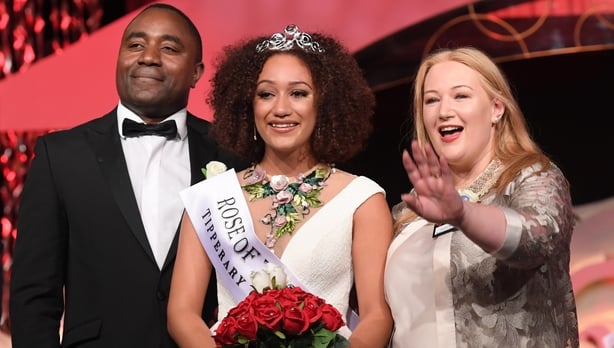 Speaking to the press immediately after her win, Kirsten said she was "overwhelmed".
"There were the most amazing women standing up on the stage," she said. "None of us knew, we really didn't know... I couldn't have picked a winner out of tonight and I certainly didn't think it would be me."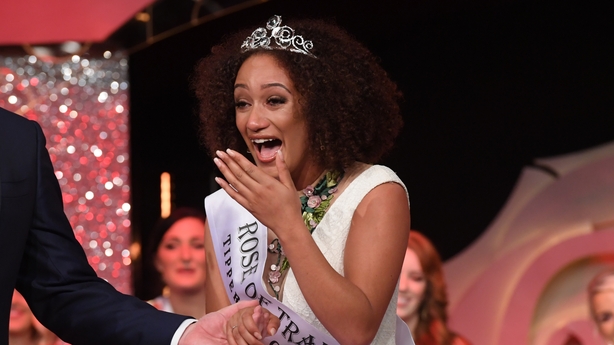 Reflecting on her win as the first African-Irish Rose of Tralee, she said her ethnicity had been "highlighted far too much for my liking" in some media coverage.
"It's one part of something that you touch off but you don't dwell on," she explained.
"There's a lot more to me than just the colour of my skin and my hair. I have hobbies, I do loads of stuff that maybe I felt wasn't talked about enough and I would've liked to speak about a little bit more. Or I did speak about it and it wasn't put into the media, which I was a little bit upset about."
Kirsten said she was "very proud" of her Zambian roots. "My dad was over in Zambia last month and he was filling them in on what the Rose of Tralee is," she recounted.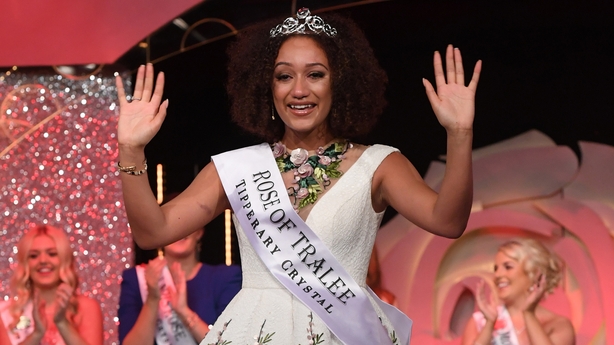 "I don't know what they're going to think when they find out about this! I'm just completely overwhelmed. I really like to stay in touch with my Zambian culture. I can't wait to go back there."
Rose of Tralee: Highlights from Night One
Kirsten appeared on Monday night's first Rose of Tralee show and spoke with host Dáithí Ó Sé about how her parents met. She said some media outlets had focussed on the colour of her skin, as opposed to her achievements and personality traits in their coverage.
"I suppose I'm the same as any other girl sitting here doing the Rose, and they touched off one teeny little part of what is me, when there are thousands of other things about me that are there to be spoken about," Kirsten said on Monday night. 
"It shows that we need to look past what we look like, the colour of our skin or our hair, our religion, anything like that. We're all the same."
"Once you're sound, just be sound," she added.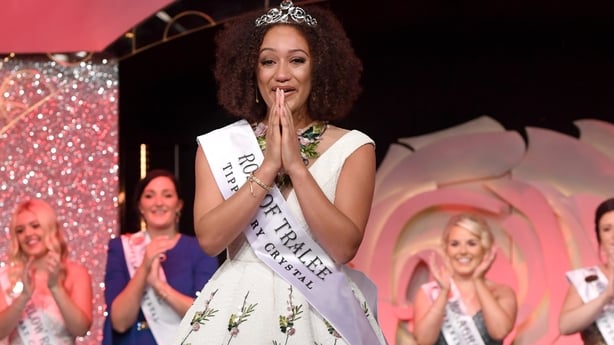 Before her win, Kirsten had been planning to attend Waterford Institute of Technology to study Multimedia and Application Development, and hopes to pursue a career in computer programming.
She sings with the Island of Ireland Peace Choir which was formed in the wake of the Omagh bombing in Co Tyrone in 1998. Her choir have performed together in The Garden of Remembrance, The Aviva Stadium and Stormont.
The winning Rose also plays hockey with Waterford Ladies' first team. They are currently competing at Munster Division 1 level.
She also gigs with a friend in her spare time and on Monday night gave a beautiful rendition of Feeling Good:
A little reminder of the Rose of Tralee 2018's performance from Monday night.
Congratulations Kirsten.#RoseofTralee pic.twitter.com/GST0T4vJG9

— RTE One (@RTEOne) August 21, 2018
Viewers took to Twitter in their droves to praise the newly crowned winner:
#roseoftralee Congratulations Kirsten 🌹🎉 we were so thrilled to meet you. Rebecca, Emily, Olivia, Emma & Laura xxxxx pic.twitter.com/8WgVo1CPDT

— Loraine Smith (@LoraineSmith197) August 21, 2018
I knew when we met Kirsten at the selection convention back in April, she was amazing!

This is moment we realised she won!!
Massive congratulations to Kirsten Mate Maher! 🌹 @newschambers also delighted. 😂 #RoseOfTralee #WaterfordRose pic.twitter.com/yCqtKp9Irp

— Zara King (@ZaraKing) August 21, 2018
Congratuations to this year's #RoseofTralee, Waterford Rose Kirsten Mate Maher! pic.twitter.com/bmjZWT3qTl

— RTÉ (@rte) August 21, 2018
Ah sure god love her ,her little face well done #waterford your gorgeous #Roseoftralee 🇮🇪🍀🥀

— audrey leeves/ (@irishgirlabroad) August 21, 2018
Can't believe it's over again for another year!  Well done #waterford what a fabulous Rose! #RoseOfTralee pic.twitter.com/wM9M8Akrcd

— AmieVIP (@AmieVIP_) August 21, 2018
 For more on this year's competition and for all of the highlights throughout the night, click here