The new romantic comedy Crazy Rich Asians has topped the US box office in its opening weekend with an estimated $25 million, bringing the total since it has opened to $34 million.
The movie, distributed by Warner Brothers, cost an estimated $30 million to make.
Based on the best-selling book by Kevin Kwan, the film starring Constance Wu and newcomer Henry Golding has become the first rom-com to land the box office top spot in three years.
Crazy Rich Asians is the first major Hollywood film since 1993's The Joy Luck Club 25 years ago to feature an all-Asian cast.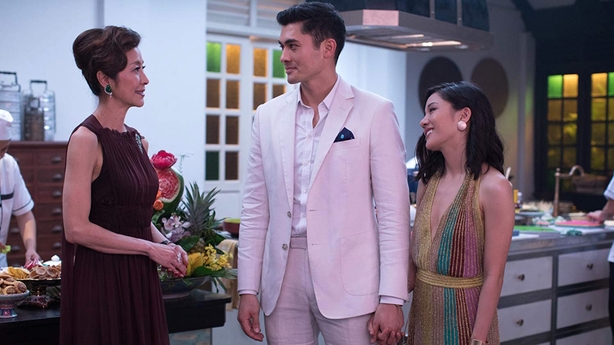 Jeff Goldstein from Warner Brothers said word of mouth has been key to the film's success.
"This movie is so culturally significant and so unique in that there hasn't been a cast that's predominately Asian [in years]. This is one of those few projects that a whole studio comes together with lots of passion," the Head of Domestic Distribution said.
Director Jon M Chu said in a Twitter thread that the film's performance at the box office exceeded expectations.
1/They thought we were gonna do 18m maybe 20m over the five days.... but YOU SHOWED UP. On dates, with your families, with your friends, with your enemies... we laughed, we cried, we shared our stories we saw each other...

— Jon M. Chu (@jonmchu) August 19, 2018
2/The fact that we had never shared a communal experience of joy, laughter and emotions at the movies like this has been an injustice. But now we have. And there's no going back. #CrazyRichAsians is the number 1 movie in America. Yes we are. Read that again 👆🏼

— Jon M. Chu (@jonmchu) August 19, 2018
3/America fell in love w/our kickass all-Asian cast of many different background, styles, shapes, sizes ages...& blew the lid off the expectation at 34 million dollars since we were released. Truly a #GoldOpen . Thank u! I feel very lucky to be a small part of this giant movement

— Jon M. Chu (@jonmchu) August 19, 2018
He added: "We still have a long run to go but our message to the world has been heard. We have arrived. Now let's go tell more of our stories! We have a lot more to say.
"And I don't want to wait another 25 years to see them. This is only the beginning."
The film follows an Asian-American woman called Rachel Chu (Constance Wu) who gets a shock when she accompanies her boyfriend Nick Young (Henry Golding) to his home country of Singapore and meets his ultra-wealthy family.
Crazy Rich Asians is scheduled for release in Irish cinemas on September 14.
We need your consent to load this YouTube contentWe use YouTube to manage extra content that can set cookies on your device and collect data about your activity. Please review their details and accept them to load the content.Manage Preferences