If you're going no further than the sofa, here are some tips on what's worth watching on the box between Friday and Sunday. As ever, it's a busy one . . .
Pick of the weekend
Disenchantment, from Friday, Netflix
Another great coup for Netflix, as the guy behind The Simpsons and Futurama comes on board with this new adult animated fantasy sitcom.
The show tells the story of Bean, a rebellious and alcoholic princess, her elf companion Elfo, and her personal demon Luci, who all live in a medieval kingdom known as Dreamland.
Whether it can be favourably compared with (early) Simpsons or the original run of Futurama remains to be seen. But there's certainly one way of finding out . . .
New or Returning Shows
Brendan O'Connor's Time Out, 9.35pm Friday, RTÉ One
This is most definitely not a chat show in the traditional sense. If anything, it's more like the late Anthony Clare's TV and and radio show, In the Psychiatrist's Chair.
In the first of three episodes, Majella O'Donnell - wife of country 'n' Irish star Daniel - joins Brendan O'Connor to talk about the moments that have mattered in her life.
They range from her first marriage breakdown and her fairytale romance with Daniel O'Donnell to raising hundreds of thousands for charity when she went public with her breast cancer diagnosis.
Here's Brendan talking about the show:

Impossible Celebrities, 7.00pm Saturday, BBC One
Rick Edwards hosts a celebrity version of the hit BBC One quiz !mpossible, where players must avoid the impossible answers to stay in the game.
This time around, 18 stars will compete for a chance to win £10,000 for their chosen charity. Contestants include comedian Russell Kane, actor Chizzy Akudolu, Top Gear's Rory Reid, presenter Angela Scanlon, MasterChef's Gregg Wallace, Gogglebox's Reverend Kate Bottley, and Strictly Come Dancing's Anton Du Beke.
Krypton, 9.00pm Sunday, E4
Just what the world needs: another comic book-related TV show. This time it's a Superman prequel.
Set two generations before the destruction of Krypton, Superman's home planet, this new sci-fi drama follows Seg-El, the legendary Man of Steel's grandfather, who is faced with a life-and-death conflict: to save his home planet or let it be destroyed in order to restore the fate of his future grandson.
Saving Planet Earth: Fixing a Hole, 8.00pm Saturday, Channel 4
This documentary tells the story of the first man-made threat to the planet's environment - the hole in the ozone layer - and how the world managed to fix it.
The scientists and politicians at the heart of the story reveal how they spotted the giant hole in the stratosphere and, against all odds, persuaded Ronald Reagan and Margaret Thatcher - two of the most unlikely eco-warriors in history - to take action.
The Big Asian Stand-Up, 10.00pm Friday, BBC Two
The Big Asian Stand Up showcases a new wave of Asian comedic talent from the UK and beyond.
Nish Kumar introduces a mix of hilarious stand-ups who share an exciting and diverse voice.
The five exciting comedy faces joining Nish in tonight's show include award winning comedians Tez Ilyas and Emily Lloyd Saini.
Supercar, Superfam, 10.00pm Sunday, BBC Two
Documentary following the lives, loves and work of Kash and Shabs - two British-Asian brothers who own a supercar workshop in Essex, fixing, customising and revamping million-pound cars. Their billionaire clientele have become part of their 'crew' of flash, self-made petrolheads. But there's one thing that means more to them than cars - family. Shabs, Kash, his wife Shella, their two kids and little sister Mariya all live together with their parents in the family home.
Eight Go Rallying: The Road to Saigon, 9.00pm Sunday, BBC Two
In a new four-part series, four celebrity duos put their driving skills and relationships to the test as they join a part of the Endurance Rally Association's Road To Saigon in a fleet of classic cars.
Each of the celebrity duos sport a range of skills and start their adventure in bespoke rally-prepped cars: Noel Edmonds and his wife Liz drive a classic MGB GT; husband and wife Martin and Shirlie Kemp drive a 1972 Mini; restaurateur and food broadcaster Andi Oliver and her TV presenter daughter Miquita Oliver have a 1959 Morris Minor; and friends Tinchy Stryder and Jordan Stephens have been given a sky-blue Hillman Imp.
In the first episode the celebrity pairs are plunged straight into the busy rush hour of Northern Thailand's biggest city Chiang Mai, with only an obscure Tulip Map to guide them onto the open roads and up over the phenomenally steep Chae Son Hills.
Code 37: Sex Crimes, 9.00pm Friday, More4
Walter Presents continues with this intense Belgian crime thriller about a Vice Squad Chief Inspector Hannah Maes, who starts her new job as head of the Ghent police department that deals with sexual offences, aka Code 37s.
Together with her three colleagues, old-timer Charles, macho Bob and rookie Kevin, she must create an enduring team that efficiently tackles the most serious and violent sexual crimes.
In the first episode, the body of wife and mother Kristien De Vadder is found in a hotel room and it soon becomes clear that she was a woman who led a double life.
In Flemish with English subtitles.
Ending this weekend
Cardinal, 9.00pm Saturday, BBC Four
The Canadian crime drama comes to an end as John and Lise race to find Ray before he kills Terri and her brother, and a betrayal threatens Cardinal and Delorme's case and their lives.
The Last Leg, 10.00pm Friday, Channel 4
Hosts Adam Hills, Josh Widdicombe and Alex Brooker reunite with their honest, upbeat and award-winning brand of satirical comedy for the last show in the current series.
This week Lily Allen and Caitlyn Jenner join them to help dissect the week's events and talking points.
New to Download
To All the Boys I've Loved Before, from Friday, Netflix
Here's a film based on the young adult romance novel of the same name by American author Jenny Han.
When her secret love letters somehow get mailed to each of her five crushes, Lara Jean finds her quiet high school existence turned upside down.
Top of the Lake: China Girl, from Friday, Netflix
If you missed this when it was on BBC Two last year, here's an opportunity to gorge yourself on the second - and often bonkers - season of Jane Campion's drama starring Elisabeth Moss as a Sydney-based detective.
This time around, detective Robin Griffin (Moss) investigates the death of an unidentified Asian girl found at Bondi Beach.
While you could drive logic truck through much of the story, it's gripping stuff. A great cast includes Nicole Kidman, Peter Mullan, Holly Hunter and Gwendoline Christie.
Don't Miss
Up for the Match, 9.30pm Saturday, RTÉ One
Des Cahill and Gráinne Seoige host a night of music, craic and banter live in front of a raucous audience of fans from Limerick and Galway on the eve of the All Ireland Hurling final.
Joined by GAA legends past and present plus a few surprise guests, the show looks back at the highs and lows of the hurling championship as fans and experts look forward to the big game in Croke Park.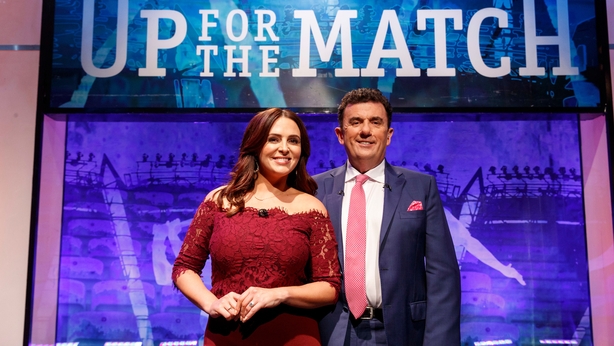 Weekend movies
Star Wars: The Last Jedi, 8.00pm Saturday (available from Friday), Sky Cinema Premiere
Unless you've been living under a rock, etc. Daisy Ridley's Rey develops her newly discovered abilities under the guidance of Luke Skywalker (Mark Hamill), who is unsettled by the strength of her powers. Meanwhile, the Resistance prepares for battle with the First Order.
Sadly, this was to be Carrie Fisher's last appearance as Princess/General Leia.
The Wolf of Wall Street, 9.30pm Sunday, RTÉ One
This Scorsese hit rattles along, with Leo DiCaprio excelling as silver-tongued swindler Jordan Belfort. It's based on the true story of Belfort's spectacular rise and fall on New York's stock exchange.
Box Set Binge
Derry Girls, All 4
It's hard to believe that anyone would've missed it, but all six episodes of this cracking comedy from Lisa McGee, set in Derry during The Troubles.
It's the early 90s, the first day of school and a terrible start for 16-year-old Erin as she wakes up to find her cousin Orla reading her diary. And then Granda Joe announces there's a bomb on the bridge.
This show's worth watching just to see Saoirse-Monica Jackson put in a remarkable shift as Erin Quinn.