Elvis Presley's legendary 68 Comeback Special concert, directed and produced by Steve Binder, will be screened in cinemas across Ireland on Thursday, August 16 with encore screenings at selected sites.
The 90-minute concert first aired on US network NBC on December 3, 1968 and was Presley's first live television performance in seven years.
The soundtrack album went Top 10 after the initial broadcast, and Presley was back in the singles charts with In the Ghetto. The following year, 1969, the singer enjoyed his first number one hit in seven years with Suspicious Minds.
This concert documentary begins with an absorbing preamble, as the singer's widow, Priscilla Presley, and director Steve Binder revisit NBC Studios in California, since renamed Burbank Studios. Binder tells an interesting anecdote about standing waiting for someone to come and escort Elvis and himself to the studio where the special was to be recorded, so he could "feel the turf of the stage," as Binder puts it.
There were six or seven women standing nearby as the two men waited. One of the women, in Binder's recollection, made a bee-line for Elvis and Binder thought, oh no, she is going to embarrass Elvis. The woman wanted to know if there were any celebrities at the studios that day. No, I don't think there are any, Elvis shyly offered and the woman walked away, unaware to this day, Binder believes, that she had spoken to the iconic singer.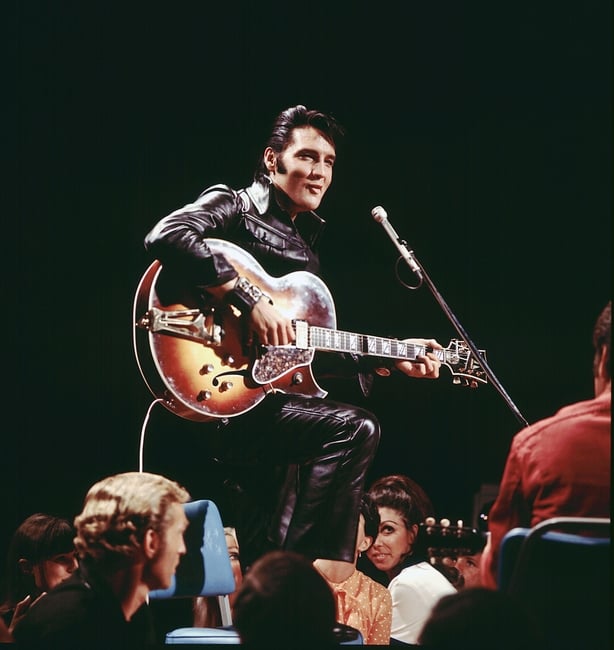 It was, after all, the Comeback concert and maybe the man had been out of the public eye for just a bit too long to be recognised - out of sight, out of mind which can be peculiar in its mode of operations, be it matters of recognition or whatever. Then again, one would imagine one of her pals might have recognised him and forced her back to get the autograph.
Binder, a genial man, vividly recalls filming of the concert in the short interview with Priscilla. It was no one-off job, filmed in real time and Elvis's rehearsals, done without cameras, took a week. There were dance routines to rehearse, while shooting of the actual concert took four days.
Binder had recently done a Harry Belafonte/Petula Clark special and was known as "a bit of a rebel." He was in his early 30s in 1968, around the same age as Elvis.
Performers appearing on TV at that period were usually told to stand in one spot - at a so-called `T' mark - and not to move from there. In the case of Elvis, Binder wanted to give him absolute freedom, so he could roam around the stage - `a boxing ring without the ropes' - not to have to concern himself with camera or lights. "Do whatever you want to do, we'll follow you, " Binder told the singer.
A song-list and order of songs was secured for Elvis who didn't question it, in fact Binder remembers nothing negative from the singer at all during the project. However, the singer's manager, Colonel Tom Parker, had to be distracted so that Binder and his producers could have a relatively free hand.
Indeed, Parker had to be persuaded to agree to the improvisational, acoustic segments which feature in the film. Eventually, the Colonel reluctantly agreed, but did not sanction filming in the dressing room where impromptu stuff was happening and where Binder had wanted to record.
As a compromise, an acoustic set-up was organised for the stage, where Elvis sat around with his band, sang a few songs and indulged in self-deprecating horsing around. He interrupts a song to curl his upper lip, which is something of a running gag. "Hey, somethin' wrong with my lip," he says, reviving a mid-fifties tic. "I got news for you, baby, I did 29 pictures like that. "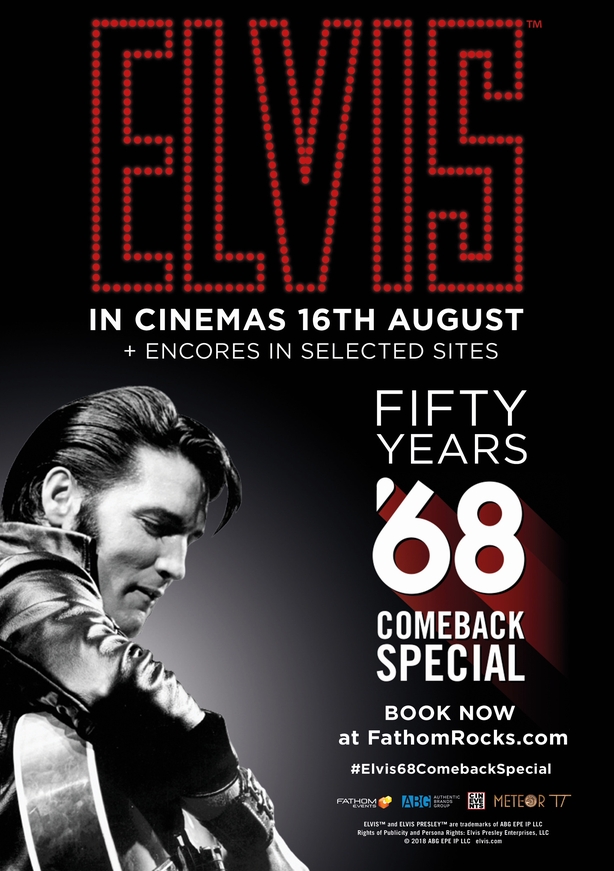 So, cue Elvis again in that iconic leather ensemble, in a white suit, in specially-tailored denim, the endlessly quivering quiff. Right at the end of 1968, in the middle of peace and love, John and Yoko, Grateful Dead, Jefferson Airplane, Hendrix, Cream. A man on a different planet, as it were, with a brass section, backing singers and a band including Scotty Moore on guitar, all of whom are mostly off-camera during the concert performance. The camera only loves the man himself, perhaps a measure of his stardom, or otherwise that was what the Colonel wanted.
For sure Elvis looks utterly confident, utterly certain of what he is about, even during the fluffed lines, the goofy out-takes. Heartbreak Hotel kicks off the concert when it eventually gets going, which segues into Hound Dog, then all All Shook Up, before a slow down for Can't Help Falling In Love. Back up to speed then with Jailhouse Rock, Don't Be Cruel and Blue Suede Shoes.
There is a bordello -style interlude featuring girls in pink suits and, on the other extreme, a Gospel medley, featuring Elvis wearing a crimson suit that wouldn't look out of place on Star Trek. A nightclub scenario with sleazy, thuggish boss, an Egyptian routine with belly dancer, cheesy and contrived-looking now, to be honest. No wonder, really, that many of us of a certain age - your writer was younger than the average Elvis fan, I stress - would have been into watching the much cooler Fleetwood Mac on Top of the Tops.
But back to the Comeback Special, where a semi-circle of polite girls sit casually around the stage, demurely applauding or clapping along. How lucky they must have felt these girls who had no problem recognising the boy from Tupelo.
Find your closest cinema and book tickets for the ELVIS 50th Anniversary Comeback Special at www.cinevents-events.com
Paddy Kehoe