Good Morning Britain presenter Eamonn Holmes was warned he is "a heart attack waiting to happen" on Monday's show - and said he agreed with weight loss expert Steve Miller that he needs to shed a couple of stone.
Miller and plus size model Gemma Cruickshank were in studio discussing whether fat-shaming people could help them to lose weight when talk turned to how doctors should discuss a patient's weight.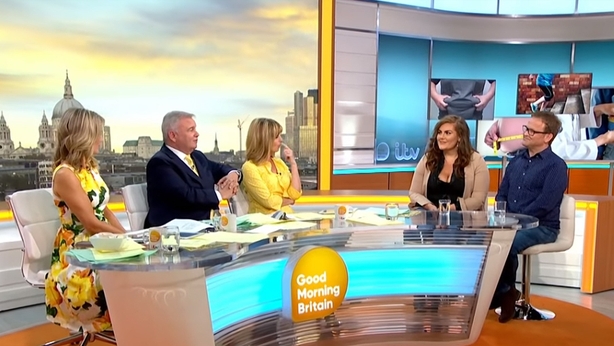 "What would you say to Eamonn?" asked co-presenter Kate Garraway. "Eamonn comes in and says he's got a bit of a sore throat, whatever, and he's having tummy ache or whatever your moan might be."
Holmes offered: "Your life would be improved if you lost two-and-a-half, three stone."
"I would say that, but I would also say to Eamonn that he is too fat and he is a heart attack waiting to happen," Miller replied. "And she's [fellow guest Gemma Cruickshank] about to clonk me for that!"
We need your consent to load this YouTube contentWe use YouTube to manage extra content that can set cookies on your device and collect data about your activity. Please review their details and accept them to load the content.Manage Preferences
"No, but I'm not, Steve," Holmes said. "Because you know I agree with you."
The discussion ended on an amusing note with Miller concluding: "We cannot have a society, you know, where we all sit 'round and sing, 'If you're happy and you're fat, clap your hands'. We cannot be doing that."
"Ok," said Holmes. "Steve, I'm going to be honest with you - shut up!"