Celebrity chef, presenter and food critic Anthony Bourdain has died in tragic circumstances at the age of 61.
Bourdain was found unresponsive in his hotel room in France on Friday morning by his close friend Eric Ripert. 
His death was announced by CNN, the television network on which he took viewers around the world with his Parts Unknown series. The chef was filming an episode of the award-winning series in France at the time of his death.
"It is with extraordinary sadness we can confirm the death of our friend and colleague, Anthony Bourdain," the network said in a statement.
"His love of great adventure, new friends, fine food and drink and the remarkable stories of the world made him a unique storyteller.

"His talents never ceased to amaze us and we will miss him very much. Our thoughts and prayers are with his daughter and family at this incredibly difficult time."
CNN news anchors struggled to hold back tears as they recalled their late colleague in heartfelt recollections and urged people faced with despair or who know people who are struggling with depression to seek help.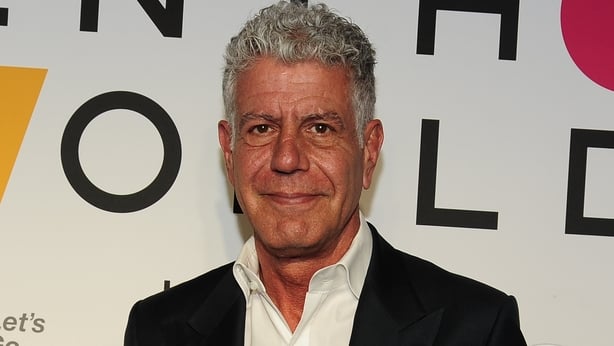 Bourdain's profile began to soar in 1999, when the New Yorker magazine published his article Don't Eat Before Reading This, which he developed into the 2000 book, Kitchen Confidential: Adventures in the Culinary Underbelly.
He went on to write several more best-sellers including A Cook's Tour and The Nasty Bits.
He was the host of several hugely popular TV shows including A Cook's Tour, Anthony Bourdain: No Reservations, The Layover and CNN's Anthony Bourdain: Parts Unknown.
In 2014 he was a judge on The Taste with Nigella Lawson and Ludo Lefebvre.
If you have been affected by any of the issues raised in this report you can contact Pieta House 24/7 Helpline 1800 247 247 or the Samaritans Helpline 116 123