Oscar-winning director Ron Howard has revealed that Harrison Ford was full of praise for Solo: A Star Wars Story, which is the origin story of his famous character Han Solo.
Hail, Caesar! star Alden Ehrenreich had big shoes to fill when taking on the role of a young Han Solo in the new Star Wars spin-off, but Ford was hugely impressed with his performance.
Speaking to RTÉ Entertainment at the film's junket in London, Howard said that Ford requested to see an early preview of the movie and wasn't disappointed.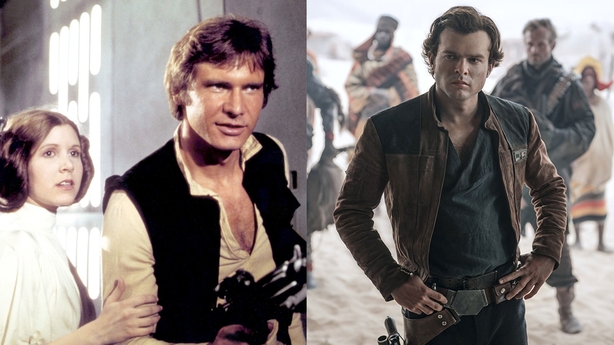 "I was most happy for Alden when Harrison Ford, who had asked to see the movie, he called me first and he was just effusive and that's not his nature, you know!", Howard said with a laugh.
Ford later snuck up on Ehrenreich during a TV interview to pay his respects to the rising star, which Howard says was "an amazing moment to witness".
"It meant the world to Alden. He earned it, he deserves it."
#AldenEhrenreich had big shoes to fill playing a young Han Solo in #SoloAStarWarsStory but director @RealRonHoward tells us that Harrison Ford had nothing but praise for his performance. #StarWars pic.twitter.com/paN2sChqSn

— Entertainment on RTÉ (@RTE_Ents) May 22, 2018
The A Beautiful Mind and Apollo 13 filmmaker stepped in to helm the project after the departure of original directors Phil Lord and Chris Miller four months into production.
Howard says the decision to come on board was made easy as he loved the story, as well as the "talent and charisma" of the ensemble cast, which includes Game of Thrones star Emilia Clarke, Atlanta creator Donald Glover, True Detective actor Woody Harrelson, Westworld's Thandie Newton and Fleabag creator and actress Phoebe Waller Bridge.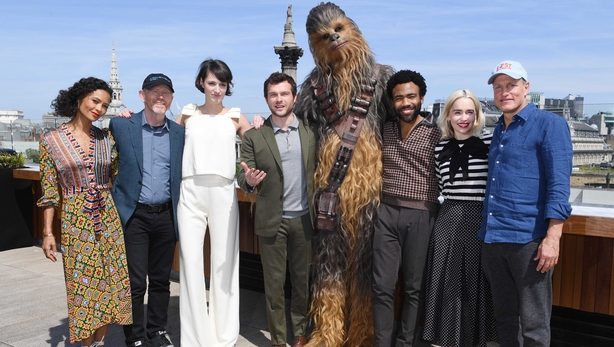 The director said he stepped into the production "fresh, with objectivity and some excitement".
"Obviously I wouldn't have done it if I didn't really love the story and believe it would mean something to fans, and also if I didn't believe in the talent and the charisma of this great cast," he said.
"I love working with actors and I liked much of the work that was going on prior to, so it was pretty easy for me to come in and refocus some things, put my fingerprints on the story and emphasise certain things. None of it was that extreme or contradicted the spirit of what they were doing which was really based on the script, the script that existed before there were any directors."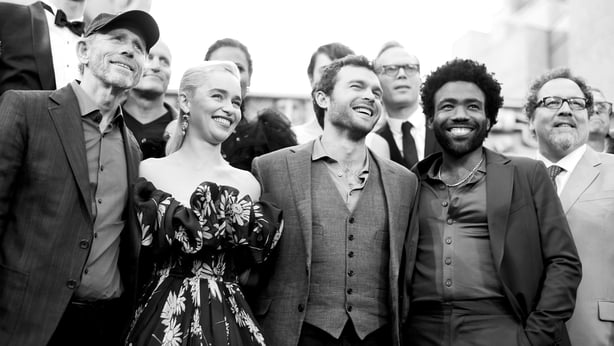 The acclaimed director added that he saw an opportunity to "service two audiences" with this spin-off story, people who were already "dedicated fans" but also newcomers to the Star Wars universe.
"It's a great entry point", he said. "If you haven't been paying attention to Star Wars ever, or for a while, there's no catching up to do. I probably wouldn't have done it if this had been a sequel and demanded a rigid adherence to some plotline. This gave me a lot of latitude to explore."
The Oklahoma-born actor and director said that being on set was "a lot of fun" as everything in the Star Wars world is "kind of amazing".
"These movies of course have digital effects, but the tradition is a lot of the sets are built, the props work, so you've got aliens over in the corner, you've got droids moving around behind the camera, and it's an amazing playground."
He added that he "really enjoyed" dipping his toes into the Star Wars universe and said it was "an important challenge at this point in my career to move out of my comfort zone and have the guts to jump in".
And would he be interested in helming future Star Wars projects?
"You know the fans dictate a lot of this, the future of this. Outside of the saga movies, everything else is a sort of exploration with the fanbase", Howard said. "But we're getting awfully good feedback right now, but we'll see how the whole movie plays out and I think all of us will settle down and see where we fit in in the future."

We need your consent to load this YouTube contentWe use YouTube to manage extra content that can set cookies on your device and collect data about your activity. Please review their details and accept them to load the content.Manage Preferences
Solo: A Star Wars Story hits cinemas in Ireland on Friday, May 25.