The Rolling Stones delivered a juke box of greatest hits at Croke Park on Thursday night on the opening night of the second leg of their No Filter tour. It was better than anyone could have expected
So a big-mouthed egotist, a preening jackdaw, a wizened bluesman, and a circumspect jazz drummer walk into a bar . . .
It's easy to laugh at the Rolling Stones. In fact, it's fun to laugh at the Rolling Stones. We're mind boggled at their collective age of 567 (ok, it's 293), wonder why these Grand Old Men of rock `n' roll still bother, and speculate whether the ever cynical joker that is Mick Jagger will ever realise that yes, yes, we get the gag and have been getting it since 1978.
However, after the Stones gig at Croke Park on Thursday night, even the most diehard non-believers, Beatles snobs and bleeding edge hipster bores would have to admit that, man, they've still got it, whatever that indefinable "it" might be.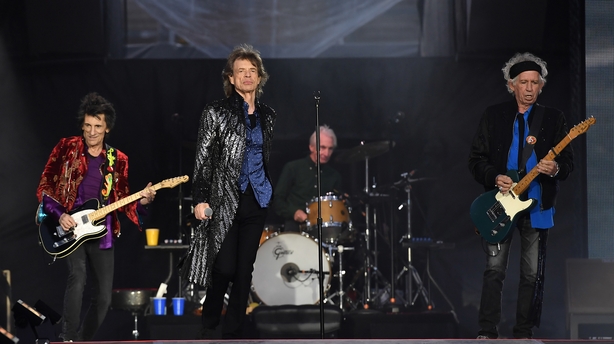 Playing their first show in seven months, The Rolling Stones rocketed through a two-hour set to a nearly but not quite full Croke Park. They were mostly a a tightly drilled and professional juke box cabaret act of the Vegas residency variety but occasionally this monied bar room band still achieved moments of fleeting grandeur and majestic decadence.
Earlier, scarily young Westmeath act The Academic delivered a short economical support slot set of spiky and melodic indie pop that served as a sharp contrast to the aged and frazzled flesh we'd come to gawp at in a freezing cold Croker.  
The set list hasn't been altered much from the first leg of the tour. The Stones open with Sympathy for the Devil but its cosmic dread is all but lost in the evening sun in a three quarters full stadium. Tumbling Dice and Paint it Black make more sense as the night falls, even if Jagger's approximation of a greeting in our mother tongue sounds like pidgin Swahili in his exaggerated and elongated vowels. And no, we didn't quite buy the line that he and the other lads shared a spice bag in Temple Bar the night before.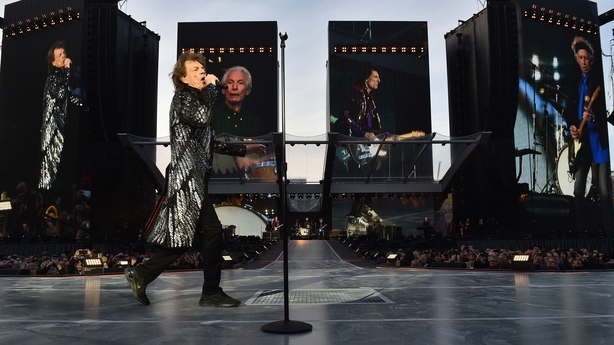 An early detour into pure blues is testament that we're witnessing more than just a highly entertaining greatest hits act. Just Your Fool, a combustible Ride 'Em on Down, and a great fun, knockabout Neighbours (no, not that one) sounded great as Richards relaxed into the vibe
Cheekily, Jagger introduces the public vote song by saying, "I know you all like voting and we did try to learn Whisky in The Jar but it didn't quite work out." Instead, we get a very welcome, almost heartfelt Wild Horses with the stage and giant screens bathed in a dusky yellow.
Jagger's approximation of a greeting in our mother tongue sounds like pidgin Swahili in his exaggerated and elongated vowels. And no, we didn't quite buy the line that he and the other lads shared a spice bag in Temple Bar the night before.
A sombre You Can't Always Get What You Want, Donald Trump's perplexing choice of campaign song, follows and it ushers in the point where these rock `n' roll warhorses really hit their stride. A chaotic It's Only Rock `n' Roll (But I Like It) sounds like it's about to fall apart at any minute (which is just the way it should be) and a dumb and sleazy Honky Tonk Woman has the crowd on their feet.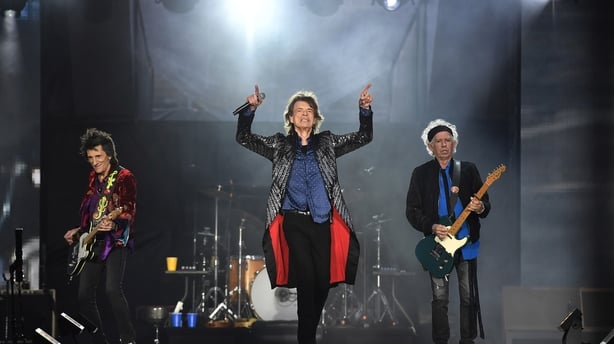 Jagger, in skinny black jeans and a glittery ringmaster style blue coat, is not quite mesmerising; maybe his simian swagger is so ingrained in the universal psyche that it's loss its appeal but his funky chicken strut is impressive for a man of 97 (ok, 74). Even if Croker isn't big enough to contain his ego, he seems to be enjoying himself.
Ronnie jackdaws all over the stage with a manic smile and on many songs, he's in danger of stealing the show. Keith is ever present but he appears strained at several points and for his part, the 76-year-old Charlie Watts  looks very pleased and very relieved at the close of each song, a winning grin cracking open his mausoleum attendant's face.
Keef takes to the mic for two solo tunes and sounds suitably worn and weathered on Before They Make Me Run and the ruined splendour of The Worst before Jagger sparks up Miss You and shows the Stones once genre hopped from Delta to disco with only a few giggles and eyebrows raised.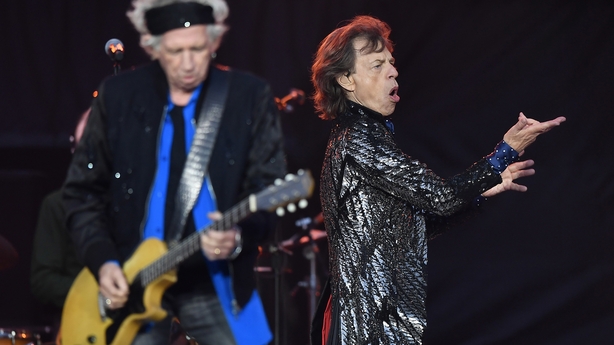 However, it sounds like they'e not just cramming Bitcoin into that jukebox when they play a near 15-minute version of Midnight Rambler; it becomes an apocalyptic blues epic with the stage and screens livid with crimson red as the carnage rains down.  
After that, the trio of Start Me Up, Jumping Jack Flash and Brown Sugar sound bright and fresh and the best is kept for the encore with Gimme Shelter still impressive after all these listens and years, while the simple pleasure of Satisfaction's pent-up sexual frustration leaves the decidedly older, decidedly bohemian audience nodding sagely.
No frills and no filter, it was better than anyone expected, possibly even the Rolling Stones themselves. Who's laughing now?
Alan Corr @corralan