Simon Delaney has said he has "big shoes to fill" as he prepares to take on the role made famous by Colm Meaney in the film version of The Snapper, for the Gate Theatre stage production.
First published in 1990, Roddy Doyle's The Snapper made the jump to the screen in 1993 with Colm Meaney and Tina Kellegher in the lead roles and Stephen Frears behind the lens, and it will receive its world stage premiere in Dublin's Gate Theatre this summer.
Taking on the role of the long-suffering father, Delaney admitted that he has a tough act to follow.
"Some young fella called Colm Meaney had a go of it a couple of years ago, it went alright for him, but yeah they're big shoes to fill and it's one of the most beloved Irish films," Delaney told RTÉ Entertainment at the announcement of the rest of The Gate's 2018 programme.
"The part I'm playing, the dad Jimmy, he's probably the most quoted Irish dad in history, so I think it's going to be a bit like karaoke theatre, people will be shouting up the lines, it'll be great, we won't need a prompter!"
Our world premiere of The Snapper is taking shape!

Director @RoisinMcBrinn will be joined by @SimonDelaneyEsq as Jimmy Sr, @HildaFayActor as Veronica, @_kategilmore as Jackie, @Sighmo2 as George Burgess, and @Amilia_Stewart as Mary.

Keep your ears open, more news to follow! pic.twitter.com/D6jAZnKHbh

— Gate Theatre (@GateTheatreDub) February 15, 2018
The Gate's location behind the Rotunda hospital ties in nicely with the story as this is where the expectant mum Sharon gives birth to her baby in the story. "Literally doing it in the car park of the Rotunda where Sharon ends up," Delaney laughed.
Speaking about the lasting appeal of The Snapper, Delaney added, "It's one of those movies that if you're flicking through and it's on, you'll sit and watch it, even though you know the funny lines, there are so many funny lines.
"There is a difference with the stage production because it's based on the book, not the movie, so for example they're the Rabbitte's, they're not the Curleys, Dessie Curley and Sharon Curley. There're little differences but all the big moments from the movie are in there."
The Snapper will run in Dublin's Gate Theatre from June 14 – September 15 2018, with tickets on sale now.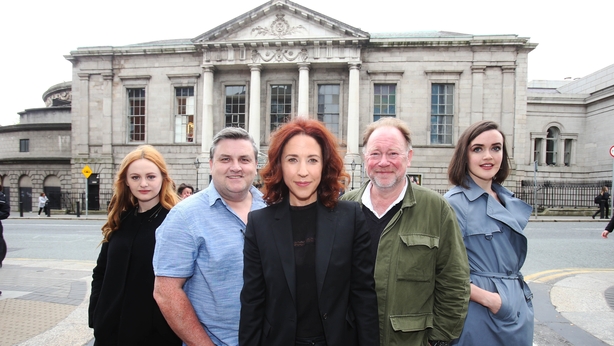 Along with announcing the return of The Great Gatsby to close out the season (running from November 15, 2018 – January 20, 2019), Director of the Gate Theatre, Selina Cartmell, also announced that Ruth Negga will be taking the titular role in their upcoming production of Hamlet.
Actor Owen Roe, who will be playing Claudius in the production, will be reunited with Negga on stage.
"It's a great cast and I'll be working with Ruth again, I've worked with her a couple of times in Titus Andronicus and a play called Doldrum Bay. She played my daughter in Titus, I was Titus in it, but she was amazing, it'll be great working with her again," he told RTÉ Entertainment.
"It's going to be amazing, I can't wait, I don't know what to expect, I'm just trying to get the lines off now, even though we don't start 'til August, you have to come in prepared, so I'm working on it already.
"It's going to be really exciting, I'm almost giddy about what to expect, I'll be working with a great bunch of people, I'm really looking forward to it."
Hamlet will run from September 21 – October 27. Tickets are on sale now.