A collection drawn from Prince's wardrobe and other memorabilia will be auctioned at the Hard Rock Café, New York City on Friday next, May 18.
The auctioneering firm of Julien's are hosting the event, which company achieved the world record for the highest price ever paid - $700,000 (or €585,000) - for a Prince guitar in November, 2017.
Highlights include another Prince guitar, a Schecter White Cloud electric guitar commissioned by the musician in 2002 and styled as the same guitar first revealed to fans in the 1984 film Purple Rain. This one was actually gifted to a Paisley Park employee and the estimate is between $20,000 (over €16,000) and $30,000 (over €26,000.)
Also up for grabs is a custom electric blue ensemble worn by the musician on stage in a 1999 performance at Paisley Park with Lenny Kravitz, estimated value between $40,000 and $50,000.
Prince's two piece Devoré costume worn in his role as Christopher Tracy in the 1986 film Under the Cherry Moon - estimated value $10,000 - $20,000 - is also up for auction in New York. A custom-made floor-length red tunic with high slits on each side, worn by Prince with a pair of custom-made red satin booties which features Prince's signature love symbol (estimate: $20,000 - $30,000) can also be swept into the swag-bag if you have the moolah.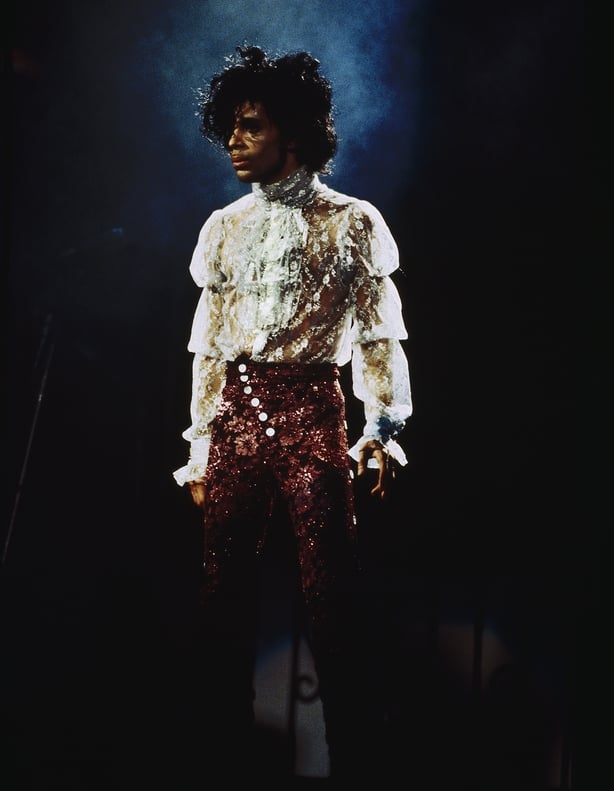 Or you can covet a black velvet sequined coat worn by Prince during his performance at Studio 54 at the MGM Grand in Las Vegas, Nevada, on January 2, 1999 (estimate: $10,000-$20,000).
Or fancy a gold and black print lace-up shirt with matching pants worn by the iconic performer during his 1997 Jam of the Year tour, together with a pair of black heeled booties with love symbol zips, estimated at between $20,000-$30,000.
Prince's signed handwritten lyrics for the 1986 song Miss Understood are also there for the taking should one have sufficient funds (estimate: $6,000-$8,000). Someone will also walk away with the musician's signed handwritten letter in purple ink to his first wife, Mayte Garcia apologizing to her that she had not been picked to be in the music video Walk Don't Run. The estimate in this instance is $4,000-$6,000.
Expect too a range of clothing designed by Versace and Prada, record awards, posters, tour schedules, jewellery, backstage passes, set lists and much more.