Speaking from Lisbon, Ireland's Eurovision hopeful Ryan O'Shaughnessy said that today's rehearsal crowd had been 'even more electric' than the audience at Tuesday's rehearsal and that the "team are on fire" for the final tonight.
"The whole team is really on fire at the moment and everyone's really buzzing for it," the Together singer declared, adding that the Irish team were in fact "the chillest team" of all.
He revealed his confidence about tonight in a cheeky prediction.
"The first time I step onto the stage tonight will be the second last time, because when we win it, I'm gonna have to get back up and sing it again."
The musician believed that it was going to be quite sad after tonight, "because we have all worked quite hard over the last couple of months to really bring this all together". He was certain that everybody on his team were going to be "feeling the same thing" as they stepped out on stage.
"We're all just tapped into each other's minds. We're all going to go out there and give our hearts and give our souls to this performance, so it's going to be special."

Ryan expressed his gratitude to RTÉ for "really listening to my vision for this project and having the open mind to have the two dancers, it really shows that we're moving forward as a country".
He also wanted to thank the general public and Irish media organisations, "for being just really understanding and supportive".
At a time when there was so much bad news, the singer felt it was important "to have something to get behind" and he recognised how "people back home had been willing to share their stories and give people a little bit of hope". In fact he wanted to thank everyone in Ireland for supporting his Eurovision bid - "it's just been fabulous".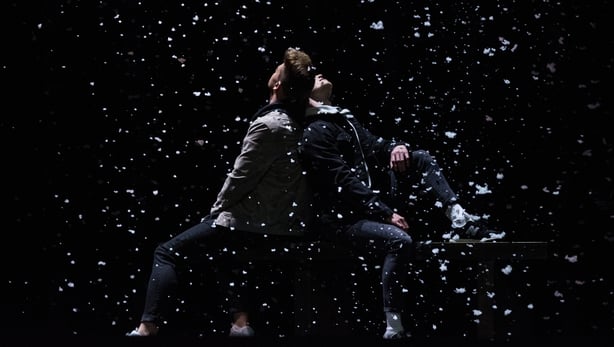 As to the immediate future, the Dubliner was looking forward to travelling home tomorrow "and getting into my own bed for the first time in about four months... and there might be a few parties still to be had, going on from tonight".
He expressed his hope that everyone would have a good time tonight and enjoy the contest "as much as we will be enjoying it up there, and sending us all the energy that you can because we'll need it".
As for the long summer stretching ahead, he was looking forward to hanging out with his mother and girlfriend over the next few weeks. He also planned to get in some cycling, lots of swimming, and having a good go at the song-writing that he had found difficult to do given the demands of the Eurovision project.
"I've all this creativity stirring now in my mind, I want to get it all down on paper."
You can watch the Eurovision Song Contest on RTÉ One, Saturday May 12 at 8.00pm. Or tune in to RTÉ 2FM for live commentary.