Derry director Chris Kelly believes that anyone with any sense of moral justice would be angered by the events depicted in his documentary, A Cambodian Spring, which recalls the forced evictions of 18,000 residents living by Boeung Kak Lake. Paddy Kehoe met the film-maker and one of his film's subjects, the activist Venerable Luon Sovath.
Chris Kelly first visited Cambodia as a back-packer tourist in 2006. "I'd been travelling around south-east Asia and ended up spending a few months in Cambodia. I fell really in love with the place; the people were so friendly and warm and generous. But there was also this dark history there, just underneath the surface."
The young Derry-man is referring to the trauma still felt during these furtive early days of what would prove to be an illusory democracy, following the depredations of the Khmer Rouge regime. The first so-called democratic elections took place in 1993, but 25 years later, no effective opposition is allowed operate in present-day Cambodia, which is ruled by the autocratic Hun Sen. 
 "Pretty much everybody over the age of 45 had survived the genocide, either as a victim or a perpetrator," says Kelly, recalling his first visit to the country. In A Cambodian Spring, the then UN Secretary-General Ban Ki-moon visits the country's notorious Genocide Museum, amidst popular protests at the gates. He is already out of sight and gone inside when the heavy-handed police begin arresting people, injuring one of the protesters in the face as he is pushed into a car.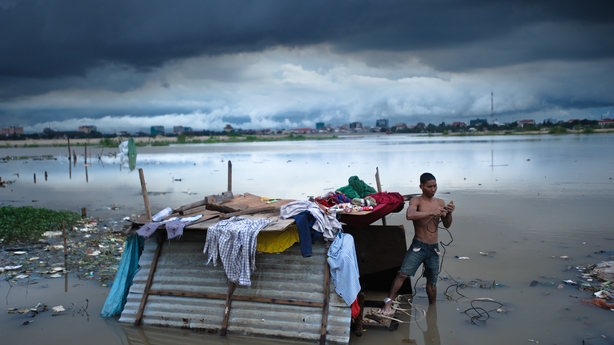 The film-maker decided he would return and make a documentary about Cambodia following that initial visit. "A lot of work had been done on the Khmer Rouge and the history, but there weren't so many films looking at modern Cambodia and the issues the people were facing." The film-maker began to do research and came up with a story about land-grabbing in Cambodia. He applied for funding from the Irish Film Board and Northern Ireland Screen. Thus the bones of a viable documentary film began to form.
On his return in 2009, Kelly met Buddhist monk and film activist, Venerable Luon Sovath. He is perhaps the central protagonist in Kelly's masterful film, which details the intimidation and forced eviction of residents living by Boeung Kak Lake, near the capital, Phnom Penh.
At risk of arrest by religious police and almost certain defrocking, the Venerable monk decides to help the residents whose houses we see demolished on film. Moreover, despite accusations to the contrary, he denies that he is a leader in the protests.
Ultimately, the lake is grassed over and the sizeable tract of land is earmarked for development, as Phnom Penh embraces progress. Twenty-thousand people had been living by Boeung Kak Lake when Kelly started in filming in 2009. Six years later, when filming was complete, there were 2,000 residents living around the lake. "The people, when you speak to them, they are not opposed to development and they're not opposed to the idea of economic progress. But they always wanted it to be inclusive, and for it to be fair," says Kelly.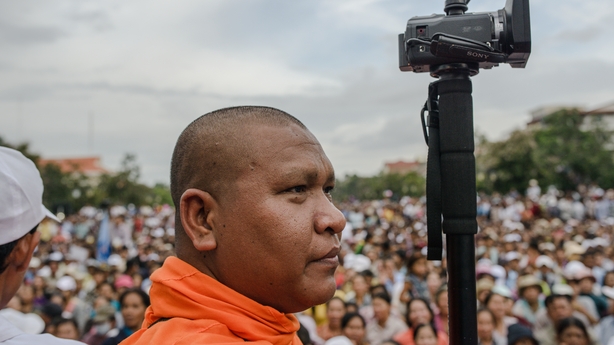 "They were never offered compensation that would allow them to buy an equivalent piece of land in the city. Each family was offered the equivalent in Lei (local currency) of US $8,000, but the land is worth between $2,000 and $3,000 per square metre. 
"So it's extremely valuable land. A lot of Phnom Penh is extremely valuable, so there's no way that $8,000 is going to buy you an equivalent plot in the city. They were forced to relocate out to the outskirts of the city, where there are no jobs, or opportunities, healthcare or education.
"A lot of the residents had been informal settlers who had come from the provinces to try and find work in the city. These people were quite poor, living on or below the poverty line of a dollar a day in terms of salary. So those people were just scattered off again to another informal settlement somewhere else in the city.
"It's a very unsustainable development model when you are forcibly evicting people without trying to engage them and involve them in the development progress." A number of wealthy families who lived by Boeung Kak Lake owned relatively large plots of land on which they ran hotels, mechanic yards and other thriving businesses. Some were doctors and teachers.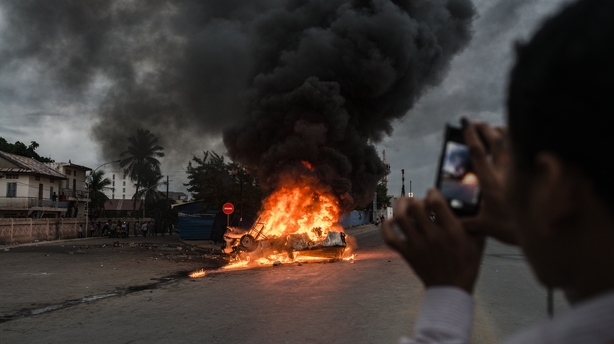 "So you had a wide range of people from society living there," says Kelly. Ultimately, he observes that while there has been some building done, the land-grab was speculative. Shining new skyscrapers have yet to adorn what was Boeung Kak Lake, as the much-touted development plan unveiled in 2011 promised. In time the land will be sold at a much higher price. "They got it for a bargain," says Kelly, who believes that anyone with any sense of moral justice would be angered by the events depicted in A Cambodian Spring.
"I tried to stay as independent and objective in order to be able to tell as honest an account as possible. Obviously, it's my interpretation and it's quite a subjective one - that's why the film is called A Cambodian Spring as opposed to The Cambodian Spring. I didn't want to offer a definitive history of what had happened."
A dangerous personality clash, driven by the desire for the senior position in the hierarchy of leadership, sees the protest movement fragment as Srey Pov and Tep Vanny become enemies. In 2009, as depicted in the film, both young women are comrades united in the struggle to defend the Boeung Kak dwellings.
We need your consent to load this YouTube contentWe use YouTube to manage extra content that can set cookies on your device and collect data about your activity. Please review their details and accept them to load the content.Manage Preferences
Kelly believes that the schism between the two women was in some part fomented by the civic authorities representing the regime of Hun Sen, whose title translates as Lord Prime Minister and Supreme Military Commander of Cambodia. His return to power is almost guaranteed following upcoming July elections, given the dissolution last year of the political opposition party, whose leaders are in jail or in exile. Six lives were lost during the years of protest at Boeung Kak Lake. Meanwhile, Tep Vanny has been in prison for over 600 days for defending the rights of her community. 
The Amnesty organisation has mounted a campaign to release her from jail and their statement on the human rights activist runs as follows: Tep Vanny is a symbol of peaceful activism in Cambodia and is currently in jail as a result of her brave determination to defend the rights of others. She is a housing rights activist and for almost 10 years has been defending her community in central Phnom Penh where thousands of families have been forcibly evicted from their homes.
Ultimately Chris Kelly wants to dispel despair and raise hope through his remarkable film. "When people are together and united and they have solidarity they are much stronger than when they are on their own and divided," he says, referring to the Boeung Kak Lake residents.
"I think the authorities used divide-and-conquer as a way to split the group up and diminish their power. When people are fighting with each other, they are not so occupied with fighting against the government. They were able to run roughshod over the top of them."
Read our review of A Cambodian Spring here
Screening details for A Cambodian Spring: Tuesday May 1, Gate, Cork, 7pm; Wednesday May 2, Eye, Galway, 7pm; Thursday May 3, Brunswick Moviebowl, Derry, 7pm; Friday May 4, QFT, Belfast, 6pm. The film opens at selected cinemas nationwide from Friday May 4.