Cathy Davey is releasing a live album of a gig she recently played at Dublin's Unitarian Church and we have a sneak peek of what to expect with this exclusive video of her brand new track, Uninsurable.
The Irish singer-songwriter performed a stripped-down gig at the church on St Stephen's Green at the end of March, featuring Davey and two of her closest musical allies, Derren Dempsey on guitar and Stephen Kiernan on drums.
They bare bones versions of Davey favourites such as Little Red and Sing For Your Supper, as well as brand new tracks like Never Before and Uninsurable.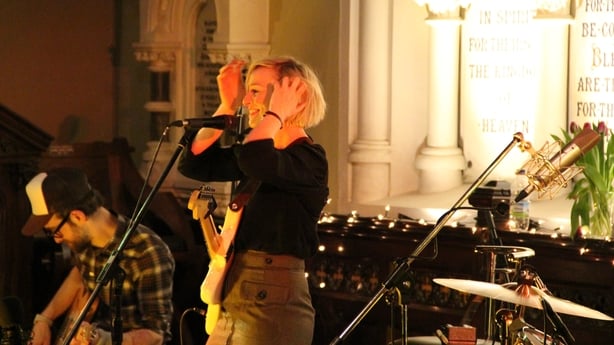 The full show was recorded and will be released on vinyl for Record Store Day on Saturday, April 21.
Davey said of recording the live album: "Derren had a broken wrist during this gig, which he wasn't even aware of until the next day.
"I had a throat infection which made the 180 people in the audience root for me in a way that changed the whole atmosphere, and in turn, changed our performance. This recording is the sum of its parts. Flawed and magic."
The quick turnaround of releasing the live album on vinyl was made possible by Glasnevin-based Dublin Vinyl, the first new major pressing plant to open in Ireland in a generation.
Owners Hugh Scully and Donogh Molloy said they were thrilled to be involved with the project, explaining: "We're always looking for interesting projects to work on in Dublin Vinyl, and Cathy has created an idea that we're delighted to be able to bring to life."
Cathy Davey's live album at Dublin's Unitarian Church is released on vinyl from April 20.