X Factor live show finalists Sean and Conor Price revealed that they're planning on spending a year focusing on their music and "do the best that we can".
The Wicklow brothers appeared on The Ray D'Arcy Show on Saturday night where they chatted about their upcoming tour and releasing new music.
With the Leaving Cert on the horizon for Sean and the Junior Cert for Conor, they'll have to knuckle down and finish their exams first. However, directly following their exams, they are embarking on a nationwide tour.
Conor said the next year will be crucial for them, explaining: "Sean is going to defer college for a year hopefully and I'll be in Transition Year so we're just going to focus on music for 12 months straight and try to dig our feet into this music career and just try do the best we can with it."
Sean added with a laugh: "And then if it all fails we're back to education!"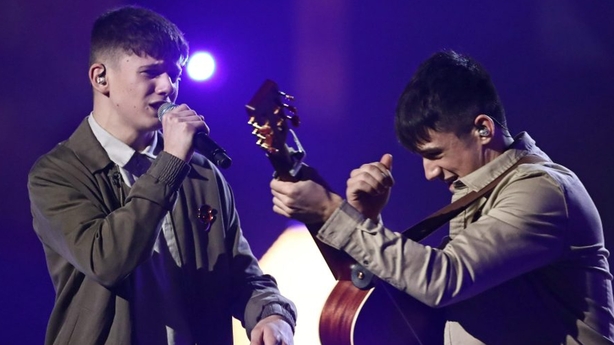 Sean, who has just auditioned for BIMM music college, says his experience on The X Factor has meant he's well prepared for the auditioning process.
"The nerves don't creep up too much anymore because we have so much experience doing all that type of stuff, we're sort of more comfortable doing that than anything else now!", he told Ray.
The Price brothers are releasing their first official single, Be Like You, on April 27 and they say it will give fans a chance to see their real musical style.
BIG NEWS!!🔥 Our brand new single "Be Like You" will be RELEASED on all digital platforms on the 27th April! 🎶🎶Available for pre-release on the 18th April!
We will be performing an exclusive of it THIS SATURDAY on The Ray Darcy Show on @rteone #BeLikeYou #BeLikeYouTour pic.twitter.com/qzwUqazRtU

— Sean and Conor Price (@sean_conorprice) April 13, 2018
Sean said people know them as the "two smiley Irish fellas" off the X Factor and now they're "trying to venture out and say 'this is our music, this is our own stuff, we're musicians as well'".
They write their own material together and each of them has their own strengths.
"I feel like I like dabbling with melodies and Sean's really deep with lyrics so when we bring our style together it's just fun", Conor said, adding that he's "very happy" with the results.
.@sean_conorprice talk songwriting styles before performing their brand new single! #raydarcyshow pic.twitter.com/duAZg7wCGT

— The Ray D'Arcy Show (@RTERayDarcyShow) April 14, 2018
The brothers said that their friends are "so supportive" of their music careers.
Conor said: "When you go into school they don't treat you much differently and that's the thing we love about them, there's not much special treatment."
And do they get much slagging?
"Ah not really, maybe after this!", Sean quipped.

Ray asked if the musical duo would be interested in representing Ireland in the Eurovision at some point, and the brothers were delicate in their answers.
"I think we're going to try and establish ourselves as artists first", Conor responded, before Sean said: "It's a diplomatic no, but it's a possible yes!"
Conor concluded: "We'll leave it as a maybe, the door's not closed."
Watch the full interview on the RTÉ Player.
.@sean_conorprice perform their new single 'Be Like You'. Full performance available on YouTube. #raydarcyshow pic.twitter.com/gbXBmzS0gm

— The Ray D'Arcy Show (@RTERayDarcyShow) April 14, 2018
The Ray D'Arcy Show airs on Saturday nights at 9.40pm on RTÉ One.