Banned by RTÉ, threatened by the IRA, and reviled by the Catholic Church, Dave Allen was possibly the greatest Irish comedian of all time. Aidan Gillen captured his maverick, iconoclast spirit in Monday night's new drama
From Littlefinger to, well, little forefinger, Aidan Gillen took on his latest role in style - playing the godfather of modern stand-up comedy and arguably the greatest Irish comedian of all time, Dave Allen.
Famously, Allen had a drastically truncated finger and it was a point (as it were) of morbid fascination for many viewers of his monologue and sketch shows of the seventies and eighties. That finger of fate and faith featured heavily in Monday night's RTÉ/BBC drama about the life of Allen, which was aired, suitably enough, on the day given over to celebrating the risen Christ.
Young David Tynan O'Mahony (played first by Senan Jennings and as a teenager by Sing Street's Ferdia Walsh-Peelo) lost two thirds of his forefinger as a young child in a unspecified accident possibly involving a local watermill in the then country idyll of Firhouse in Co Dublin.
We need your consent to load this YouTube contentWe use YouTube to manage extra content that can set cookies on your device and collect data about your activity. Please review their details and accept them to load the content.Manage Preferences
His father Cully, played like a cross between a moustached British officer and an old Irish rogue by Tommy Tiernan, had some sage advice for his anguished young son. "Do you need to scratch your arse and pick your nose at the same time?" Besides, newspaperman Cully averred, having a missing digit would mean Dave would never want for a story to tell. Was it chopped off by the IRA? Did Cully lop if off with an axe in a punishment that went horribly wrong? Or did Allen himself wear it away from brushing the cigarette ash from his waistcoats?
The comic's rise from a very comfortable childhood in Ireland, to Skegness redcoat, to huge success on British TV was covered by Peaky Blinders writer Stephen Russell, who used the clever device of illustrating important junctures in his subject's life with sketches from Allen's long-running BBC sketch show.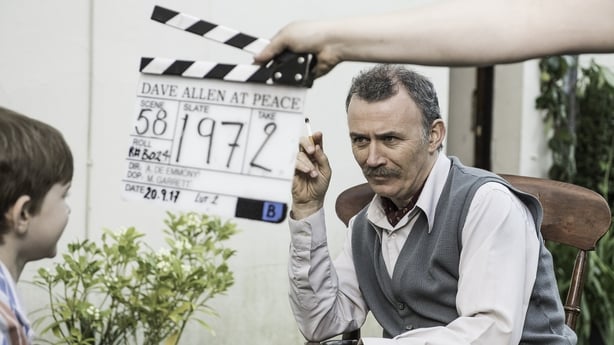 This was a very good thing because it gave us a chance to see Gillen reliving some of Allen's best-known and loved skits and monologues, most of which involved him gleefully baiting the pomposity of the then still powerful and relevant Catholic Church.
An early sighting of Pauline McLynn as a sadistic nun (who would turn Bishop Brennan white) embodied Allen's early encounters with religion. She and her fellow teachers made his and older brother John's schooldays hell but the future comedian's revenge would come years later with his pitiless lampooning of the clergy's rituals, if not their beliefs. Back in the seventies, millions would clutch their rosary beads to their throats at the mere mention of Allen's name. RTÉ even banned him from the airwaves in 1977.
Famously, Allen had a drastically truncated finger and it was a point (as it were) of morbid fascination for many a viewer of his monologue and sketch shows of the seventies and eighties
Even if Dylan Moran, Allen's natural heir to the iconoclastic Irish gentleman comedian, might have been a better choice, Gillen did a good impression. His hair was seventies collar-length and ashtray grey and his suits were elegant as he perched on that famous high stool with cigarette in hand and shot of whiskey (in reality, ginger ale and ice) sitting on a nearby table. Allen was rueful and melancholic and Gillen's impish grin certainly came in handy too but his voice never achieved the man's rich raconteur baritone.
There was only a passing reference to either of Allen's two wives and his three children, which was a little strange but, like his subject, Russell had a lot of material to work with. The period detail (oranges and browns, kipper ties, and smoky clubs) was well done and the colour treatment on the recreation of those sketches was uncanny.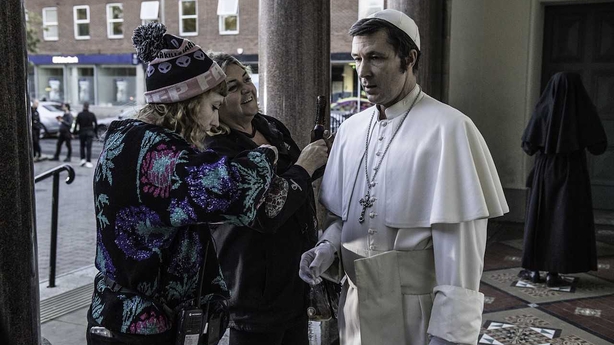 As Gillen has said himself, Allen was obsessed with time running out and that may have been one of the problems here. Dave Allen at Peace played out in a bit of a mad dash with the comic's relationship with the now ailing John (Conleth Hill) in a long scene which seemed written to give a ticker tape account of Allen's later life. In a nice touch the closing scene saw Dave, a keen amateur artist, sitting in his garden in Holland Park, London contemplating death in front of a canvas.
He died in his sleep in 2005. His influence was massive. The more confrontational and political alternative comedy of the 1980s was indebted to him and Father Ted writers Graham Linehan and Arthur Matthews must also owe a lot to his anarchic portrayal of the priesthood.
Allen was a comedian who wasn't afraid to point the finger and, indeed, give it. He was also very good at unpicking the good and bad of Ireland and the Irish with real wit and class.
Alan Corr @corralan