Bad Wolves singer Tommy Vext told Ryan Tubridy on Friday night's Late Late Show that the US band are "overwhelmed" by the reaction to their cover of The Cranberries song Zombie, which they have released in tribute to the group's late singer, Dolores O'Riordan.
O'Riordan, who died suddenly in London in January, had been in the city to record guest vocals for Bad Wolves' cover of Zombie at the time of her death.
Speaking to Tubridy before a world exclusive live performance of the song on the Late Late, Vext said the idea of covering Zombie came about when he was writing for Bad Wolves' new album.
"I kind of do the same thing every day: I go to the coffee shop, I write lyrics and then we go to the studio. And Zombie came on the radio," he recounted.
"It really took me back to a place. I loved The Cranberries when I was a kid. I started playing music when I was 13 and them and Nirvana and Soundgarden were these alternative bands that really, really touched me. And then I looked into the lyrics and really got into it and it felt like we should really do this thing."
Vext subsequently discovered that Dan Waite, the managing director of Bad Wolves' record label Eleven Seven, was a friend of O'Riordan's, and that the label's owner, Allen Kovac, had been The Cranberries' manager at one point.
The frontman said they had sent their version of Zombie to O'Riordan "for a parental stamp of approval", only to then hear she wanted to join them on the track.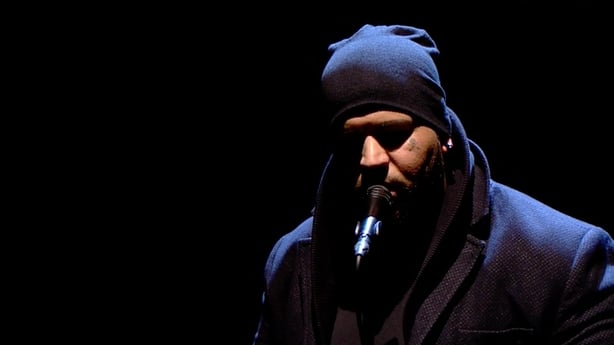 The night before O'Riordan was scheduled to go into the studio, Waite had sent Vext a voice mail from O'Riordan, in which she said how excited she was to sing on Bad Wolves' cover.
"I went to sleep thinking I was going to have a collaboration with a childhood dream, somebody that I really idolised," Vext said. "Obviously, it never got to happen. I got a call from management in the morning and then it was on the news, it was everywhere."
"I was devastated," Vext continued. "I think the whole band has kind of being going through a process. It's one of those things, it's like: we don't mourn the death of an artist because we knew them; we mourn them because they helped us know ourselves. And that was my experience with her art and her music."
"We don't mourn the death of an artist because we knew them, we mourn them because they helped us know ourselves" - Tommy Vext of @BadWolves on hearing the sad news that @The_Cranberries' Dolores O'Riordan had passed away on the day they were due to work together #latelate pic.twitter.com/LaK1lRo82c

— The Late Late Show (@RTELateLateShow) March 23, 2018
Vext said the band had originally thought it was "not appropriate" to release the cover, but after speaking with Waite, who subsequently spoke to the late singer's family, and label boss Kovac, they changed their mind.
"Ultimately we came to the decision we would release the song as a tribute and then donate the proceeds to her three children," he continued.
Host Tubridy paid tribute to Bad Wolves' video for the song, saying he had been "mesmerised" by it.
"The reaction has been overwhelming," Vext replied. "It was a heavy day on set. We didn't see Eva, who played Dolores, [because she was] in make-up. We had shot during the day and when she walked out onto set you could hear the gasps. For us, it was like doing takes fighting back tears. It felt like Dolores was with us."
Thank you to the people of Ireland for treating us so well. The support has been overwhelming. Thank you to @RTELateLateShow for having us on to TV to perform Zombie for the first time. 🇮🇪🐺https://t.co/hLzL0280Zj

— Bad Wolves (@badwolves) March 24, 2018