73-year-old Rod Stewart has no intention of packing in the touring and a new album Blood Red Roses is due in May.
The singer is about to embark on a 10-date tour of Canada. "Let's do it, while I've got the legs and the voice and the stamina," the singer declared in Toronto in advance of the tour which begins on March 22, as reported by the Toronto Sun.
He has no plans to retire. "It doesn't even cross my mind – I enjoy myself," said the singer. "I might cut it back a little bit because I've got eight children. The two youngest are six and near 13. While they've thoroughly enjoyed going on tour with dad, it's not quite the novelty it was. So it's going to be hard in the future. But we'll see how this goes. I can't miss the magic moments of them growing up. As for putting the word retirement out – never. I'll just fade away into the bushes."
Rod e-mailed Elton John to rib him about his long-tailed Retirement tour, "and said, 'What? Again dear?' And I didn't hear anything back. I think he's upset with me. I think's she's upset with me. I'm Phyllis. And she's Sharon. And it's been that way for 50 years."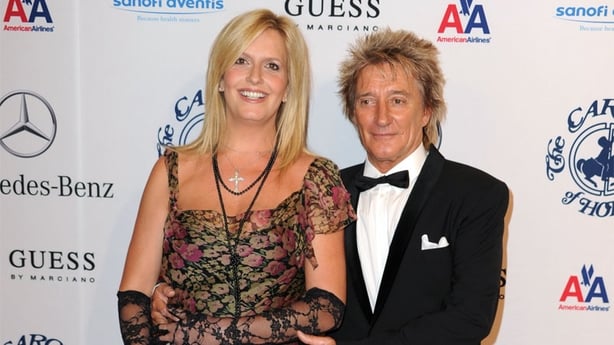 The iconic entertainer was asked if he had ever dated a Canadian girl. "Well, I haven't had a date with a lady for twenty years although I did go out with a girl from Toronto once who was a manicurist. She was rather lovely but it was a long time ago. So that was rather cute. But I'm a very good boy now, very, very good in fact."
Stewart also declared that he was a big fan of TV programmes like The Crown and Victoria. "I love watching all that stuff. Makes me proud to be British."
The musician will release a new album in May."My album's finished," he told UCR (Ultimate Classic Rock.) "It's called Blood Red Roses. It's absolutely fantastic. ... Even I say it myself" He revealed that there are 12 songs on the album, 11 of which were written by Rod himself.
Rod's last studio album, Another Country, was released in 2015