Rob Heffernan became the seventh star to be eliminated from Dancing with the Stars as he lost out in the dance-off to Erin McGregor at the quarter-final stage of the competition.
Following his elimination, the former Olympian said the experience was "brilliant" and praised dance partner Emily Barker.
He said: "Emily is amazing, if we had coaches like her in athletics we would have more world champions".
"It has been brilliant. The memories are going to keep me going for a long time".
He added: "Its been an incredible week, thanks for everything".
Emily said of Rob: "I will never for the rest of my life get to work with someone with the same dedication as you".
What an amazing competitor @RM_Heffernan has been!

You will certainly be missed #DWTSirl pic.twitter.com/tWT5Oaba4o

— RTE One (@RTEOne) March 11, 2018
Rob and Emily had kicked off the evening's proceedings, dancing a foxtrot to 'Any Dream Will Do' from Joseph and his Amazing Technicolour Dream Coat.
After earning their highest score of the competition last week, they went one better, with the judges calling them a "perfect partnership" and giving them 25 points.
Loraine highlighted that the sacrifices Rob had made so far in the competition were paying off as he was going from strength to strength. She praised him for his "first class frame" and said it was "an excellent effort".
Julian praised the former Olympian's core control, and said it was a "full on Broadway technicolour foxtrot", while Brian said it was "breathtaking from start to finish".
Despite the positive comments and a series-high score for the pair, they found themselves in the dance-off for the first time, facing the pair who have now tackled, and survived it, on three separate occasions.
Up first @RM_Heffernan & @emilybarkerwork with a technicolour foxtrot! #DWTSIrl pic.twitter.com/3wFpVn66LK

— RTE One (@RTEOne) March 11, 2018
Erin McGregor and Ryan McShane followed Rob and Emily. Fresh from yet another dance-off victory last week, and a high score of 29 points, the pair tangoed to 'Cell Block Tango' from Chicago. Having moved Julian to tears last week, much was expected of the pair again.
The duo delivered a "man-eating fierce tango" according to Julian, who added that Erin gave "attack, passion and drive" in her performance. They received a 9 from each of the judges for a score of 27.
Brian said the performance was "very well controlled" and her performance was a "risk worth taking". Loraine praised the opening of the performance but pointed out that Erin's tango posture could have been better, but classed it as an overall "great production".
They found themselves in the bottom two yet again, despite high scoring - but they showed their experience and came up trumps again earning a sport in next week's semi-finals.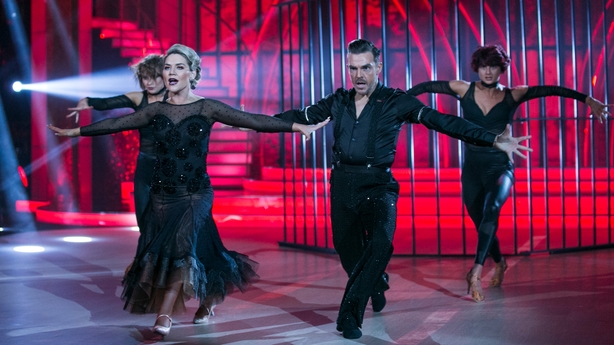 Up next were Anna Geary and Kai Widdrington, who performed a jive to 'The Time Warp' from The Rocky Horror Show.
Rocky Horror show it was not however, as the pair delivered big time with an outstanding jive that earned them a score of 29.
The judges were unanimous in their praise, with Brian saying we could expect to see Anna come the final, and praised the duo's "power, energy, and control".
Julian called it a "spooky wooky jive" and added that what Anna and Kai produced "was when music meets choreography perfection". Loraine said they "brought the music to life", and said Anna's "feet were on fire".
The pair deservedly earned a spot in the semi-finals.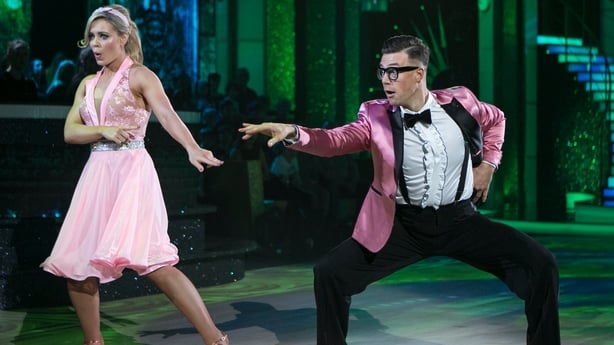 Following on from them were Deirdre O'Kane and John Nolan, who took on 'One' from A Chorus Line with their foxtrot. The pair had been going strong in recent weeks and were looking to build on last week's strong score of 26.
The pair incorporated elements of ballet into their routine, and while the judges mostly praised the opening half of the performance, it wasn't so for the latter half.
Loraine said the duo "embodied the chorus line theme", while Julian said Deirdre was "one singular sensation on the floor", and added he loved the ballet sequence, the use of the top hat, and their use of the floor.
Brian said the performance was "luxurious" but that it dipped in the latter half. Much will be expected of them next week following their dip in form this week.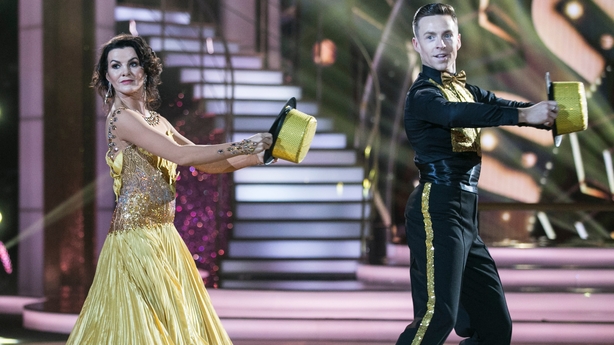 Up next were Jake Carter and Karen Byrne, who danced a Charleston to the Disney classic 'Friend like Me' from Aladdin.
The pair closed the show with a bang as they earned a perfect score, with Julian saying "Jake Carter, that's how you do Broadway Week", before calling it a "full on production number from start to finish".
Brian said it was "close to genius" from the duo, while Loraine called it a "spectacular" performance and added Jake could receive his three wishes for it.
He got one as he earned a perfect score, another wish for winning the Swing-a-thon, and a third as he earned a spot in the semi-finals.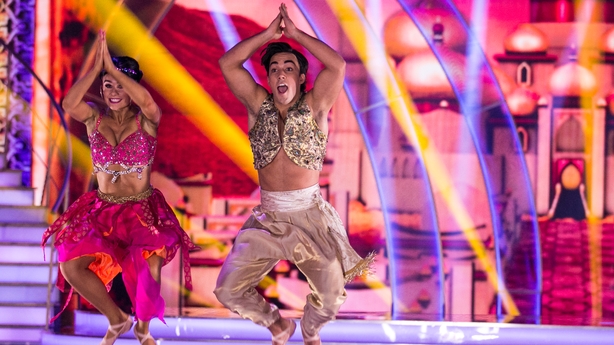 To close the show, the stars had to contest the Swing-a-thon, where each pair took to the floor to dance, and depending on their performance, each of them were asked one by one to leave the floor.
The final couple remaining on the floor earned an extra 5 points added on to the original scores.
The first pair to receive their marching orders were Deirdre and John, followed closely by Rob and Emily.
Loraine said to judge the Swing-a-thon was difficult and that it was "very close", but it was Jake and Karen who outlasted the field to earn perfect scores across the board.