Jake Carter has said the Dancing with the Stars contestants are feeling the nerves ahead of Sunday evening's show after Storm Emma made getting to rehearsals very challenging this week.
"Things can go wrong and will go wrong, and have gone wrong, so the nerves are always there. And especially this week when there's so much less rehearsal time, for everyone," Jake told RTE Entertainment.
"Everyone's in the same boat and we can all just do the best we can. We're all getting in the same amount of hours, we're all dotted about in different hotels across Dublin, so it's a bit mental, but if it does go ahead on Sunday we can just do the best we can. At this point we just have to bring it."
Jake has been staying in a hotel near Ballyfermot so he can be closer to his dance partner Karen Byrne for rehearsals.
"Most of them are in the Gibson hotel, so they're probably having a big party, but I'm on my lonesome out here in Ballyfermot," he laughed. "Everyone's getting closer as the weeks go on and the friendships are getting stronger too."
At this stage in the competition, Jake noted that the judges "are definitely expecting more" from them each week.
"I think the judges are definitely expecting more as we go into week 9 because everyone is a good dancer out there now," he said.
"There's no one that can't dance. So they're definitely picking on very little things now, comparing a lot of our stuff to professional dancers, which is what they have to do. So it's tougher and the marks are getting harder to get. It's really heating up now."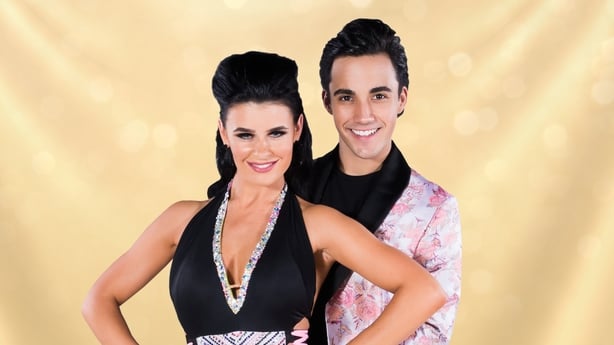 Jake also thanked his supporters who are voting for him every week saying "it's great to see that people are voting and are liking what you do and how you come across."
He added, "To be honest I'm just taking it week by week, because anyone can… You know it can change, no one expected Marty to go last week so that was a big shock. You can just take it week by week and hope for the best."
Having managed to avoid the dreaded dance-off so far on the show, Jake is hopeful that he can stay out of the bottom two again this week.
"Whenever you avoid it it's a great relief. I haven't been in one yet but I know from standing on the side whenever a dance-off is on, the atmosphere in the room, you can hear a pin drop whenever the two couples are getting ready, because it is very nerve wrecking then, I can only imagine how nervous the dancers are in it, and touch wood I'm not in it this week," he said.
Dancing with the Stars continues on RTE One on Sunday at 6.30pm.