The singer, songwriter and blues-inflected Irish guitarist Rory Gallagher would have turned 70 today had he survived the serious illness that took his life in a London hospital on June 14, 1995.
RTÉ Entertainment spoke to Rory's brother Dónal, who has proudly kept the Rory Gallagher flame lit through his London-based Strange Music company.
What does it mean to you that Rory would now be 70 had he lived? What kind of times might you have had together? There would clearly be less touring - but, hey, maybe not!
My brother's stated ambition was to continue touring, similarly to the old blues and folk men. Though Rory always longed for time off the road, he didn't know what to do himself when this occurred and would invariably head to the guitar stores or go to someone else's gig and start jamming. Rory wasn't one for sunny holidays or cruises!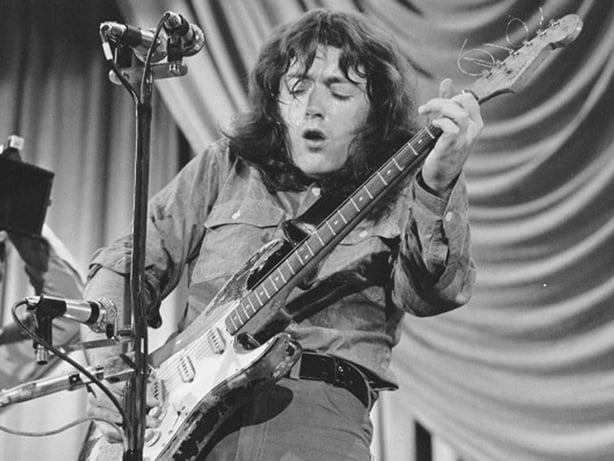 How does interest in Rory's music manifest itself nowadays? Are there young lads interested - - are there old fans who stay loyal?
Both young (and very young fans) as well as older fans seem to share a similar devotion to Rory, the fans are sympathetic to the emotion of the music, this is in full evidence when attending the many tributes to my brother worldwide.
What is that special ingredient that sets Rory apart? Was it a certain vulnerability or modesty that people sensed when they saw him interviewed off stage?
Firstly, his extraordinary talent cannot be denied, he lived to be on stage, though it was his persona off-stage was very much to shun the celebrity spotlight - "a little Dr.Jekell and a little Mr. Hyde" as he penned in his song Shadow Play.
Rory Reissues: Vinyl and CD
Universal Music Group has announced that Rory Gallagher's entire solo catalogue will be reissued on remastered CD and 180-gram vinyl LP. Today, the Cork Institute of Technology is unveiling a plaque dedicated to Rory, who once performed an acoustic gig for past students at the Institute. (CIT's theatre is in fact named after Rory Gallagher.)
Paddy Kehoe