The stars of Young Offenders – the film that's become a TV show – have insisted that the tone hasn't been softened for a British audience.
In an interview with RTÉ Entertainment, the show's stars Alex Murphy and Chris Walley spoke about the transition from film to television, and how it's pretty much business as usual for the two lads at the centre of the comedy. 
Written and directed by Peter Foot - who also created, wrote and directed the film - the six part series follows the coming-of-age adventures of lovable Cork rogues Conor and Jock.
The central characters of Young Offenders are unmistakably working-class Cork lads navigating their awkward teenage years, hatching plans to make some money and skipping school.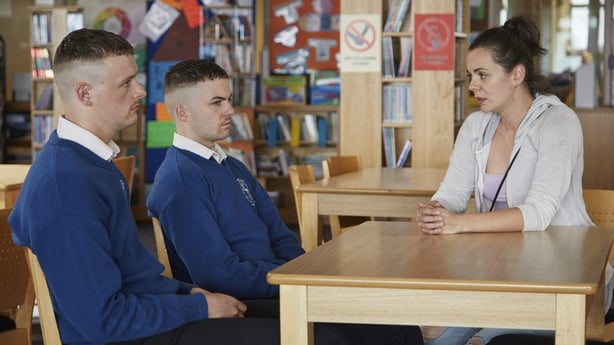 Although commissioned for BBC Three, in association with RTÉ, there was no attempt to dilute the parochial elements that are central to the story for UK viewers who may be unable to understand Cork slang and accents.
Alex, who plays Conor, says: "People ask that, but I don't know how you would soften it, you know?"
"It would just ruin it," says Chris, aka Jock. "It would be like: The Inbetweeners was great, but when they made the American Inbetweeners it was like – aw, stop!"
"We definitely couldn't change it, cos it just might not be funny as well," adds Alex.
The TV show isn't so much a follow-on from the film, but a bit of a reboot. It's not essential to have seen the cinematic version to get what's going on here. 
"People who haven't seen the film will get the series," says Alex Murphy. Chris Walley agrees.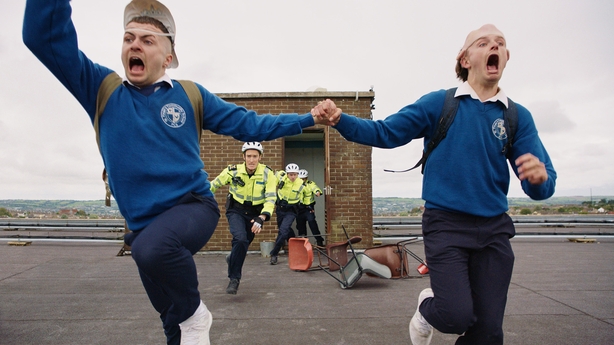 "Yeah, it's a whole new thing, so you can watch the film or not watch the film, and you'll still get it," he adds.
"The first 5-10 minutes of the series is nearly the same as the film because you need to reintroduce everyone for the British audience."
And although it's a very Irish – a very Cork – show in terms of accents and colloquialisms, it's got universal themes such as growing up, and the strong friendship that can exist between two lads.  
"That's probably why it's done so well around the world, because I think every country around the world has two stupid young people in there," says Chris.
"It's funny the way that is, when there's a film made about two fellas in America, we love it over here, wherever it's filmed," says Alex.
"It's just a story about two lads though and them going on and adventure, and I suppose it's relatable no matter where you are."
Young Offenders continues on Thursday nights on RTÉ 2 and is available on the RTÉ Player.
We need your consent to load this YouTube contentWe use YouTube to manage extra content that can set cookies on your device and collect data about your activity. Please review their details and accept them to load the content.Manage Preferences