Dancing with the Stars pro dancer Karen Byrne surprised Bernard O'Shea on Breakfast Republic on 2fm this morning when it was revealed she will be his partner for this Sunday's switch-up show.
The 2fm presenter had been speculating that his new partner could be: "Marty Morrissey, Vitali the big Russian fella, Estonian excuse me...Lorraine ( judge) who I think has a soft spot for me...she literally asked me out live on telly.
"So I'm pretty sure it's going to be one of them!"
Presenter Lottie Ryan announced that it would in fact be Karen, who is partnered with Jake Carter this season, and the dancer landed into the 2fm studio to big cheers.
Bernard, who gave Karen a big hug and looked slightly gobsmacked, said: "I'm so happy....I'm shocked.. I was sure it was going to be Marty, Vitali or Loraine."
Karen was equally happy with the pair-up, saying: "I'm so excited for this week. I think Loraine is going to be jealous though, I think she wanted to dance with you as well."
"I feel quiet privileged...I'm slightly nervous...we'll just have a fun week and free-styling it on the night", she added.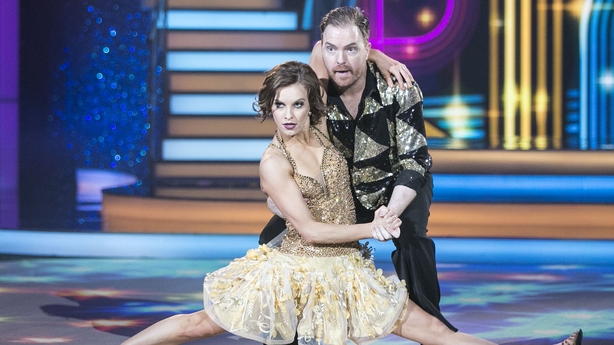 Bernard told Karen that Valeria (his usual pro-dance partner) normally stops him from "recreating my Belly-Belly-Bum-Bum dance" and he showcased his unique dance to an unimpressed Karen.
They revealed that they are going to dance the Charleston on Sunday night and Bernard asked everyone from 'Charlestown, Co. Mayo' to vote for them this weekend.
Watch Dancing with the Stars at 6:30pm on Sunday, February 11 on RTÉ One.