Paul Simon will play in Dublin's RDS this July as part of his Homeward Bound Farewell Tour.
The legendary musician will take to the stage in the RDS on Friday, July 13 with support from James Taylor and Bonnie Raitt.
Tickets go on sale on Monday, February 12 at 9am from usual outlets.
In a lengthy statement on Twitter, Simon told fans of his decision to stop touring, describing it as "a little unsettling, a touch exhilarating and something of a relief."
He added that he may still perform occasionally to support philanthropic organisations.
"I've often wondered what it would feel like to reach the point where I'd consider bringing my performing career to a natural end. Now I know: it feels a little unsettling, a touch exhilarating and something of a relief," he tweeted.
A message from Paul Simon — February 5, 2018https://t.co/kdNRIgKswR pic.twitter.com/EFq3Ry4cUp

— Paul Simon (@PaulSimonMusic) February 5, 2018
"I love making music, my voice is still strong, and my band is a tight, extraordinary group of gifted musicians. I think about music constantly. Sadly, we lost our lead guitarist and my friend of 30 years, Vincent N'guini, who died last December. His loss is not the only reason I've decided to stop touring, but it is a contributing factor.
"Mostly, though, I feel the travel and time away from my wife and family takes a toll that detracts from the joy of playing. I'd like to leave with a big Thank You to the many folks around the world who've come out to watch me play over the last 50 years.
"After this coming tour, I anticipate doing the occasional performance in a (hopefully) acoustically pristine hall, and to donate those earnings to various philanthropic organizations, particularly those whose objective is to save the planet, ecologically.
"Once again, I am very grateful for a fulfilling career and, of course, most of all to the audiences who heard something in my music that touched their heart."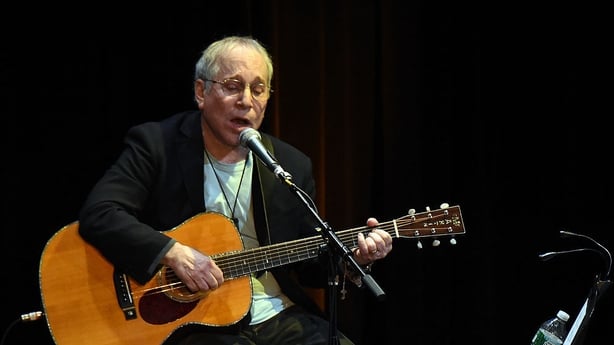 He first played in the RDS in 1982, returning in 2004 as part of Simon & Garfunkel, and his concert here in July will be the second last stop on his Farewell Tour.
Simon last performed in Dublin in November 2016 at the 3Arena as part of his Stranger to Stranger tour, where he delighted the audience with a mix of his new material, hits like Me and Julio Down by the Schoolyard, Diamonds on the Soles of Her Shoes and You Can Call Me Al, as well as Simon & Garfunkel classics The Boxer, America and The Sound of Silence.
Over the course of his career, Simon has played in Ireland numerous times, also putting on shows in The Marquee, Cork and Nolan Park, Kilkenny.
Speaking at the concert announcement on Monday afternoon, promoter Peter Aiken told RTÉ Entertainment it was "bittersweet" announcing the summer gig.
"When I think back to 1982 the first time he played here,and now he's back to finish his career in 2018, it's been very quick. In one way it's bittersweet the fact that this is going to his last show ever you know", he said.
Promoter Peter Aiken from @aikenpromotions says it will be "bittersweet" having @PaulSimonMusic bring his farewell tour to @TheRDS this summer. #paulsimon #rds pic.twitter.com/H5FyMSf0vg

— Entertainment on RTÉ (@RTE_Ents) February 5, 2018
"This is something the artist has been doing since he's 12 or 13 when him and Art Garfunkel called themselves Tom and Jerry, then when he went out on his own and came back with his first solo album, and then he came out with this remarkable album Graceland.
"He's continued to make great music so it will, of course it'll be nostalgic, nobody likes to see anybody disappear, it could be a great sports guy retiring or a great actor retiring and it's the same with this here, it's a great musician, one of the greatest musicians who's got a great love affair with Ireland as well."
Aiken added that Irish fans have a particular affinity with the musician, saying: "Growing up I don't think there were many houses that hadn't got Bridge over Troubled Water and then Graceland as well.
"People in Ireland love good music and Paul Simon has consistently produced good music."