Ireland's Eurovision hopeful, Ryan O'Shaughnessy, said it is an "honour" to be representing Ireland in the competition and admits his phone hasn't stopped ringing since the news broke.
The former Britain's Got Talent finalist and Voice of Ireland contestant will represent Ireland at the Song Contest in Lisbon this May with a ballad entitled Together, and he admitted he is over the moon.
Speaking on The Ray D'Arcy Show on RTÉ Radio 1 on Wednesday, the 25-year-old singer revealed it was hard keeping the news a secret from his friends and family.
"The phone has being blowing up this morning. It was tough not to tell people in the last few weeks. It's an honour to be flying the flag for Ireland."
The Skerries native, who played Mark Halpin in RTÉ's Fair City for almost a decade, said his mother was always encouraging him to get involved in Eurovision, after his uncle took part in the competition in 2001.
"For years my family has been involved in Eurovision. My uncle sung in 2001- Gary O'Shaughnessy – for Ireland. It's been in the pipelines.
"My mam said to me every year 'you have to enter a song this year' and I never really did. It was always kind of pushed back." 
O'Shaughnessy, who co-wrote the song with Mark Caplice and Laura Elizabeth Hughes, will perform the composition in the first Eurovision Semi Final in Lisbon on Tuesday, May 8.
"There's a great song writing hub in Dublin called The Nucleus and between us we decided to get together and write a song. Mark Caplice and Laura Elizabeth Hughes are the other two writers on the song and we put it together, pardon the pun, and it all worked out. 
"It's just great. When you write a song like that and people decide it's the one for a competition, it's an honour," he added.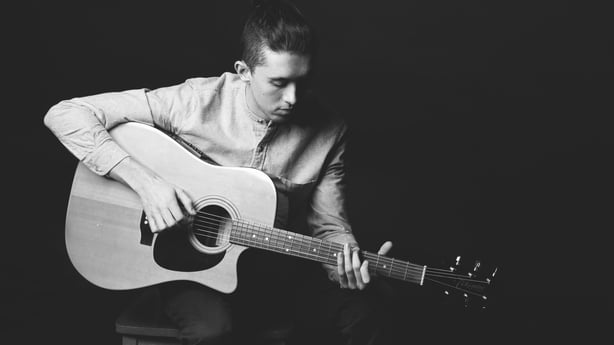 O'Shaughnessy finished in fifth place on Britain's Got Talent in May 2012 and also appeared on the first series of The Voice of Ireland.
According to a statement from RTÉ, "last August, RTÉ held a Eurovision Song Contest Forum and invited key industry professionals, songwriters and performers to come to RTÉ to gain a deeper insight into the present day contest from international Eurovision experts and key RTÉ decision makers.
"I plan on doing Ireland proud by bringing a song and performance to Eurovision that we haven't seen since the days of Rock and Roll Kids." - Ryan O'Shaughnessy
"The forum created debate and fostered new ideas as to the way RTÉ might approach the song contest this year. Over 300 songs were submitted to RTÉ for consideration before the November deadline. The song Together was chosen after being selected by a panel of music industry professionals who listened to and judged the shortlisted final entries.
RTÉ is delighted to announce the ballad Together penned by Ryan O'Shaughnessy, Mark Caplice and Laura Elizabeth Hughes as Ireland's entry for the Eurovision Song Contest 2018!

Ryan O'Shaughnessy will perform in the first  #Eurovision2018 Semi Final in Lisbon on Tuesday May 8. pic.twitter.com/vhm5L2pzwl

— RTE One (@RTEOne) January 31, 2018
"Together was purposefully written for the Eurovision Song Contest by writers working in The Nucleus, a new Irish songwriting team and hub, founded by Hamlet Sweeney, that brings the international model of collaborative songwriting to Ireland."
The Eurovision Song Contest semi finals take place in Lisbon, Portugal on Tuesday, May 8 and Thursday, May 10 with the grand final taking place on Saturday May 12. Ryan will perform Together in the first semi final on Tuesday in the Altice Arena which has a capacity of 20,000 and is one of the largest indoor arenas in Europe.
O'Shaughnessy added: "I plan on doing Ireland proud by bringing a song and performance to Eurovision that we haven't seen since the days of Rock and Roll Kids."
At the age of 17, O'Shaughnessy left Fair City to pursue a career in music and studied at Dublin music college BIMM as a songwriter. In 2012 he penned his first collection of songs and appeared on the finals of both The Voice of Ireland and Britain's Got Talent.
He was then signed to Sony UK and released an EP, which reached No 1 in Ireland for three consecutive weeks and reached No 9 in the UK charts.
In the last three years O'Shaughnessy, who plays guitar, piano and saxophone, has toured the USA and Canada and set up his recording label and studio, Bayview. He released his debut album, Back to Square One, in 2016. 
Ireland still holds the record for most Eurovision wins with seven songs:
1970 - Dana All Kinds of Everything
1980 - Johnny Logan What's Another Year
1987 - Johnny Logan Hold Me Now
1992 - Linda Martin Why Me?
1993 - Niamh Kavanagh In Your Eyes
1994 - Paul Harrington and Charlie McGettigan Rock n Roll Kids
1996 - Eimear Quinn The Voice