The director and producer of Coco, the acclaimed new Pixar movie, have said that they did not realise how timely the film would be in the current political climate, adding that it inspired in them "a new urgency" to release it to the world.
Filmmaker Lee Unkrich and producer Darla K. Anderson, who previously worked together on 2010's Oscar-winning Toy Story 3, have reteamed for the animated film that is based around the traditional Mexican holiday of Dia de Muertos (Day of the Dead), in which families celebrate their loved ones who have passed.
When they started working on the project in 2011, they had no idea how apt this warm and relatable depiction of Mexican people and their culture would be in a time that the US President Donald Trump spouts anti-immigration rhetoric and pontificates about building a border wall between Mexico and the United States.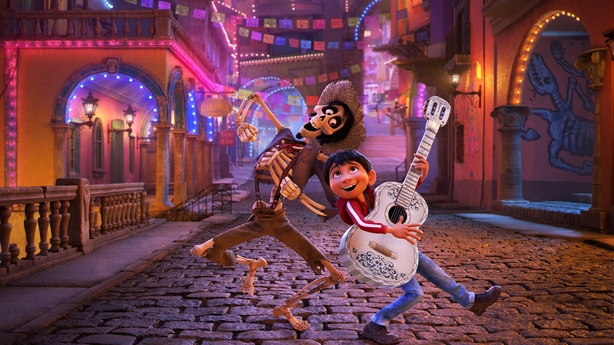 Speaking to RTÉ Entertainment at the film's junket in Dublin, Unkrich said: "We started this movie six years ago and it was a very different world then. 
"But things have changed and I think it ignited in us a new urgency to get this film out into the world to have this very positive, loving warm depiction of Mexico and Mexican people, because that's the Mexico that we visited that we fell in love with and that we wanted to share with the world."
The film follows 12-year-old boy Miguel who dreams of becoming a musician, but is hampered by his family who have banned music in their home due to an incident from their ancestor's past. He is accidentally transported to the Land of the Dead, where he must unravel his family's secret and return to the living world.
Unkrich, whose past credits also include Monsters, Inc and Finding Nemo, said it was important for them to "celebrate Mexican culture and this beautiful tradition of Dia de Muertos", but make the film "accessible and universal for people around the world".
"It has a lot of very universal ideas about family and the importance of remembering our loved ones who are no longer with us and ensuring that their memories are kept alive through passing down their stories to the next generation", he said.
"It also has a lot to say about one's personal passions and the idea that our passions are sometimes not in alignment with what our families want for us. Our main character Miguel struggles with that and I think that's something people can relate to everywhere."
We chatted to @pixarcoco director @leeunkrich & producer @DarlaKAnderson who are blown away by the film's runaway box office success in Mexico. #PixarCoco pic.twitter.com/EG1Bk3w2Ax

— Entertainment on RTÉ (@RTE_Ents) January 17, 2018
In its first month of release in Mexico last November, Coco become the highest-grossing film of all time in the country. Producer Darla K. Anderson said it was "unbelievable" to see it achieve such runaway success in the country that inspired it.
"It was our deepest hope that the Mexican people would embrace the film. That they did so overwhelmingly was just wonderful", she said.
Unkrich added: "We didn't dare dream that it would do anything like it did, we're just grateful that it was accepted and for it to be so huge is just the icing on the cake."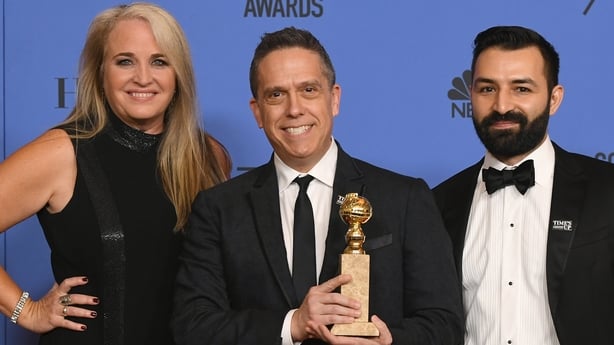 Coco picked up the Golden Globe award for best animated film on January 7 and it is being tipped for Oscars glory at this year's ceremony in March.
What does the awards buzz mean to them?
"It just means that more people will see the film, it's shining a spotlight on this amazing team, hundreds and hundreds of people worked on this movie.
"It's fun and we're grateful", Anderson said.
Coco is released in cinemas in Ireland on Friday, January 19.
We need your consent to load this YouTube contentWe use YouTube to manage extra content that can set cookies on your device and collect data about your activity. Please review their details and accept them to load the content.Manage Preferences