"To my mother, nobody sounds like Dolores." In March 1993, writing for the RTÉ Guide, Paddy Kehoe met Dolores O'Riordan as The Cranberries were about to become an exceedingly great rock 'n roll entity indeed. 
The Cranberries' music is seductive, melancholic and all those other words you won't find in Viz magazine. Paddy Kehoe met guitarist Noel Hogan and front woman Dolores O'Riordan, who sings of love like one who has been around for longer than her tender years would suggest.
You'll love or loathe this band that's been together since 1990. Just as Van Morrison's Astral Weeks is one approach, stylistically, musically and lyrically, so it is with The Cranberries' debut album, Everybody Else is Doing it, So Why Can't We?
If you like track four, you'll like track twelve on the record, if you like Linger, you will like Put Me Down. Dolores sounds a bit like Sandy Denny. Unconsciously she harks back to that way of singing and songwriting, although the US band Belly, with whom the band recently toured, have at least one track that sounds very like The Cranberries.
Dolores has also been compared to Harriet Wheeler who, like Dolores, also fronts three chaps in the band The Sundays. "Nobody heard my voice when they said that," she quips, bristling at that comparison.
The lyrics of these O'Riordan love songs, some of which were co-written with Noel Hogan, seem desperately honest, indeed, the album could have been called Love Hurts. As you listen to the entrancing, guitar-based material, you empathise, you believe what Dolores is telling you.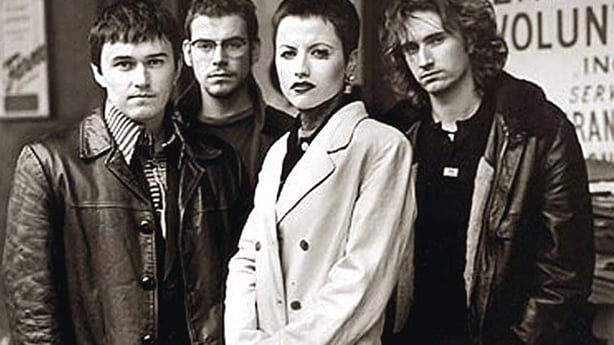 Everybody Else is Doing it, So Why Can't We? was produced by Stephen Street, known primarily for his work with The Smiths and Morrissey. "He's a really down-to-earth guy, and he doesn't go on like, `I did this, I did that,'" says Hogan. "We  became really good friends with him. He's 32 but looks about 22.''
Much has been made of Dolores' background singing in choirs - the music is churchy and ethereal, though not in an Enya sort of way. "It's not like I don't like to talk about it," says Dolores. "It's just that the English press tend to go over the top because they are fascinated by Catholicism - `Wow, you have a religion.' I suppose in America it would be even more chaotic, they'd ask if we were born again."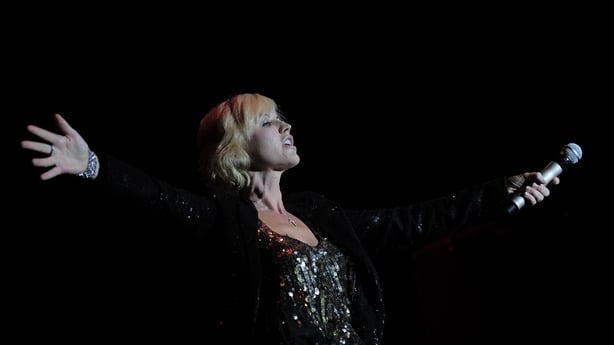 She has about 20 Slógadh medals which she won for singing at home and she delivers with an Irish accent. "They love that abroad, a lot of lead singers with Irish bands sing with American accents."
Lately, she's changed, she's cut her hair since the album cover shot. "I like that picture, because it doesn't make me look 'hot.' I just look really like an ordinary girl. I look like that in the morning, my hair's all greasy - it's not `hey, look at the babe of the band!' I hate that kind of thing, the way women are always pushed forward as beauties . . . it's very easy, you can make the ugliest pig look lovely in a photograph."
I mention that one Melody Maker scribe recently wrote that Dolores looked `painfully thin.' "Cheeky hoors," is her succinct comment on such observations. She thinks that most music press people are `silly gossips.'
"You know that band that are all over Melody Maker, Huggy Bear, they're just a load of crap, right, riot grrrl group, y'know, it's all sexism and stuff, women standing up for their rights, `this girl said this at the gig off the stage.'It's nothing got to do with music', they're probably untalented gits when it comes to the crunch."
The singer gets unusual backstage reactions.Take Hull, for instance. "This guy came in and he was absolutely roaring crying, a fine handsome chap, I was sitting there looking at him, and he was going: "it's just your voice and your music' - he was real shy and he couldn't look at me in the face. It had completely touched him, so I gave him a hug. Some nights gigs can be really atmospheric and emotional."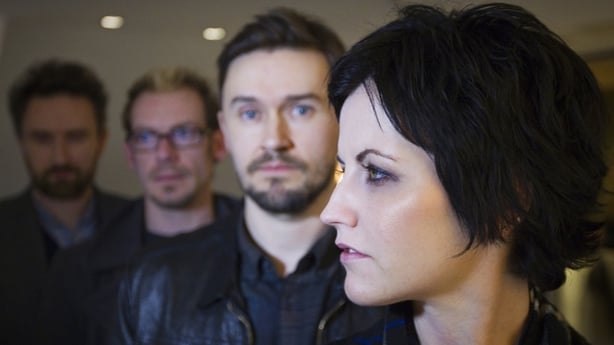 Both my interviewees owe much to their parents. Noel says "they didn't give us hassle and tell us to go out and get proper jobs." Dolores' family live in Ballybricken, some eight miles outside Limerick city, while Noel comes from Moyross.
Noel left school after fifth year and Dolores was still in school when she joined the band. Her father plays the accordion and his family have long been involved with Céili bands. "To my mother, nobody sounds like Dolores, " she laughs, as the band head over to Studio 8 to record a Fanning session. I'll second that.
At the conclusion, we left the RTÉ canteen together and I accompanied the musicians to the steps of the Radio Centre. I made my parting remarks to the singer. "So you're an aul' fellow and you like our music, " Dolores quipped, genuinely impressed.
The 'old' bit, ahem, was not entirely accurate although this waif from Limerick with the heavenly voice and sharp ear for a cracking pop melody was definitely young. Forever young.