The mark the first anniversary of the death of Dolores O'Riordan, we're re-running our tribute to the sorely missed Limerick singer
It was the voice that really transfixed you. Back in the days when bands recorded cassettes with hand-written song titles and shopped them around music hacks and record labels, one Limerick act's four-song TDK began to stand out from the white noise of wannabes and dreamers.
It found its way into my hands in mid-1990 or thereabouts and what seemed a rather inauspicious band name (changed from the torturous pun The Cranberry Saw Us) did not hint at the treasures within. The weave of indie guitars were in thrall to the wintry jangle of Johnny Marr, the rhythm section was rudimentary but effective but then . . . well, then you heard the singer . . .
Dolores O'Riordan, a 19-year-old from the small townland of Ballybricken eight miles outside Limerick city, had the looks of an indie waif straight out of central casting but her plaintive voice was a thing of wonder able to go from tremulous pain to banshee wail in the space of a few octaves. The standout song on that fabled demo was Linger, a composition of crestfallen angst which captured Dolores' prodigious talent for expressing heartache and an almost oceanic sense of longing.
The demo also found its way to Geoff Travis, head of Rough Trade Records in London, a natural home for The Cranberries given their obvious love for The Smiths. Travis would go on to manage the band but nobody could have predicted what would happen next.
Within months, no less than 32 record companies alighted on Limerick with chequebooks in hand, desperate to sign The Cranberries. In an interview with the RTÉ Guide in 1993, Doloroes said, "I was terrified. There I was living in the middle of nowhere and suddenly I had all these big heads from London wanting to talk to me."
They eventually signed to Island Records, the label who have been so terribly nice to U2, and after a few false dawns, things took off at almost alarming speed for the four young Limerick natives. Their Stephen Street produced debut album, 1993's Everybody Else is Doing it, So Why Can't We?, fused a kind of Celtic rock borne of an almost mystical and mythical Ireland with sepulchral dreampop and Dolores' songs of dashed hopes and thwarted love.
Linger, a composition of crestfallen angst, captured Dolores prodigious talent for expressing heartache and an almost oceanic sense of longing
It was embraced by a record-buying public with a craving for melodic angst loaded with lyrics that quietly articulated the pain and confusion of growing up and the terror of first romance. The album sold three million copies in the space of a year and turned the indie also-rans into a global smash.
However, that kind of fame did not sit well with the timid and very young girl from Ballybricken.
Growing up in Limerick, Doloroes, the youngest of nine children, was a tomboy who buried her dolls in her parent's back garden and spent her time hanging out with her Harley-Davidson fixated older brothers. She was still in school when she joined The Cranberries at the suggestion of their former singer Niall Quinn.
She had also amassed about 20 Slógadh medals but in early live performances with her bandmates, Noel and Mike Hogan and drummer Feargal Lawler, she could barely bring herself to face the audience and in interviews she was guarded and painfully shy, genuinely shocked that she had been rocketed from rural obscurity to such stellar heights so quickly.
Understandably, the troubled and talented Dolores went into self-protection mode but with the massive success of the band's second album, the 17 million-selling No Need to Argue, she then began to embrace the possibilities of fame and became increasingly outspoken - sometimes her views on controversial social issues in Ireland saw her cast as a pretender to Sinead O'Connor. However, Dolores' conservative outlook would often leave the Dublin media cold.
But she was also a barrier breaker who did much to subvert and change the hackneyed "women in rock" cliche.
At her wedding to tour manager Don Burton in 1994 in her native town she was a slip of a girl in a slip and with that mounting fame and tabloid notoriety, The Cranberries' music itself changed from pure-driven indie feyness to the more strident likes of Zombie.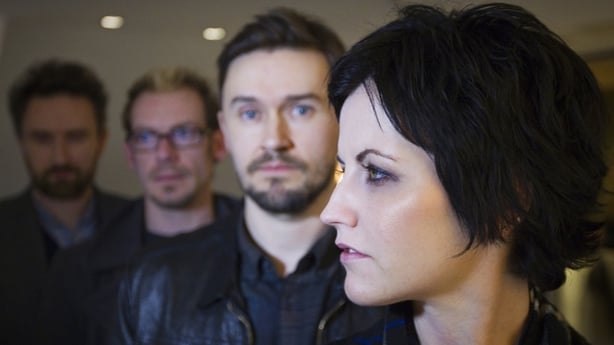 Dolores would struggle with the pressures of fame - and the black dog - over the years but in more recent times, she at least seemed to be getting her life and career back on track. She divorced Burton, with whom she had three children, Taylor, Molly and Dakota, in 2014 and The Cranberries, who had reformed in 2009, released a new album last year. They were also due to tour China in the next few months.
After several years out of - and avoiding - the limelight, she appeared as an outspoken judge on The Voice of Ireland in 2013 and 2014 and released two solo albums before teaming up with former Smiths bassist Andy Rourke and New York producer and DJ, Olé Koretsky in new act D.A.R.K..
In May 2017, Dolores announced that she had bipolar disorder and seemed to be dealing with her depression with a renewed outlook. She was recording in London when news of her passing was announced.
The news of her death is shocking and terribly sad. That voice will take on a whole new depth of meaning and emotion for fans of The Cranberries for ever more.
Alan Corr @corralan