Former White House press secretary Sean Spicer has strongly defended Donald Trump's record as US president but said "every day felt like an eternity" when he was working at the White House.
46-year-old Irish-American Spicer, who stepped down from his position after six months marked by controversy, appeared on the Late Late Show on Friday night and told host Ryan Tubridy that his six months as Trump's spokesman "felt like six dog years."
"It's a very demanding job and it's a very intense place to work under any president and this president added an element of excitement to it." Spicer said.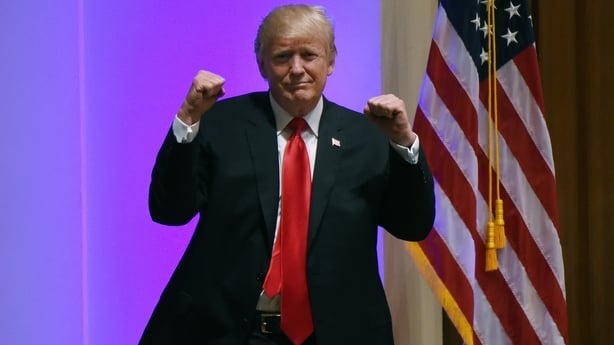 He also said that he "90%" supports Trump's plans to build a border wall between the US and Mexico and that he would vote for the president if he ran for office again.
After Tubridy noted that Spicer was a "husband, a Catholic and a father" he challenged Spicer about the infamous Access Hollywood tape from 2005 in which Trump boasted about making sexual advances on women.
.@SeanSpicer on @RealDonaldTrump's comments about women, revealed during the presidential campaign, and why he believes the president deserves forgiveness on them #latelate pic.twitter.com/kxULKO7XEp

— The Late Late Show (@RTELateLateShow) January 12, 2018
"Obviously I don't agree with what was said on the tape," Spicer said. "The president, at the time the candidate, apologised for it and went on television and said so.
"I think we've all said or done things that we regret. I think the president, then the candidate, expressed remorse and the one thing about being a Catholic is that we are all taught forgiveness. The president went on television that night and said I regret these thing.
"I think if we're going to ask forgiveness for ourselves sometimes, we're also taught to give forgiveness." .
Following Trump's recent comments about immigration, Spicer said, "As an Irish-American, someone who understands the trials and tribulations of so many Irish folk coming to America, I'm very proud of America's history of welcoming immigrants.
"I believe that America is a great country that welcomes people who want to come and make a name for themselves, pursue the American dream and make it better. Immigrants have made our country what it is."
Asked what President Trump was like to deal with on a daily basis, Spicer said, "He's very straightforward, you know where you stand with him at all times, good or bad, and there's no beating abound the bush.
"He has very strong beliefs about what he wants to do and how he wants to do it and he expects his staff to fully support him."