Season two of Striking Out continues on Sundays on RTÉ One. Here, Neil Morrissey talks to John Byrne about returning to Dublin to play the role of Senior Counsel Vincent Pike.
Neil Morrissey is impressed. Sitting at the head of the massive dining table in the dining room of Dublin's Mansion House for a chat about the latest run of Striking Out, the legal drama he stars in alongside Amy Huberman, he gets it that this is a pretty extraordinary location for a media interview.
"This is amazing," he says, with that unmistakable, gritty tenor voice of his. "It's the Lord Mayor's residence."
Given Morrissey's acting pedigree, it's surprising that anything impresses him at this stage. After a breakthrough role in Boon, he became a face of the 1990s as Tony in Men Behaving Badly, had a number one during his Bob the Builder days, went on to Waterloo Road, Grantchester, and will soon return to UK TV screens in the second season of The Good Karma Hospital.
But his number one focus when we meet during a break in shooting is the reason he's in Dublin in the first place, Striking Out legal eagle Vincent . . .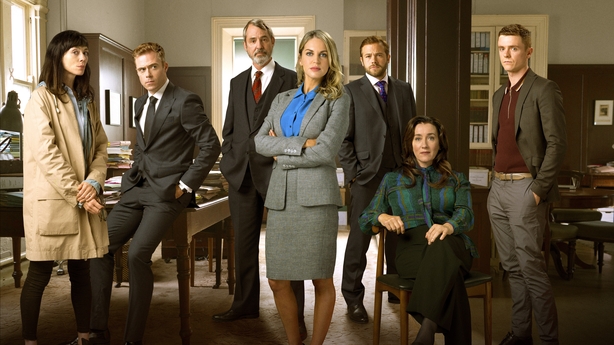 John Byrne: So, Neil – is it good to be back in Dublin and on Striking Out?
Neil Morrissey: Yeah. I had a great time. I love Dublin. Considering we're only a few miles across the sea, there are subtle differences in the way that people work. Which is really good.
There's a great atmosphere on the set, everyone's really friendly – you find that everywhere. In town, the people are reflected in the way the work gets done. It's good fun.
Even though it's a serious legal drama?
We have an absolute hoot when we're on set. One of the things when you're dealing with drama and it's all tragedy and tragic and heavy, and barrister/lawyer style conversations: the opposite of that happens in real life.
We just want to talk like human beings and have a complete hoot about life in general. Because every time you're in a scene it's all furrowed brows and hard talk and all this. Luckily, everyone's very funny. So we have a good time.
Has your character Vincent Pike changed much between seasons one and two?
He's still the same maverick. He's his own worst enemy in many ways. We developed that, and that side of it. He's still as determined as ever to win cases. Admits that he's a bit of a mess, but he gets through these things and picks his fights carefully.
He's got the bit between his teeth for the enquiries, ongoing, throughout the whole series. At the denouement of the whole series is going to be this quite dramatic denouement . . . I don't want to give you any spoilers, but it comes to a head with him really getting everybody, getting the bulls by the horns, and very close to cracking the whole case.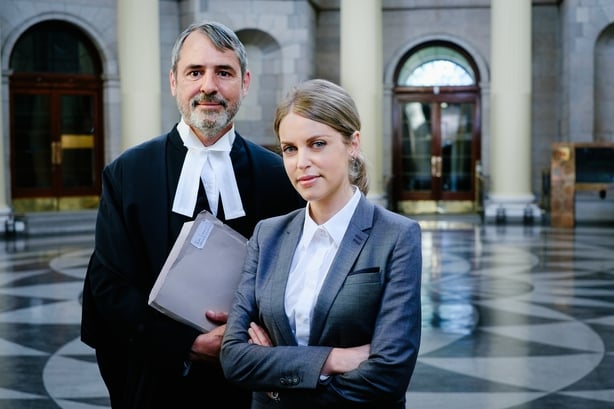 It's a more familiar territory this time around . . .
It's the same as anything. When you start, the first job is to establish who's what, related to who and how, and what their crossovers are. So, in other words, when they see me doing something mad in the first series, they'll go 'Oh my goodness! I wonder why he's doing that?'
And then, you get to the point where they go: 'Oh my God! I can't wait for Vincent to hear that!' They have an expectation of your character once you've built it, so that you can play on that, which is good.
It's all gone by in a whizz! I've been here for five weeks.
It's fast-moving, and there's bits of storylines that I didn't know about. There's all kinds of stuff going on with Tara's character, with Eric as well. Their development. It's all good fun. There are crossovers, obviously.
Striking Out has done well internationally. Were you surprised?
I didn't know it was going to be sold, but I'm not surprised, because it's a good show.
I was judging The Dog that Most Looks Like Neil Morrissey competition, down in Dorset with Martin Clunes, who puts on the Buckham Fair – I don't know if you'd get away with that over here, Buckham – and at this he has this set of people from America called the Clune-atics . . . they're Martin's big fans.
And his programme – I didn't know this until I was down there, goes out on Acorn TV in America.
So all the Clune-atics were coming up to me and going (adopts American accent): 'Oh Neil, is there going to be another series of Striking Out?' And I was going: 'Well, where did you see it?'
So that was a nice surprise.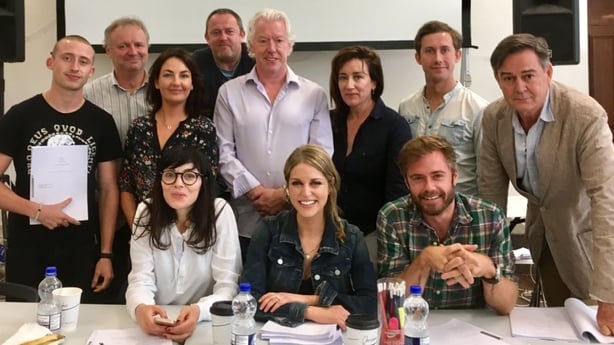 Is it unusual not being able to watch a show you're in 'live' as it's broadcast?
Yeah, because I can't watch it in the UK. Once they've been broadcast I can then get sent links and I can watch it at home. My missus loved it. And we still haven't seen episode four. So I don't know what happens at the end of the last series. I do, 'cos I've got the script, but I haven't seen it done.
As an actor, do you find it easy or difficult to detach yourself from a character or does it depend on the role?
You've got to find it and let it happen, let it out there. It helps to understand where you are in the piece, but you can't live like that.
I couldn't live like Dan Day Lewis and be the character the whole time, because you would be in a hot bath with a razor blade, wouldn't you? You don't want to drive yourself mad with it, but you've got to find it when you need it.
Striking Out, 9.30pm Sunday, RTÉ One