First Dates Ireland maitre d' Mateo Saina has told RTÉ Entertainment that some of the sweetest encounters in the show's history are in the new series, which begins on RTÉ2 tonight at 9:30pm.
With First Dates Ireland fans promised "teen heart-throbs, flirty thirty-somethings and seductive seniors", Saina agrees it's the most diverse line-up of romantic hopefuls in the restaurant to date.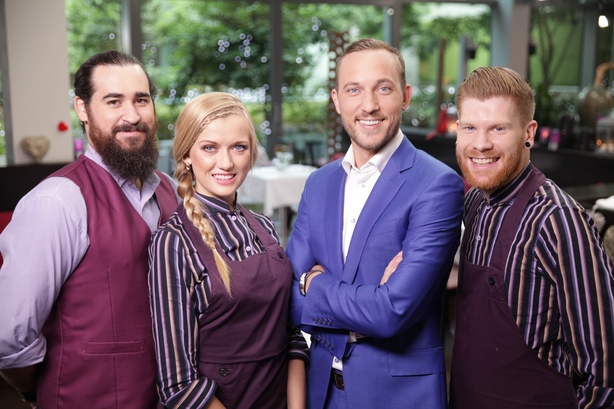 "More generations and older couples," he enthused. "And that's a very good thing, because we need to attract all the generations.
"We have some middle-aged couples and 'above the middle-aged' couples and they're just genuinely cool. 
"It's a real picture of what the show should be used for: finding real love. It comes across with the camera - proper hope in their eyes. As soon as they walk in, you say, 'Fair play to you'."
Are you watching the #LateLate? What about Gary & Paula drawn together after 33 years!

Watch their full date coming up on #FirstDatesIrl pic.twitter.com/NMCtgLxvbn

— RTÉ2 (@RTE2) January 5, 2018
After three seasons with the show, Saina contends that he has "learned to spot a disaster".
"Twenty per cent I would predict wrong; 80 per cent I would like to think that I would predict righ. And in the first few episodes I got them all right!"
"When the second person comes in, then I know how to judge," he continued. "When the first person comes in it's, 'Ok, let's see who they're going to match them with'.
"If you match them properly, they stand a chance. If, say, the girl is too beautiful and he's insecure you know it's going to be hard to match all of this and her expectations - will he be able to turn any of his imaginary minuses into pluses?"
Go to @RTEplayer after each episode of @RTE2 #FirstDatesIRL for online only exclusive extras including a day in the life of our favourite maitre d' in Mateo's Day Off https://t.co/kWk5gJEyjF pic.twitter.com/eB07jN13nb

— RTÉ (@rte) January 9, 2018
But, despite having seen it all between starters and desserts, there's one thing Saina still can't handle.
"I still get shocked when they're talking about the bills!" he laughed.
"Man, come on, this is your chance - shine! Pay the bill!
"I cannot comprehend that you had a moment in your life where you've created a chance to put yourself in a position to be a bigger man, no matter what is the outcome of the date. In front of four million people! And you blew it up! Who gives a flying rat about this extra €50?!"
First Dates Ireland, Tuesdays, RTÉ2, 9:30pm