Dancing with the Stars Ireland returned on Sunday night and the boys got to show off their new moves, and it's safe to say there was a Marty Party on the dancefloor in Ardmore.
With the boys dancing this week, it will be the girls going next week, with nobody being eliminated until week three.
The show kicked off with a group dance including all 11 contestants and their professional dance partners, making sure the energy levels were lifted straight away.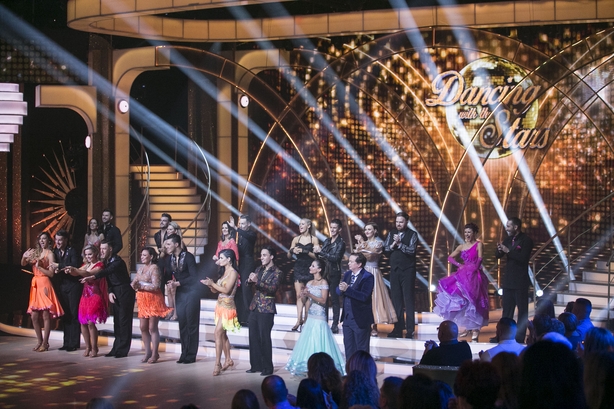 These boots are made for walking
Olympian Rob Heffernan was the first out of the gate, with a jive to the One Direction version of One Way or Another. After his dance Rob revealed his immense nerves before taking to the floor, but the judges assured him that he had no need to be so anxious and he earned a total of 17 points from them.
What an opening dance for series 2 of #DWTSIrl! That jive, we're exhausted just watching you @RM_Heffernan! pic.twitter.com/gm1tlQynCZ

— RTE One (@RTEOne) January 7, 2018
Judge Lorraine Barry hailed Rob's efforts as a "fantastic opening" to the show that really "set the scene for everyone" involved. Timing was a big talking point for Rob's jive, with Darren Bennett saying there were "issues" while Brian Redmond suggested he "slow it down" and "change his mentality."
Dad dancers, unite!
Bridget and Eamon star Bernard O'Shea was up next and his VT was a highlight of the night in itself. With comments from the funnyman himself, and not-so-encouraging words from his Breakfast Republic co-hosts Jennifer Zamparelli and Keith Walsh, there was a lot of laughing to be done.
Here we go @boshea5 is NEXT! #DWTSIrl pic.twitter.com/9LrEJ4WmKT

— RTE One (@RTEOne) January 7, 2018
While Keith may have said his colleague "has a fear of dance", judge Darren said there were "glimpses of a dancer trying to emerge" as Bernard danced his tango. Lorraine also felt like there is potential there, saying he is "going to be good." Bernard earned 10 points from the judges, with Brian deciding to give him a measly 2 points which elicited boos from the audience.
Oh Oh! We are loving @boshea5's Tango! pic.twitter.com/gPh8omVFZY

— RTE One (@RTEOne) January 7, 2018
Get on your dancing shoes
Swapping his rugby boots for the "shiniest shoes I've ever owned", Tomás O'Leary brought the foxtrot, and to great acclaim from the judges who awarded him 17 points in total. Dancing to John Legend's All Of Me, Tomás impressed judge Lorraine with his "stillness" that held her throughout.
Darren said his dance was the "the most self assured and confident performance" of the night, while Brian said he dealt with the challenges of the foxtrot very well.
"Great attempt, a very difficult dance!" Well done @Tomas_OLeary! #DWTSIrl pic.twitter.com/zVg956Qj3a

— RTE One (@RTEOne) January 7, 2018
We loved Tomás' dry humour and his self-deprecating nature provided some laughs!
Here come the girls
Taking a break from the competitive element of the show, the girls had a trick up their sleeve! Taking to the dancefloor for a group dance, they may not be competing until next week, but they did get to show off a few of their new moves.
Here come the girls! A fabulous introductory performance from @AnnaGCork, @AlannahBeirne, @DeirdreOKane1, @GregorErin, @MaiaDunphy & @NorahCasey!
#DWTSIrl pic.twitter.com/KSNBldBsNO

— RTE One (@RTEOne) January 7, 2018
Jake "The Snake Hips" Carter
Jake Carter – younger brother of Nathan – topped the leaderboard with a score of 19 points from the judges, as his salsa impressed them all.

Brian felt that the performance was "full of energy and pace" and that he should be more confident in his abilities. Lorraine added that he "can definitely move" with Darren handing him a brand new nickname!
It's getting HOT in here! That salsa @jakecartermusic & @KarenDWTS!! #DWTSIrl pic.twitter.com/58wgC32wwu

— RTE One (@RTEOne) January 7, 2018
It's a Marty Party!
He was the bookmakers' favourite to win before the competition even started, and many have labelled Marty Morrissey as the dark horse of the competition.

Showing off his quickstep, Marty earned 12 points from the judges, who were generally constructive in terms of their critique, though Brian did say that he thought his "invitation to the Marty Party was lost in the post."
Marty HAS ARRIVED! @MartyM_RTE #MartyParty #DWTSIrl pic.twitter.com/M1vedQIPvz

— RTE One (@RTEOne) January 7, 2018
Lorraine said he coped well with the speed of the dance and that he had a "lot of sparkle", while Darren said it was "not bad looking" and commended his rhythm and timing.
-
Can't Stop Dancing airs this Thursday at 9.30pm on RTÉ2, with Dancing with the Stars continuing on Sunday at 6.30pm on RTÉ One.